Recipes: Pumpkin Risotto with Crispy Sage + Thanksgiving Guide 2021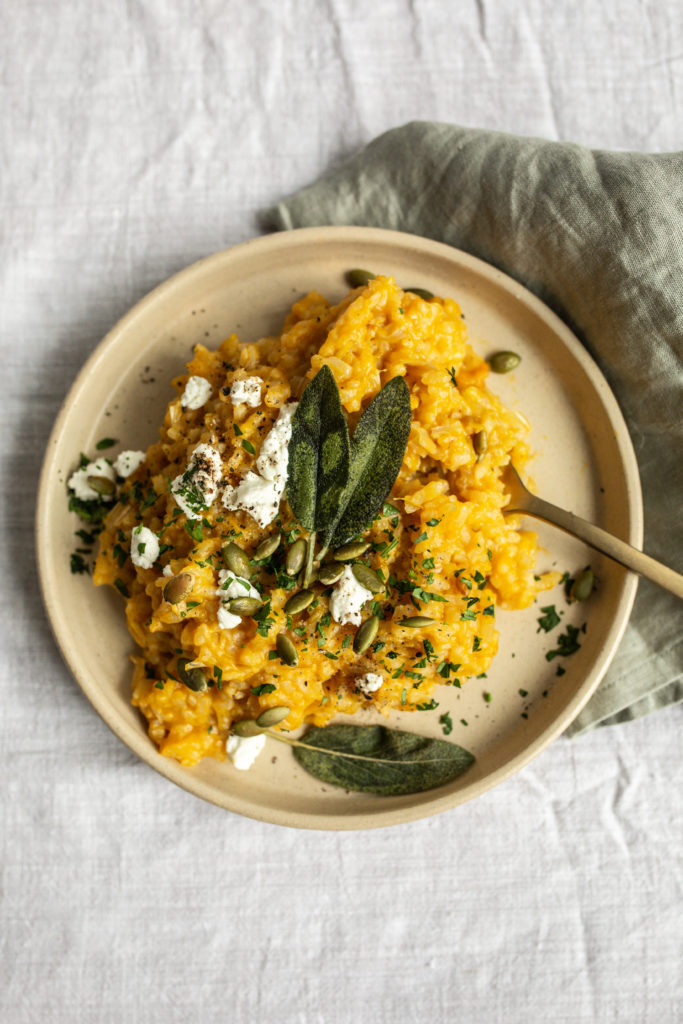 It's that time again! Time to gather around the table, celebrate the fullness of life and share nourishing cozy food. Honoring the tradition, I'm sharing my annual Thanksgiving Guide here, along with a favorite new recipe for a pumpkin risotto with crispy sage. I first shared this in our Fall cooking class last month. Since then, I've made it a half a dozen times and each time I love it more. It's hearty and comforting, though lighter than some of the traditional variations. I used leeks in place of white onions, a pinch of nutmeg for a warming fall spice addition, and lemon juice in place of white wine for the acidity that brightens the whole dish. Think Risotto, Ayurveda-style. I even read recently how risotto is essentially an Italian kitchari, similar in texture and an easy one pot meal. Dress it up with a little crispy ghee-fried sage, goat cheese and toasted pumpkin seeds, you have a dish that everyone can enjoy. 
To expand on your menu, I've put together a fun plant-focused holiday menu below. And don't forget to check out my past Thanksgiving Guides for more menu ideas – 2013, 2014, 2015, 2016, 2017, 2018, 2019 & 2020. Yes, there are 8 years of recipe ideas inside each post! So whether you're going full veggie this year, or peppering in a few side dishes and desserts, you'll find dozens of plant-based sweet and savory recipes to enjoy.
Buon Appetito!
THANKSGIVING GUIDE
SAVORY
Uzbeki Carrots | 101 Cookbooks
Pan-Seared Turnips with Ginger Miso Glaze | Feasting At Home
Roasted Sweet Potato & Radicchio Salad | The First Mess
Oregano Brussels Sprouts | 101 Cookbooks
Creamy Broccoli Rabe Soup | Dolly & Oatmeal
Crispy Smashed Baked Potatoes | Gather & Feast
Blistered Green Beans with Preserved Lemon | Vidya Living
Mushroom Gravy Pie with Mashed Potatoes | The First Mess
Wild Rice & Butternut Blessings | My New Roots
Pumpkin Risotto with Crispy Sage | Vidya Living (recipe below)
SWEET
Oat Milk Eggnog | Dolly & Oatmeal
Maple Apple Tart Tatin | Gather & Feast
Apple Galette | Golubka Kitchen
Cranberry & Pear Tart | Anna Jones
Poached Quince Cake | Butter & Brioche
Garam Masala Chocolate Oat Cookies | Vidya Living
Vegan Caramel, Date & Ginger Pudding | Gather & Feast
Pumpkin Olive Oil Cake with Dark Chocolate | Butter & Brioche
Black Sesame & Orange Cake | Vidya Living
BASICS
DIY Spice Blending / Vidya Living
Homemade Ghee / Vidya Living
Homemade Veggie Stock | The Ktchn
Quick Preserved Lemon / Kitchen Konfidence
Easy Gluten-Free Gravy / Yum Universe
Gluten-Free Sourdough | Aran Goyoaga
Two Dairy-Free Gluten-Free Pie Crusts / Yum Universe
Flaky Gluten-Free Puff Pastry | Aran Goyoaga 
WELLBEING
Digestive Tips for the Holidays
Navigating Food, Family & Tension Around the Table
Mapping Out A Healthy Holiday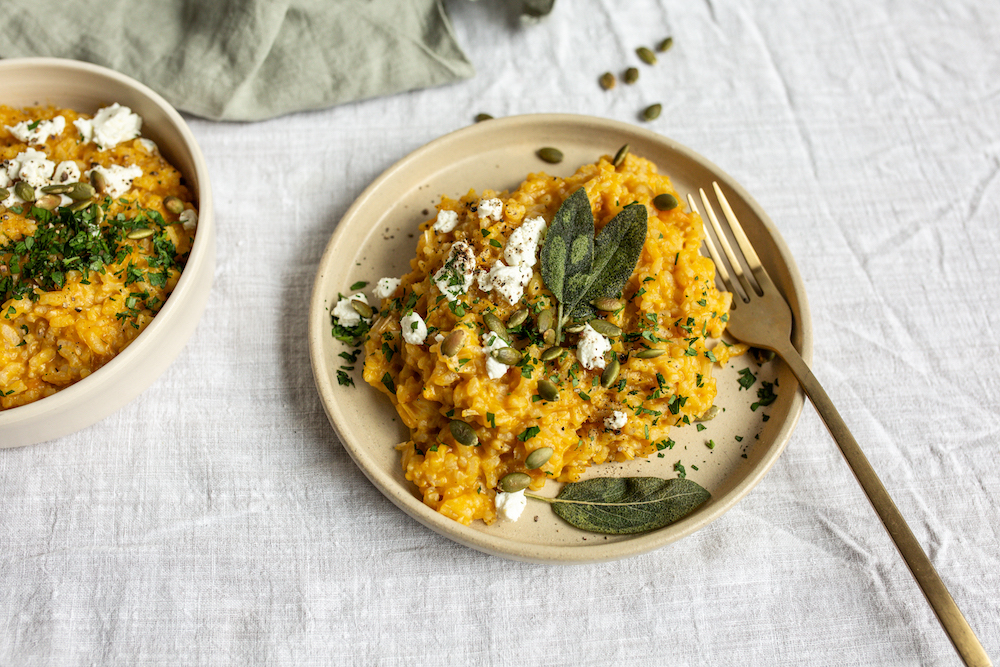 PUMPKIN RISOTTO WITH CRISPY SAGE
4 cups vegetable stock
1 ⅔ cup pumpkin puree (you'll need 1 small Sugar Pumpkin, Kabocha or Butternut Squash)
2-3 tbsp ghee or olive oil
1 small leek, trimmed, quartered & sliced thinly
2 pinches Himalayan pink salt or sea salt
2 pinches ground nutmeg
1 cup arborio rice, rinsed
⅓ cup hot water + 3 tbsp lemon juice
¼-½ tsp Himalayan pink salt or sea salt
¼ tsp fresh cracked black pepper
Optional: 1 oz fresh organic goat cheese crumbled on top
To make the pumpkin puree, preheat the oven to 400F. Cut the stem off, slice in half vertically, and scoop out the seeds. Place face down on a large baking pan. Pour 1-inch of water into the pan and cover with foil or parchment paper. Place in the oven and bake for 30-45 minutes, or until the flesh of the pumpkin is tender. Remove from the oven, allow to cool fully. Scrape the flesh from the skin using a spoon. Place in a blender or food processor, and puree until smooth. Store in a sealed jar in the fridge until ready to use. 
To make the risotto, heat the vegetable stock on low heat in a medium saucepan. Whisk in the pumpkin puree until smooth. Keep warming on low heat, you'll want the broth hot as you incorporate it into the risotto. 
In a separate medium saucepan, add 2-3 tbsp ghee or olive oil. Melt on medium heat. Add the leeks and stir to coat in the oil. Sprinkle two hearty pinches of salt on top. Cook for 2-3 minutes, until translucent. Add the nutmeg. Then stir in the rice and allow 2-3 minutes to toast the rice without liquid, until the edges become translucent.  To deglaze the rice, mix ⅓ cup hot water and 3 tbsp fresh lemon juice. Pour around the edges of the pan and simmer for 3-5 minutes, until most of the liquid has evaporated from the pan or been absorbed by the rice.
Start by adding 3/4 cup (180 ml) of the warm pumpkin broth over the rice. Reduce the heat to medium-low and stir the mixture frequently, to ensure all grains of rice are cooked evenly. Once you can drag your spoon through the mixture and it leaves a dry path, add an additional ½ cup of warm broth. Repeat this process with the remaining broth. Begin to taste the Risotto for doneness at around the 14 minutes mark, though it may take 20-25 minutes to cook in total. The rice will be creamy but have a slightly al dente texture once finished. Once fully cooked, turn the heat off and season with salt and pepper to taste. Serve hot, garnished with crispy sage and goat cheese, if using. 
Crispy Sage
8-10 fresh sage leaves
2-3 tbsp ghee or olive oil
Pinch Himalayan pink salt or sea salt
Heat a small skillet on high heat. Add the ghee or olive oil. Heat until oil is shimmering, then add sage leaves in a single layer across the pan. Heat for about 30 seconds on each side until they crisp up. Remove from the pan when done and place them on a plate lined with a paper towel to absorb the oil. Sprinkle immediately with salt to taste.
Yield: 2-4 servings 
________________________________________
This Pumpkin Risotto recipe was created for a Fall Cooking Class, a part of the Ayurvedic Kitchen Seasonal Cooking Class series that I host with my wonderful co-teacher, Julie Bernier. If you missed the class live, not to worry! We've bundled up all four seasons of classes to watch at your own pace. You'll learn over 25 recipes in this seasonal series, including what to pair and how to make this risotto a balanced meal through the Ayurvedic approach. Download the series here!
No Comments