Recipes: Blistered Green Beans with Preserved Lemon & Parsley + A Thanksgiving Guide 2019
I never thought I would say this, but I really missed cozy cold weather and the feel of the holidays. This year, my boyfriend and I are celebrating with my family. We're all foodies with similar tastes and preferences, and can appreciate a good meal together – something I know is rare when it comes to those two words: family and holidays.
Over the years, I can't tell you how many times I've heard my coaching clients express their fears and frustrations around the holidays, and particularly the holiday meal. Eating is such a social act, so what do you when your diet is different than your families? How do you navigate comfortably saying no to what doesn't feel good and making choices that do, without offending others or being on the defensive? Here are a few tips that have helped me through the years…
Plan Ahead: If you're heading out to another house for the main event, make a menu plan for yourself with a few items you know you'll love and will feel good eating. I'm a big fan of whole grain/legume salads that include a mix of roasted veggies, greens and herbs in it (like this Autumn Farro Salad or this Creamy Turmeric Millet), this way I have just one dish I'm bringing that works as a more complete meal for myself but doubles as a side dish for others. I also like to pack a personal thermos of digestive tea to sip around the meal.
Inform: If you've recently made changes to your diet, let your hosts know why and perhaps a few positive changes you've noticed for yourself. In doing so, you're affirming your choices and also giving them the opportunity to support you. Let them know you'll be bringing a plant-filled dish or two to share, and ask if they have any special requests.
Invite: No one likes an uninvited lecture on what they should or shouldn't be eating or doing with their health. Trust me, I've been on that soapbox enough times to have learned this lesson, and also on the receiving end from enthusiastic friends and family members who just found veganism for the first time or lost 20 pounds eating Keto. If you're excited to share what makes you feel great, invite them into the direct experience. Share the dish you've brought and tell them why you love it, then they get to choose whether or not to partake and you'll still have options at the table that make you happy. Ayurvedic wisdom reminds us that no two people or their digestive fire are alike – so what works for your uncle, might not work for you, and vice versa.
Recognize Your Triggers: Ram Dass has that famous quote, "You think you're enlightened? Go spend a week with your family." Let's be real with ourselves. No amount of yoga, meditation or sattvic eating can fully prevent you from feeling triggered. We all have saṃskāras, subtle impressions from past experiences than unconsciously shape our perception of reality. So when a family member says something that makes your blood boil, the real work here is to really listen to what they're saying and observe your thoughts instead of quickly react or shoot back your sharpest reply. Which leads me to my next point…
Don't Take It Personally! Perhaps the best wisdom I've ever received…nothing is ever truly about you! Let me clarify, when someone dishes you up a rude remark, it's usually a reflection of where they're feeling a lack in their own life or having an unmet need. Compassion is the key to bridging that gap between feeling judged to feeling connected. If your food choices or personal life decisions trigger someone else ( for example: sarcastic jokes about eating meat), this type of shaming through harsh humor or commentary often comes from a place of defensive fear that you're judging them for their own choices, or they're judging themselves. This awareness gifts us compassion and a personal reframe, so that we can laugh a little more and take ourselves and each other less seriously this season.
How do you navigate the tensions of family, food and the holidays? Leave me a comment below, I'd love to start a discussion together and hear your thoughts.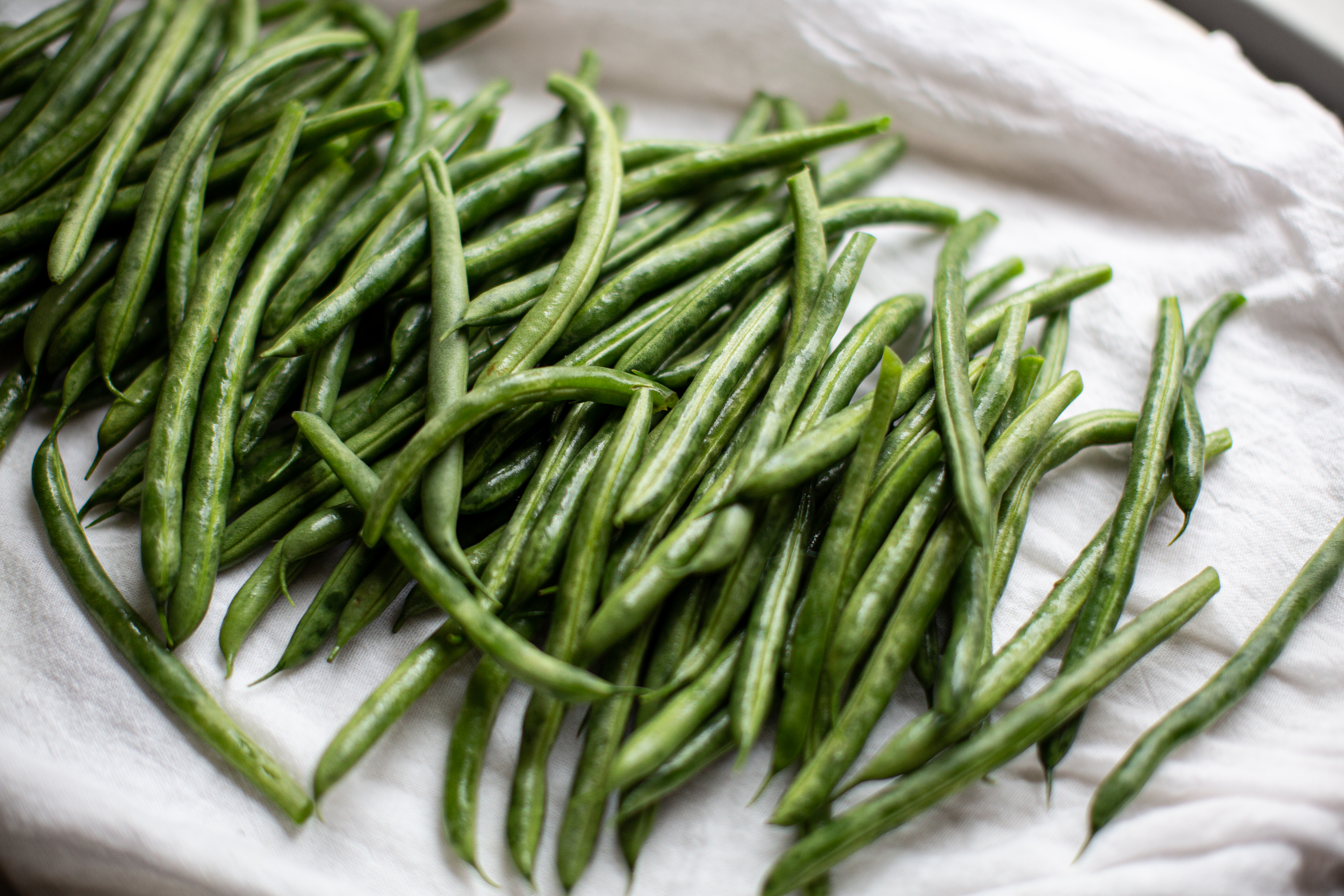 Now…how about that meal planning? As the tradition goes, I've put together a new Thanksgiving Guide with holiday recipes from fellow food bloggers and favorites from my own recipe box. These menu guides are aimed to help you design a conscious holiday menu that satisfies a range of tastes and desires. Whether you're going full veggie this year, or peppering in a few side dishes and desserts, you'll find dozens of plant-based sweet and savory recipes below. Be sure to also check out my past Thanksgiving Guides for more menu ideas – 2013, 2014, 2015, 2016, 2017, & 2018. Yes, there's 6 years of recipe ideas inside each post! 
THANKSGIVING GUIDE
DIGESTIVE
CCF Tea
Ginger Appetizers
SAVORY
Sumptuous Celery Soup / Food: A Love Story
Turmeric Carrot Apple Soup / Dolly & Oatmeal
Kale Caesar Salad with Maple Mustard Vinaigrette / Will Frolic for Food
Slow Cooked Collard Greens / Bon Appetit
Quinoa, Beet & Blood Orange Salad / Dolly & Oatmeal
Sorghum Pilaf with Roasted Brussels & Cranberry / Golubka Kitchen
Cauliflower, Pomegranate & Pistachio Salad / Yotam Ottolenghi
Blistered Green Beans with Preserved Lemon / Vidya Living (recipe below)
Roasted Pumpkin with Chili Yoghurt & Coriander Sauce / Drizzle and Dip
Celeriac Parsnip Mash with Miso Maple Butter / Tending the Table
French Onion Shepherd's Pie with Lentils & Cauliflower Mash / The First Mess
Amaranth Cake with Mushroom Gravy / Yum Universe
Winter Squash Galette / Dishing up the Dirt
SWEET
Mulled Rose & Pear Cider / Vidya Living
Spiced Pomegranate Punch / Tending the Table
Persimmon Cardamom Paloma / Will Frolic for Food
Pumpkin Pudding with Cacao Nibs / With Food and Love
Chocolate Peppermint Truffles / One Part Plant
Ginger Molasses Cookies / Will Frolic for Food
Walnut Orange Cake in Honey Syrup / Divya Alter
Gingerbread Lingonberry Bundt Cake / Green Kitchen Stories
Vanilla Pear Persimmon Pie / Snixy Kitchen 
BASICS
DIY Spice Blending / Vidya Living
Homemade Ghee / Vidya Living
Quick Preserved Lemon / Kitchen Konfidence
Easy Gluten-Free Gravy / Yum Universe
Hearty Seed Bread / With Food and Love
How To Roast the Perfect Crispy Sweet Potato / Healthyish
Two Dairy-Free Gluten-Free Pie Crusts / Yum Universe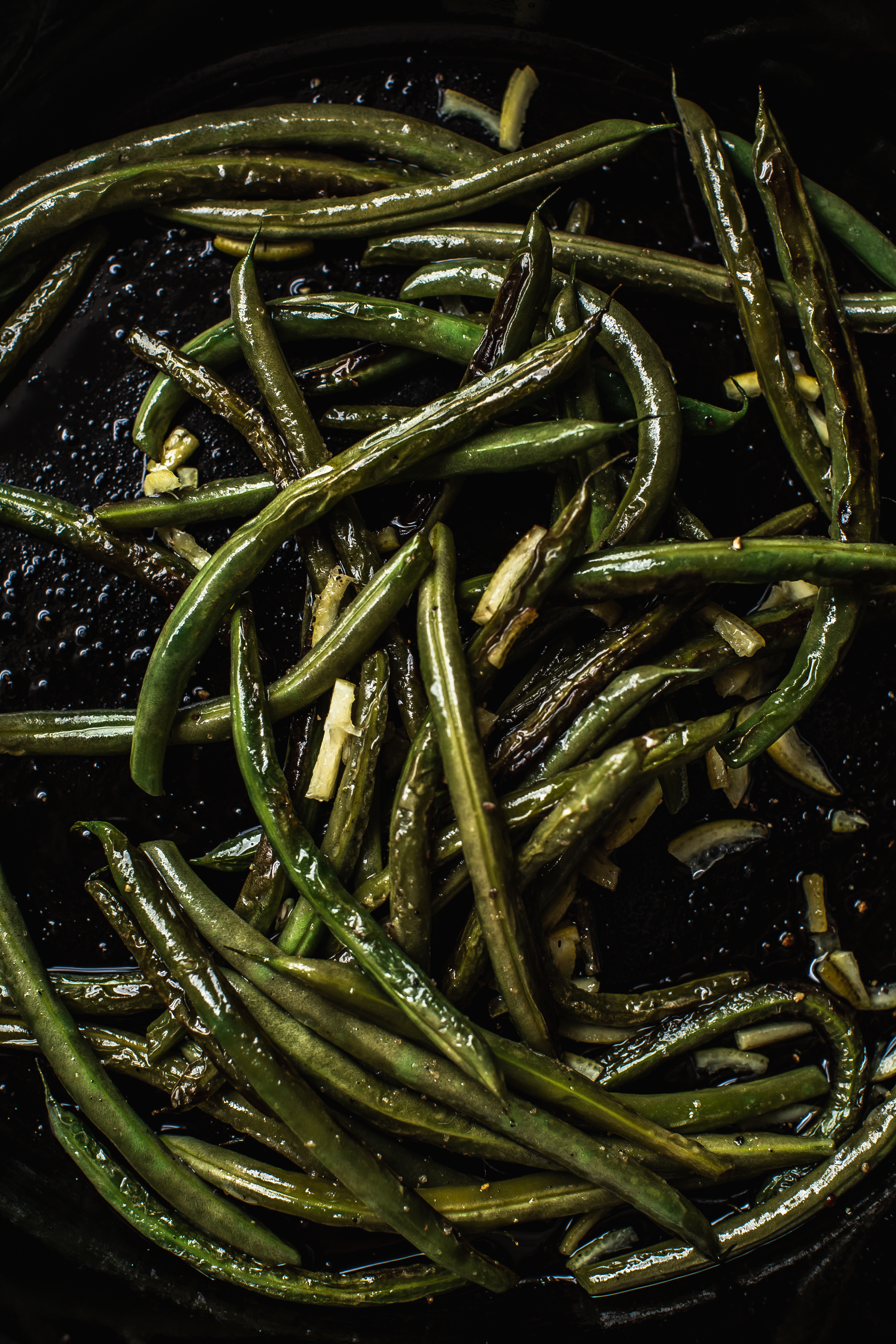 I've also launched my seasonal Ayurvedic Holiday Cooking Guide, which includes a one-hour recorded webinar on Ayurvedic principles of eating and meal planning + a beautifully designed recipe book with 25 seasonal vegetarian recipes to design a balanced holiday menu. You'll learn about the essentials of Ayurveda, the six tastes, how to balance building vs. cleansing ingredients in a meal, and practical tools in the kitchen and around the table for increasing your digestive fire so you leave the experience feeling nourished and content. Peek inside and grab the guide here! Upon purchase, you'll receive an automatic download so you can start planning and cooking your holiday feasts ahead this winter.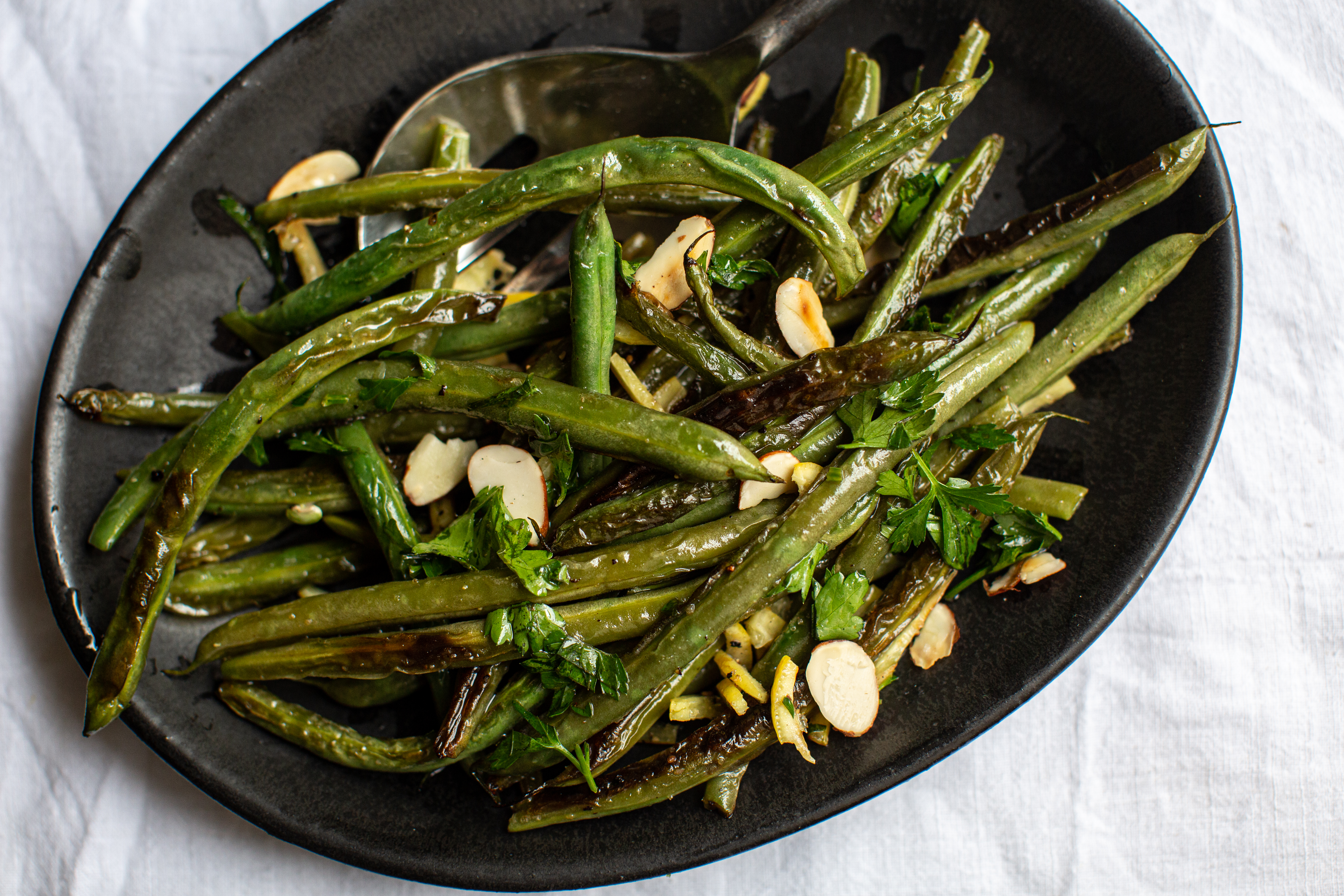 BLISTERED GREEN BEAN WITH PRESERVED LEMON & PARSLEY
¼ cup extra-virgin olive oil + 2 tbsp
1 lb. fresh green beans, rinsed, trimmed & patted completely dry
3 tbsp slivered almonds
3 tbsp preserved lemon, cut into thin slivers about 1-in long
¼ cup loosely packed italian parsley, stems removed & roughly chopped
1 tbsp fresh lemon juice
¼ tsp sea salt
⅙ tsp fresh cracked black pepper
Optional: 1-ounce fresh goat or sheep's milk feta 
If preserved lemons are not available in your area, not to worry – here's an easy recipe for quick preserved lemons! When making your own, plan to start here first because it takes about 3-4 hours of preserving time until ready. You may plan ahead to start this in the morning if you're going to make the beans in the afternoon, or even make these the night before and store the jar in your fridge.
In a large skillet, heat the oil over high heat until shimmering. Add the dry green beans into the oil and cook about 5-6 minutes until browned on one side. The dryer the beans are, the less the oil will spatter from the water. Using tongs, turn the beans carefully and spread them evenly across the skillet so they brown on both sides. Continue to cook another 4-5 minutes, turning occasionally to prevent burning and ensure they're browned evenly. In the last minute, add the preserved lemon, slivered almonds, salt and pepper. Toss to coat and cook for another minute. Turn heat off. Let sit in the hot pan on the stovetop for 2-3 minutes. 
While the beans sit, combine 2 tbsp olive oil, the lemon juice and parsley in a small bowl. Whisk together with a fork until well combined. Set aside until ready to use. 
To serve, arrange the green beans onto a serving dish. Pour the lemon/parsley mixture overtop. Garnish with a crumbling of fresh sheep's milk feta, if desired. 
Makes 4 servings
Note: Wondering what to do with your extra preserved lemons? Try this preserved lemon spread.
No Comments