Recipes: Garam Masala Chocolate Oat Cookies
Hello from my cozy cold weather kitchen! This is the first year I've had a real winter in a very long time, with snow and everything! I traveled to Whistler for New Years and went snowshoeing up to a glacial lake. Growing up in Alaska, I'd forgotten how much I missed seeing epic mountains and powder covered cedars and spruce trees. Then I flew east to the Berkshires for a different kind of winter landscape, and started a 6-month continuing education program at Kripalu. I'm loving being a student again, especially when it entails being surrounded by a wonderful community of Ayurvedic practitioners and people who are as passionate about this wisdom as I am. But most of all, I'm loving the quiet time for self-reflection this cold weather has brought.
Winter has gifted me a kind of inward solitude and slowness I've needed after a few years of perpetual summer – both geographically and energetically. Though it hasn't been very visible yet, the last 2 years have had me quietly working behind the scenes on the biggest project I've done to date. A book. It didn't come at the most relaxing time either. Between floods and hurricanes and multiple unplanned moves, it's taken me a while to recover my strength and grounding again after a big cycle of output and outward energy. I've been in a state of continual motion and had forgotten what stillness really felt like.
And let me be honest with you, stillness isn't always comfortable! During my Ayurveda training last week, we took 24 hours in shared silence together. No speaking, no sign language or eye contact, no music or technology. Though this wasn't the first time to experience something like this, the resulting discomfort never ceases to surprise me when it arises! Anxiety, agitation, restless and racing thoughts all ensued. AKA high Vata. It took a full week to down-regulate my nervous system and start to get comfortable with stillness again.
As a culture, we tend to value the solar side of things—that which is active, engaged, producing, achieving, outward and expansive. But the quiet, unseen spaces of rest and integration are just as important and valuable. Having tasted depletion myself, and witnessed so many clients running on their last reserves, rest is really the missing component to health we need to be talking about more as a culture! When we prioritize time for appropriate rest, we can then return to creating from a place of true inspiration and nourishment. Our bodies have cycles just as nature does, and winter naturally gifts us a time where we can hibernate and replenish our bodies and minds.
A friend reminded this past week that I don't have to earn my rest. I don't need to prove how much I've worked or justify taking time off. So I'm here to remind you too, the only permission you need is the permission you give to yourself. Even if this looks like sleeping in, or taking a nap or doing this daily guided meditation to replenish your nervous system. Whatever shape it takes, give yourself this gift this season.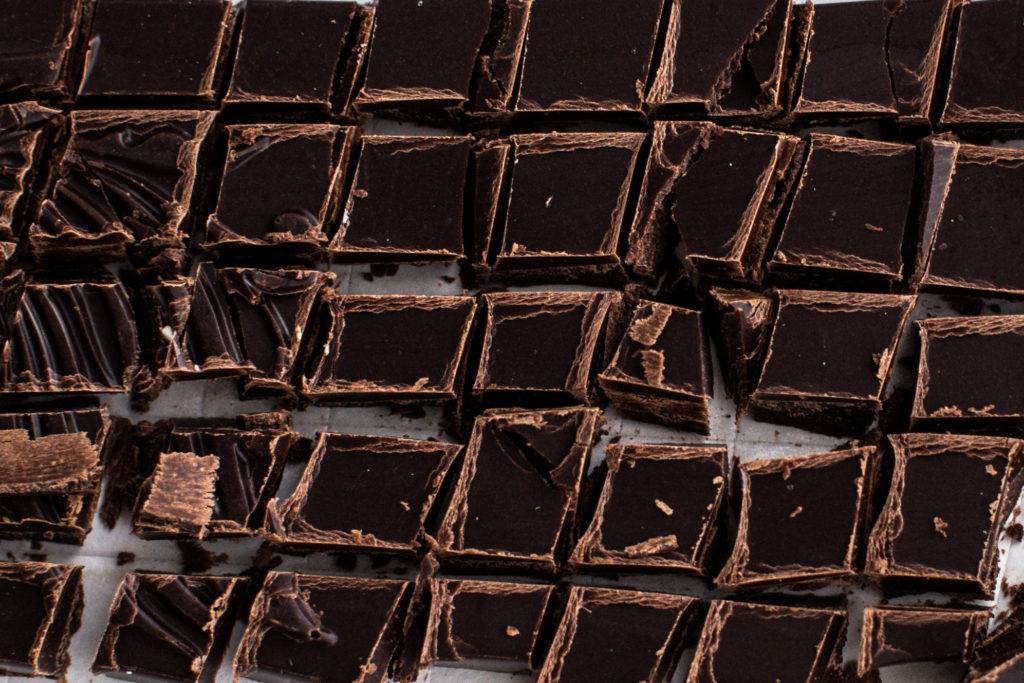 And if rejuvenation looks like lots of baking projects while catching up on podcasts—do that, too! That's what my winter has also brought me. Since the leaves turned golden and fell to the ground, I've been baking with winter squashes and pumpkins abound. I've included in the instructions below how to make your own homemade pumpkin/squash purees so you can ditch the canned thing and enjoy it fresh.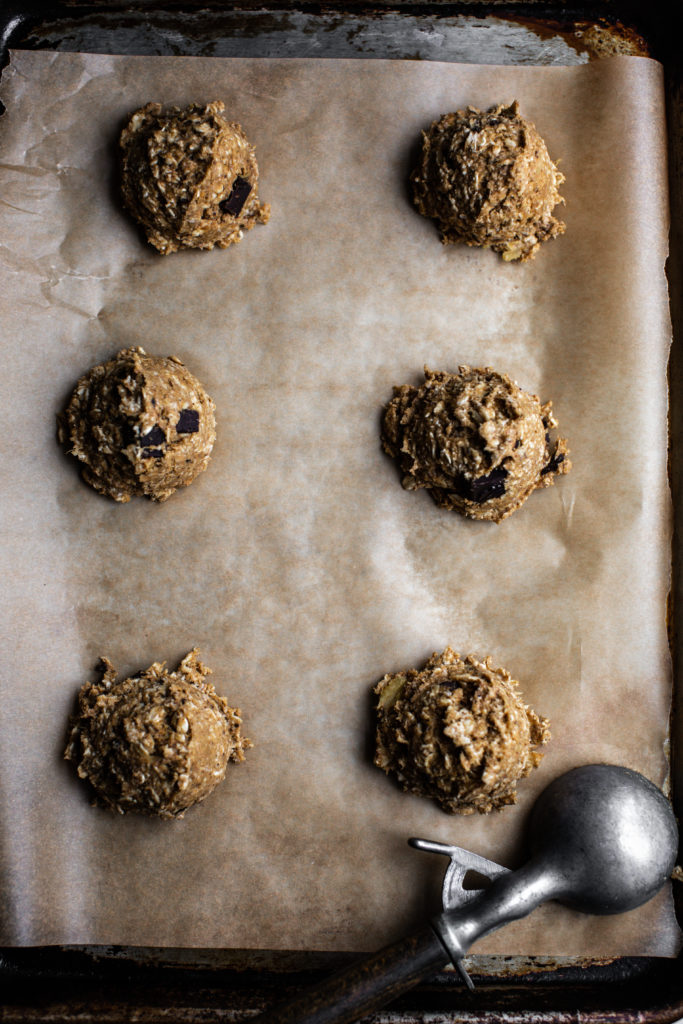 With so many beneficial vitamins and minerals in pumpkin and winter squash, I consider these cookies a healthy winter treat. Made with pureed pumpkin, rolled oats, gluten-free flour, rich ghee and warming agni-boosting spices, these also make for a great ojas-boosting snack. Garam Masala is an Indian spice blend made from a mix of sweet and pungent spices—coriander, red chili, cumin, clove, ginger, fennel, black pepper, cinnamon, fenugreek, nutmeg, cardamom, and mace. The virya (action) is heating, and the vipak (post-digestive effect) is pungent, making this spice blend generally more balancing for vata and kapha, but if your fire is high, you might consider reducing the spices overall in this recipe for balancing pitta. 
GARAM MASALA CHOCOLATE OAT COOKIES
1 small pumpkin or butternut squash (2 cups puree needed) 
2 cups rolled oats
½ cup almond flour (or oat flour)
¼ cup coconut sugar or jaggery
2 tbsp tapioca flour (or psyllium husk)
2 tbsp ground flax
1 tsp ground cinnamon
½ tsp ground nutmeg
½ tsp garam masala
¼ tsp ground cardamom
¼ tsp sea salt
½ cup maple syrup
¼ cup melted ghee (or coconut oil)
½ cup dark chocolate chunks
Peel and clean the pumpkin or butternut squash, remove the seeds and then cut into small 2-inch chunks. Place in a large pot and cover with water. Bring to a boil on high heat, then reduce heat to medium-high and cover with a lid to steam until tender. You can also do this in your InstantPot or stovetop pressure cooker following their instructions for steaming. Once done, drain off the remaining water and place the soft squash into a large bowl. Mash with a fork to make a smooth puree. Set aside and allow to cool while preparing the dry ingredients.
Preheat the oven to 350F. In large bowl, whisk together the dry ingredients. Measure out 2 cups of the fresh squash puree, then fold it into the dry mixture. Mix in the maple syrup and oil next. Finish by folding in the chocolate chunks at the end. Place the dough in the refrigerator for 10 minutes to firm up the batter.
Line a baking sheet with parchment paper. Take the batter from the fridge and use an ice cream scoop to measure out the cookies. Use two baking sheets to divide the batter between the pans, or repeat after the first tray is finished cooking to use the remaining batter. Use the palm of your hand to flatten the balls to ½-inch thick cookies
Place in the oven and bake for 20-25 minutes until golden and firm on the outsides but slightly soft on the insides.  Remove from oven and allow to cool for 15 minutes before serving. Enjoy warm with a mug of tea or hot turmeric milk. Store in a sealed container at room temperature for up to 3 days. 
Makes 10-12 cookies 
5 Comments
5 responses to "Recipes: Garam Masala Chocolate Oat Cookies"