Recipes: Pumpkin Empanadas From My New Book + Thanksgiving Guide 2020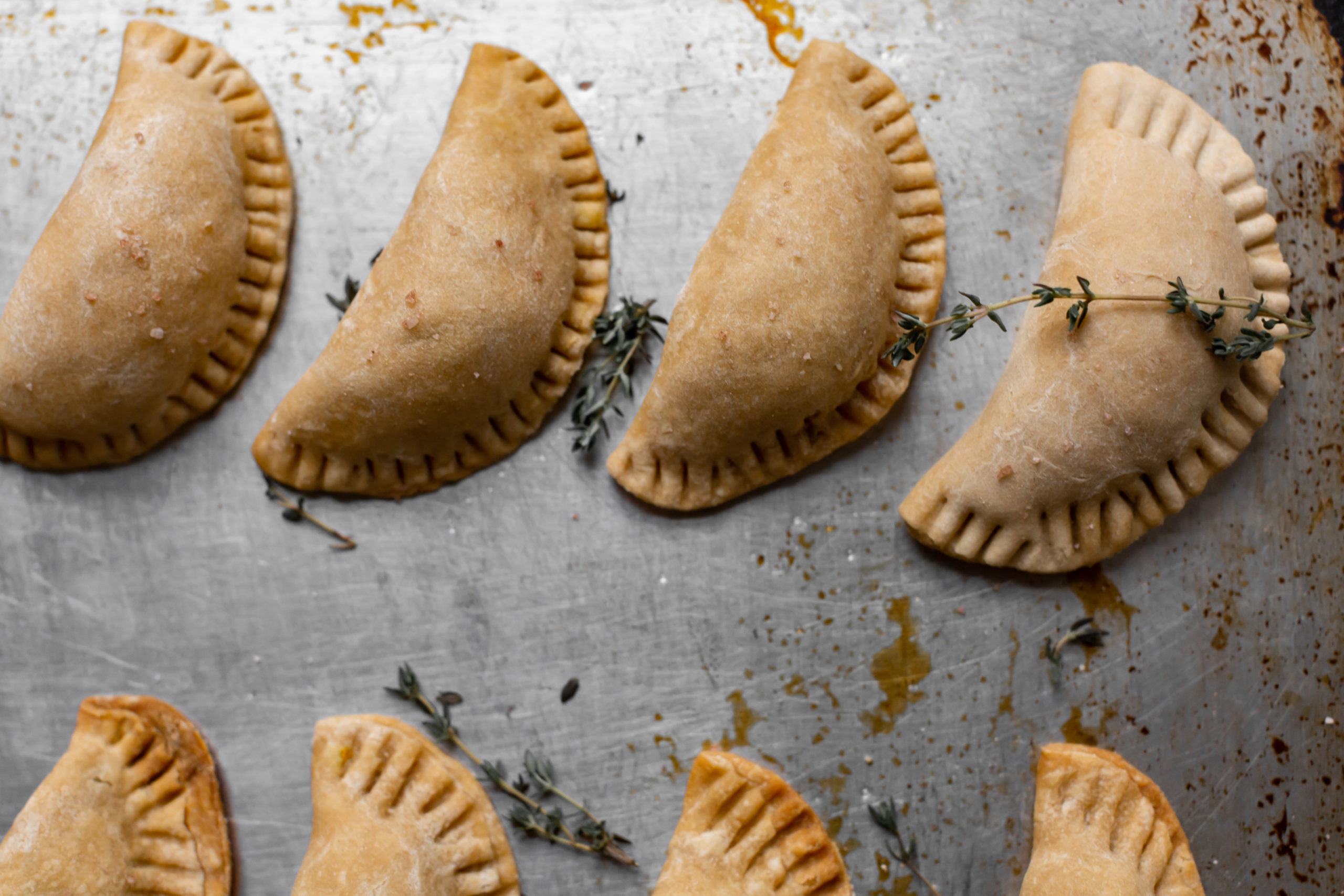 Thanksgiving snuck up on me this year. Between preparing for my big book launch (just four days away!!), and stocking up on food and supplies for another mandatory state-wide lockdown (sigh), I looked at the calendar today to realize this year's feast and festivities were less than a week away! This year has been an emotional marathon of events, to say the least. And what normally feels like an exciting time of year, has certainly been racked with tension and uncertainty. In spite of this, time with loved ones couldn't feel more important and valuable right now. 
Our small family arrives on Sunday, and we're planning a few celebrations rolled into one—a birthday, a book launch, the completion of a grad school semester, and a reunion of family after a long year mostly apart. Putting grief aside, I set out today to start the holiday meal planning. I couldn't miss out on my annual Thanksgiving Guide tradition. This one runs about as long as my blog has been going! Be sure to check out my past Thanksgiving Guides for more menu ideas – 2013, 2014, 2015, 2016, 2017, 2018 & 2019. Yes, there's 7 years of delicious recipe ideas inside each post! Whether you're going full veggie this year, or peppering in a few side dishes and desserts, you'll find dozens of plant-based sweet and savory recipes below from Vidya Living, Living Ayurveda, and from my favorite food bloggers across the internet. I hope these recipes feed more playfulness and joy around your holiday table this year.  
THANKSGIVING GUIDE
SAVORY
Simple Celeriac Soup / Tending the Table
Kabocha Squash, Fennel & Red Lentil Soup / Dolly & Oatmeal + Vidya Living
Radicchio & Red Pear Salad / Healthyish
Jerusalem Artichoke Salad / Deliciously Ella
Blistered Green Beans with Preserved Lemon / Vidya Living
Sauteed Broccoli Rabe, Beets & Saffron Almonds / Divya Alter
Roasted Squash with Dates & Thyme / Alison Roman
Golden Crusted Brussels Sprouts: Five Ways / 101 Cookbooks
Vegan Sweet Potato Gratin / Will Frolic For Food
Baked Aubergine with Brussels, Beluga Lentils & Pomegranate / Green Kitchen Stories
Butternut Squash Galette with Cornmeal Crust / The First Mess
Pumpkin Empanadas with Cashew Crema (recipe below) / Vidya Living
Pomegranate Mint Relish / Alison Roman
SWEET
Big Batch Golden Milk / My New Roots
Chyawanprash Rooibos Latte / Tending the Table
Pippali Gingersnaps / Banyan Botanicals
Healthy Snickerdoodles / Will Frolic For Food
Vegan Pine Nut & Peppercorn Shortbreads / What's Cooking Good Looking
Amaranth Corn Pudding / Andrea Murdoch
Coconut Panna Cotta with Salty Maple Cacao Nibs / With Food and Love
Pumpkin Pie Caramel Bars / Green Kitchen Stories
Chocolate Tart with Salted Oat Crust / Healthyish
Cranberry Linzer Torte / Oh, Holy Basil
Classic Pumpkin Pie with Cardamom Whipped Cream / Kripalu
BASICS
DIY Spice Blending / Vidya Living
Homemade Ghee / Vidya Living
Simple Cranberry Sauce / Life Is But A Dish
Easy Gluten-Free Gravy / Yum Universe
Classic Sourdough Loaf / Sarah Owens
How to Make Gluten-Free Gravy Taste / Bon Appetit
How to Make Gluten-Free Whole Grain Pie Crusts / Dolly & Oatmeal 
WELLBEING
Digestive Tips for the Holidays
Navigating Food, Family & Tension Around the Table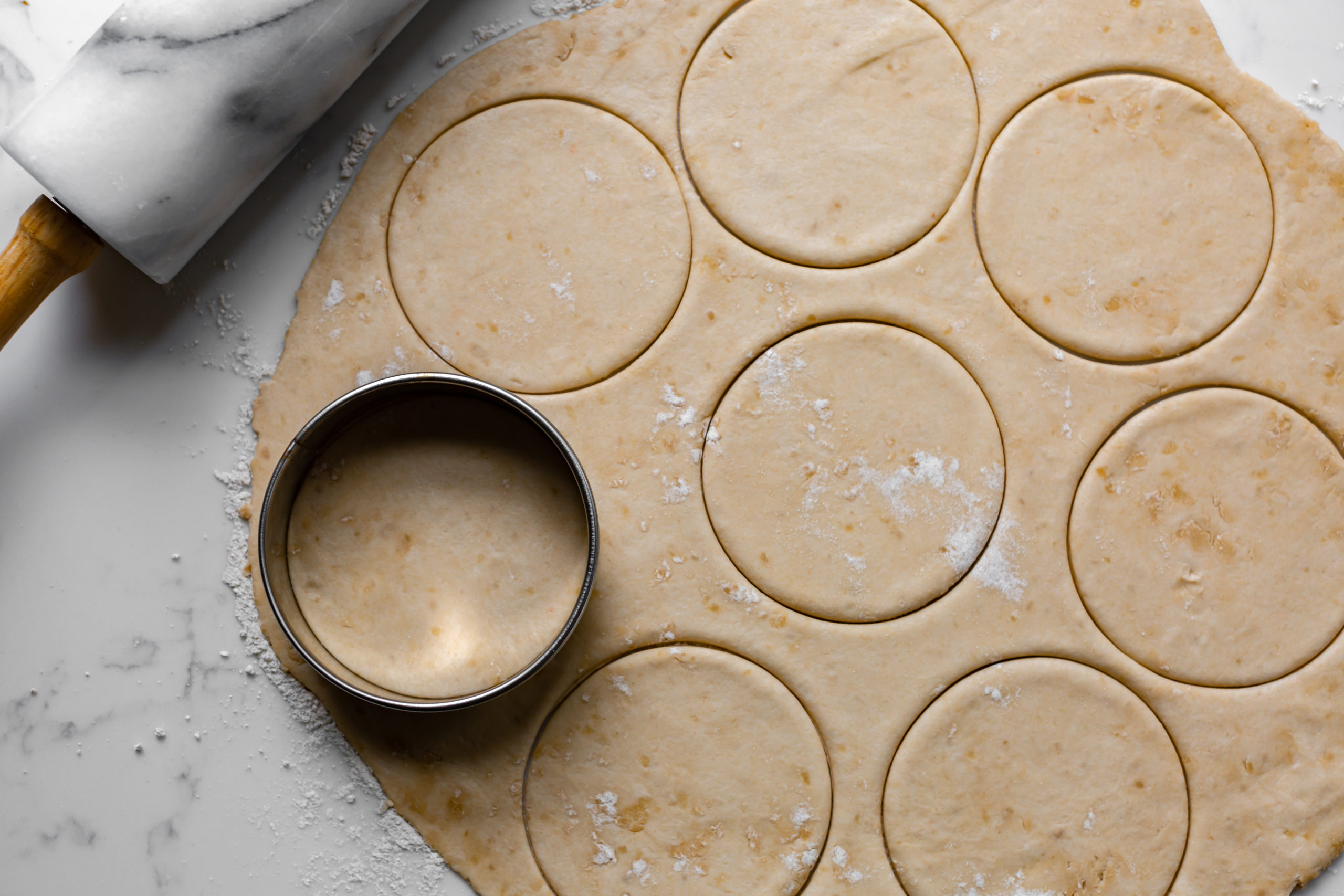 This recipe for Pumpkin Empanadas comes from my new book Living Ayurveda, which releases November 24th. I had a blast working on this recipe when I first started developing it. I knew I wanted to make something using chapati dough (chapati are simple whole wheat flour flatbreads often used in Indian cuisine and sattvic cooking). And I knew I wanted it to be stuffed with delicious fall flavors that melded some of my favorite Ayurvedic spices and Thanksgiving ingredients. These little hand pies have similar ingredients to Indian samosas, but stuffed with cooked pumpkin, folded and shaped like empanadas, and baked instead of fried. Though a bit more labor intensive than a one pot meal, these are a fun addition to any holiday gathering or dinner party menu. And with the book's release timed with Thanksgiving, this recipe couldn't have felt more fitting to share right now!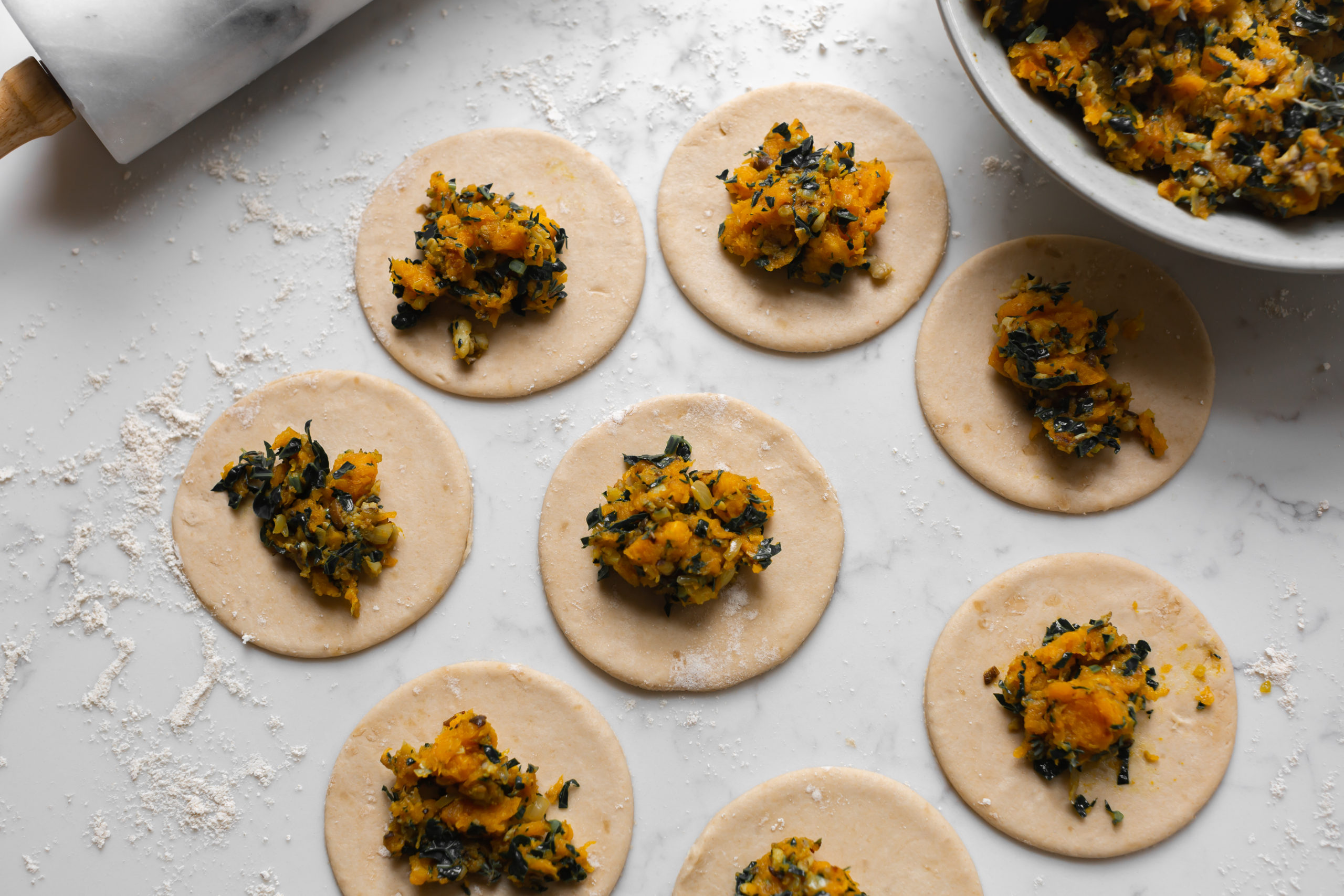 PUMPKIN EMPANADAS WITH CASHEW CREMA
Dough
2 cups whole wheat flour pastry flour + extra flour for dusting
1 tsp salt
1 tbsp melted ghee (or sunflower oil)
½ cup water + 3 extra tbsp if needed
In a large bowl, combine the flour and salt. Next, add the ghee or oil. Pour half of the water to the flour mixture. Begin mixing by hand, adding in more water 1 tablespoon at a time and working the mixture until it begins to form a dough. If your dough looks dry, add a little more water to the mixture as needed. Certain flours might yield different textures, this works best with whole wheat pastry flour. Place the dough in a bowl, cover with a towel and allow to sit for 30 minutes at room temperature. When ready, roll the dough out on a floured surface. Use a 3-inch round cookie cutter or ring mold to stamp the dough into rounds. Take the scraps and press them into a ball, then roll them out again into a flat sheet to stamp the remaining dough.  Set aside the dough rounds aside until ready to assemble.
Roasted Pumpkin
4 cups cubed pumpkin (or butternut squash), peeled & cut into 1 inch cubes
1 tbsp olive oil
Pinch salt
Fresh cracked black pepper
Preheat the oven to 350F. Spread the pumpkin across a baking sheet. Lightly coat in olive oil, sprinkle with salt and pepper. Roast for 15-25 minutes until tender, check after ten minutes and toss. If using butternut, it will cook quicker than pumpkin. Transfer to a bowl and mash with a fork. Set aside. 
Filling
2 tbsp ghee (or olive oil)
2 tbsp shallot, minced
2 cloves garlic, minced
8 shiitake mushrooms, stems removed & finely chopped (about ½ cup)
4 leaves lacinato kale, finely chopped (about ¾ cup)
2 tbsp fresh thyme leaves
2 tsp curry powder
½ tsp ground cinnamon
⅙ tsp ground nutmeg
½ tsp salt
¼ tsp fresh cracked black pepperWhile the pumpkin is roasting, sautée the shallot and garlic. Add the mushrooms, curry powder, cinnamon and nutmeg. Cook for 5 minutes on low heat. Add the kale and cook another 2-3 minutes until tender. Remove from heat and set aside. Mix the sautéed mushrooms, thyme and salt until fully incorporated into the mixture. You want the consistency mostly smooth with some texture. Set the filling aside until ready to assemble. 
To Assemble: spoon about 1 tablespoon of filling into the center of each dough round. Fold one half over the other, lining up the edges. Use a fork to press down around the edges to seal the dough pocket. Arrange the empanadas onto a baking sheet. Brush the tops with melted ghee or olive oil. Place in the oven and bake for 14-18 minutes at 375F until golden brown. Serve warm right out of the oven with a drizzle of cashew crema and a sprinkle of fresh thyme.  
Cashew Crema
1 cup cashews, soaked 1 hour
¾ cup water
1 ½ tbsp apple cider vinegar
1 tsp thyme
1 clove garlic
1-2 tbsp lime juice
1 tsp maple syrup
½ tsp salt
Pinch ground nutmeg 
Combine all ingredients in a high-speed blender. Puree until creamy. Taste and adjust seasonings as needed. Store in an airtight jar in the fridge until ready to use. 
Prep: 1 hour
Cook: 30 minutes
Yield: 12-14 empanadas
Variations
Pitta: Use sunflower seeds in place of cashews for crema, omit garlic
Kapha: Enjoy in moderation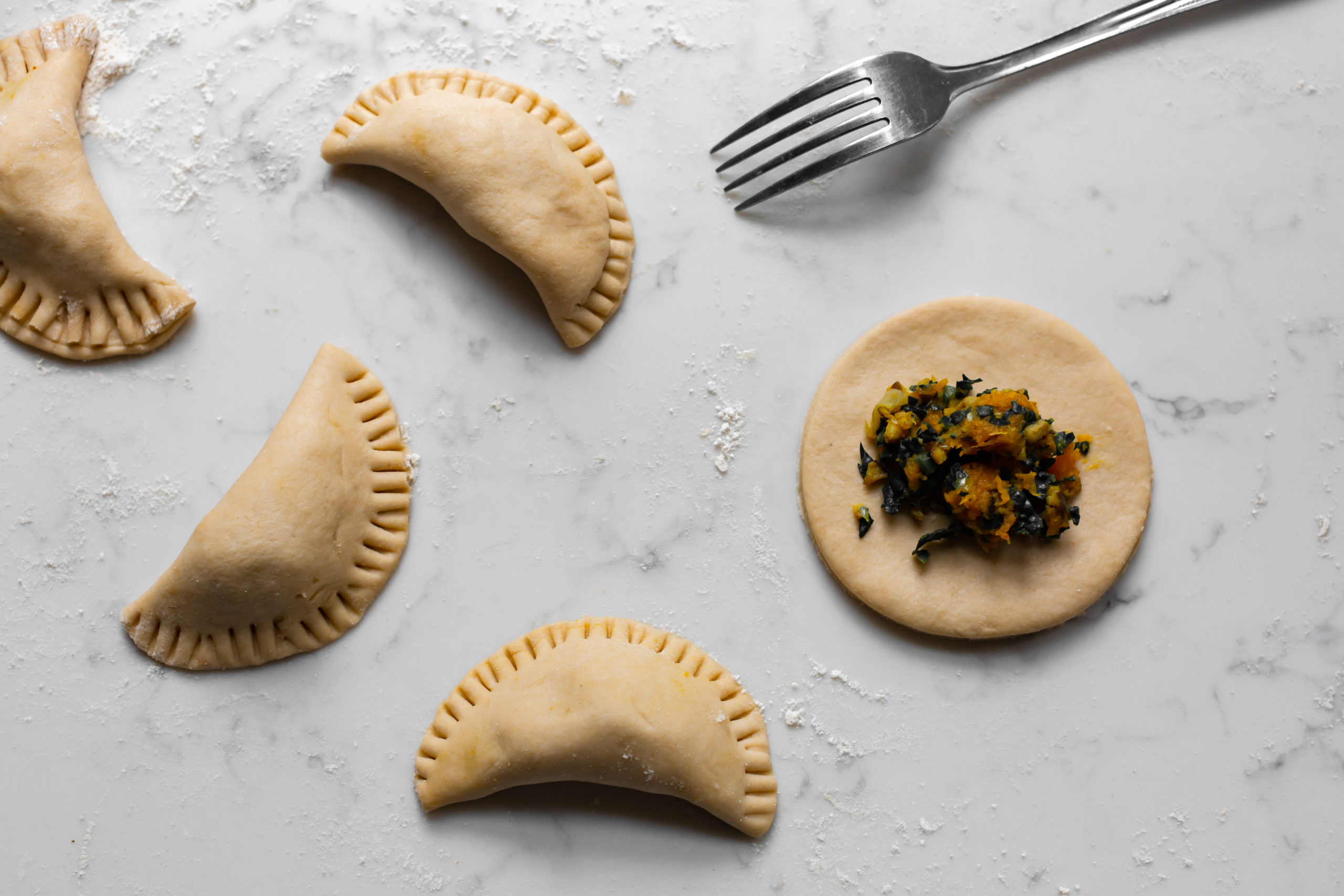 Want more delicious seasonal recipes with an Ayurvedic twist? Check out my new book Living Ayurveda: Nourishing Body and Mind through Seasonal Recipes, Rituals, and Yoga. Bring your Ayurvedic living practice to life this new year by joining my Book Club!
No Comments