Recipe: Carrot Coriander Soup
Over the past year, we've started clearing a little piece of land near my fiancé's work to experiment with our first real garden. My guy has become passionate about dry stack stone wall building, so naturally the first thing we did was clear all the rocks from the thick volcanic clay soils. He built the perimeters of the first stone wall, tilled the soil and then we built mounds in the first bed to grow six rows of different veggies: okra in one row, two types of heirloom fennel and French breakfast radishes in the next, then kale, chard, bok choy and mizuna in another row,  Hawaiian sweet potatoes ('uala) in another, a row of beets and carrots after that, and a trellised row of kabocha squash vines—which only yielded one little squash…that I'm very proud of, I'll add. We had a few herbs like cilantro and basil on the perimeter.
I'm a completely novice gardener, so for my master gardener's who might be reading this, bear with me here. We are learning! And this was a great season of learning. Most our garden did really well for our first attempt, with a moment of aphids that got to our basil plant and cilantro that bolted too quickly. In the middle of September, we harvested the carrots and beets. The carrots were a tangled knobby mess of roots from the spacing and the soil, with some looking like odd arms and legs, which we formed jokingly into "Carrot Man" who lived on counter for a few days. After the harvest, it was clear the best thing to make from this tangled mess of roots was a warm, creamy carrot soup.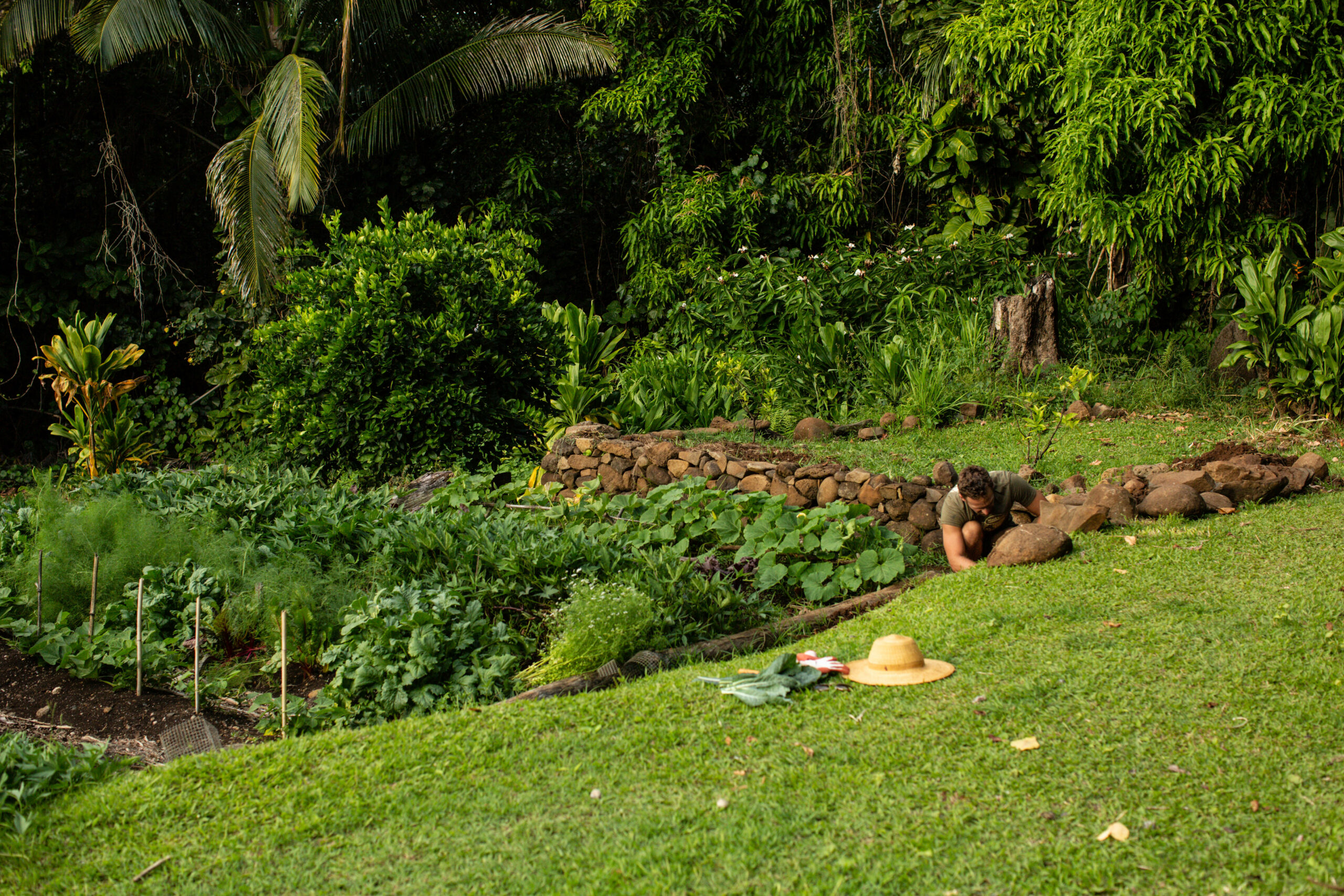 Being in the tropics in a non-climate controlled second story home means heat rises and the summer's can be brutally hot inside. Turning on the oven is out of the question, and even the stove top gas burners make an uncomfortable kitchen unbearable in minutes. You can imagine cooking in this scorcher we call our kitchen has been less than enticing the past few months. Just when I thought I couldn't take it any longer, the trade winds picked up and a week of rain blew in, soaking the soils and cooling my soul. I looked at the calendar to note we are in the Ṛtusandhi, what Ayurveda notes as the seasonal juncture between two seasons, which lands 7 days on either side of the Fall Equinox. It's incredible how these rhythms of nature exist without fail. And just like that, Fall has arrived.
In Ayurveda, the junctures of the seasons are crucial times to support your health and adapt to a changing environment. These junctures offer a two-week period to tune into your bodily rhythms and make conscious shifts in your diet and lifestyle. In the Ashtanga Hridyam, it's noted that: "During this period, the regimen of the preceding season should be discontinued gradually and that of the succeeding season should be gradually adopted; sudden discontinuance or sudden adoption gives rise to disease." So as the new season enters, I'm gradually embracing more soups and stews again, and letting go of my light summer salads as things cool down. It was also a joy to cook with ingredients we grew, and celebrate the harvest! If you've grown carrots and would like to use all parts of plant, try the recipe below for this carrot top chutney to adorn your soup. Or explore the Cumin-Roasted Carrots with Carrot Top Gremolata from my book Living Ayurveda.
Wishing you a joyful transition of the seasons!
CORIANDER CARROT SOUP WITH CARROT TOP CHUTNEY
Carrot Soup
1 tbsp ghee
1 tbsp ground coriander
⅔ tsp ground turmeric
¼ tsp fresh cracked black pepper
4 cups chopped carrots
6 cups vegetable stock (or organic chicken stock)
½ tsp Himalayan salt
1-2 tsp fresh lemon or lime juice

In a large pot, melt the ghee on medium heat. Add the coriander, turmeric and black pepper to infuse the flavor into the ghee. Cook for 60 seconds. Stir to prevent sticking or burning. Stir in the carrots. Add 1 cup of the stock to the pot. Cook uncovered until the liquid absorbs and the carrots soften, about 5 minutes. When the carrots have a thin layer of liquid left, reduce heat to the lowest setting and cover with a lid to sweat the carrots for 10 minutes. Remove the lid, add the remaining stock and bring to a simmer. Cover with the lid again and cook for another 20-25 minutes. The carrots will become very soft and the liquid will be reduced to half the amount. 
Transfer to a blender (or use an immersion blender) to puree the soup until creamy. Pour into your serving bowls and garnish with a dollop of carrot top chutney, toasted pumpkin seeds and a drizzle of olive oil. Sprinkle with ground sumac for a vibrant garnish. 
Yield: 4 servings
Carrot Top Chutney
1 cup roughly chopped carrot tops
½ cup roughly chopped cilantro
2 tbsp lemon juice
1 tbsp lemon zest
1 tsp ground coriander
½ tsp ground cumin
½ tsp Himalayan salt
¼ tsp fresh cracked black pepper
¼ – 1/3 cup olive oil
Combine the carrot tops and cilantro in a food processor. Pulse until broken down into a rough paste. Add the lemon juice, zest, salt and spices. Pulse again until it becomes a finer paste. At the end, pulse in the olive oil to create a smooth paste. Transfer to a jar, drizzle in a little extra oil. Store sealed in the refrigerator for up to 7 days. 
Yield:  ½ cup chutney
No Comments