Recipes: My Favorite Kitchari Recipe + Ume Pickled Radishes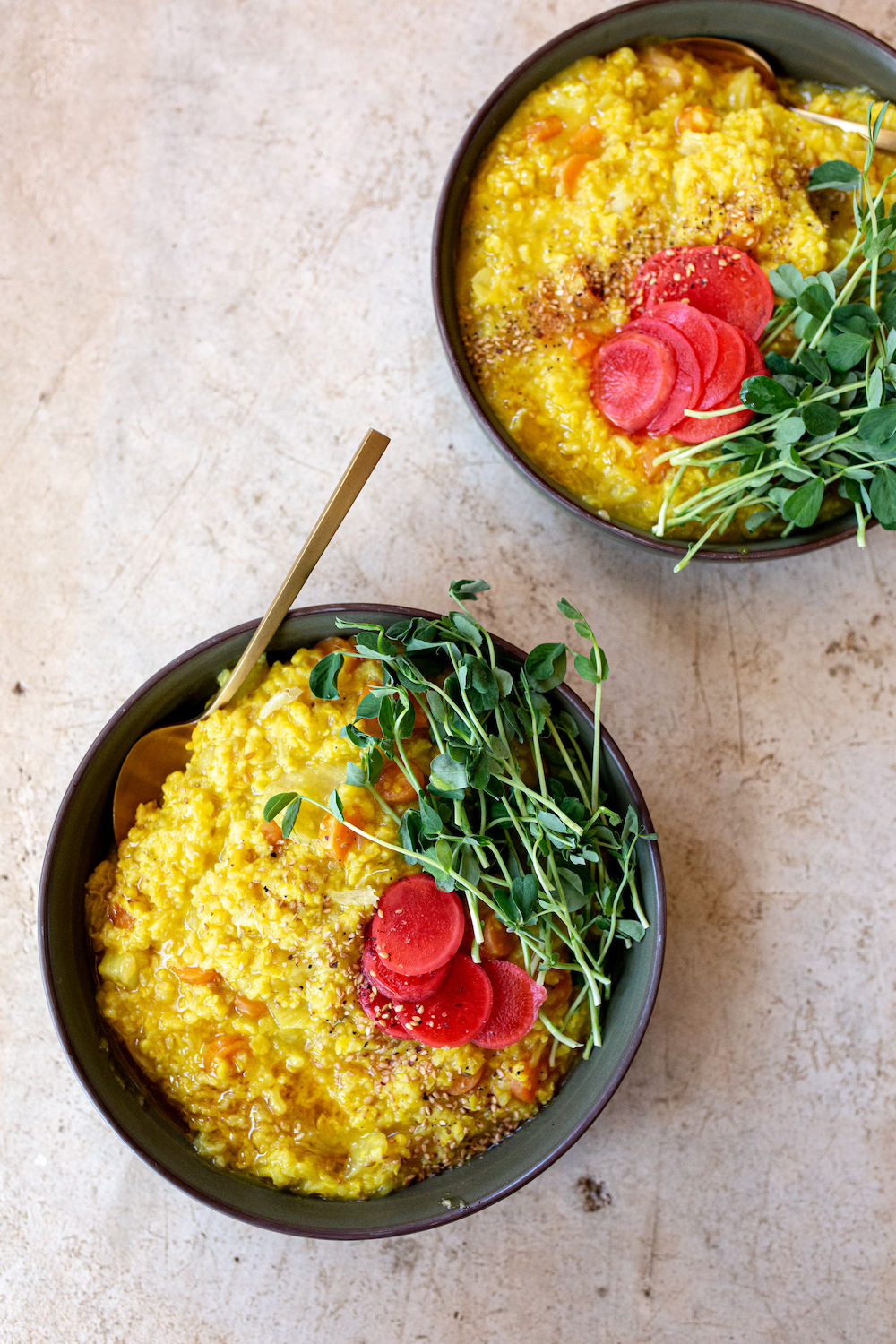 Kitchari, the post child of Ayurveda!  Yes, if you've landed on this recipe, chances are you've made a version of this dish before—whether it's one of my past recipes (like this Fall Kitchari & Coconut Chutney or this Winter Kitchari with Ginger Chutney) or somewhere else. But if you're new to this dish, let me introduce you to this simple one-pot meal.
Kitchari, often deemed Ayurveda's "chicken soup" for its nourishing medicinal qualities, can often be found in cleansing protocols and as a medicinal meal when sick or your digestive fire is low. However, this dish is prized not only for digestive healing but also as a nourishing complete meal to be enjoyed anytime. Made from mung beans, rice, and spices, it can be a simplified meal used for fasting or it can be dressed up with extra veggies and chutneys for an exciting feast.
Over the years, I've tried many different spice combinations and vegetable additions. But the one I've landed on as my favorite, the one I return to time-and-time again, is a carrot fennel kitchari topped with a quick pickled radish. It's hearty and satisfying, while also feeling light and easy-to-digest. On my busiest days, I often make a pot of this to eat for lunch and dinner in my InstantPot, knowing I'll have a great meal waiting for me that will also make me feel good.
While Ayurvedic cooking is certainly not all Kitchari, I understand how this dynamic dish has become synonymous with Ayurveda. It's an easy-to-make foundational meal that is nourishing for all three doshas and adaptable through the seasons. So get familiar with this staple sattvic recipe and explore the many ways you can weave it into your regular repertoire!
And if you want to learn more about the principles of Ayurvedic cooking in action, join me online for our next 4-week cooking immersion! My dear friend, Julie Bernier of True Ayurveda, and I will be leading this together in February 2021. Part lecture and discussion, part interactive cooking class—each week progressively builds on the previous learning theme, so you take away knowledge of not only how to prepare a recipe, but a deeper understanding of how to nourish your body. You'll learn Ayurvedic concepts alongside staple recipes, while also expanding your repertoire with versatile real-food formulas for building balanced meals and adapting dishes to meet your bodies' needs. We want to teach you how we cook and feed ourselves practically each day, using Ayurvedic wisdom while meeting a modern-day lifestyle. I hope you'll join us in the kitchen!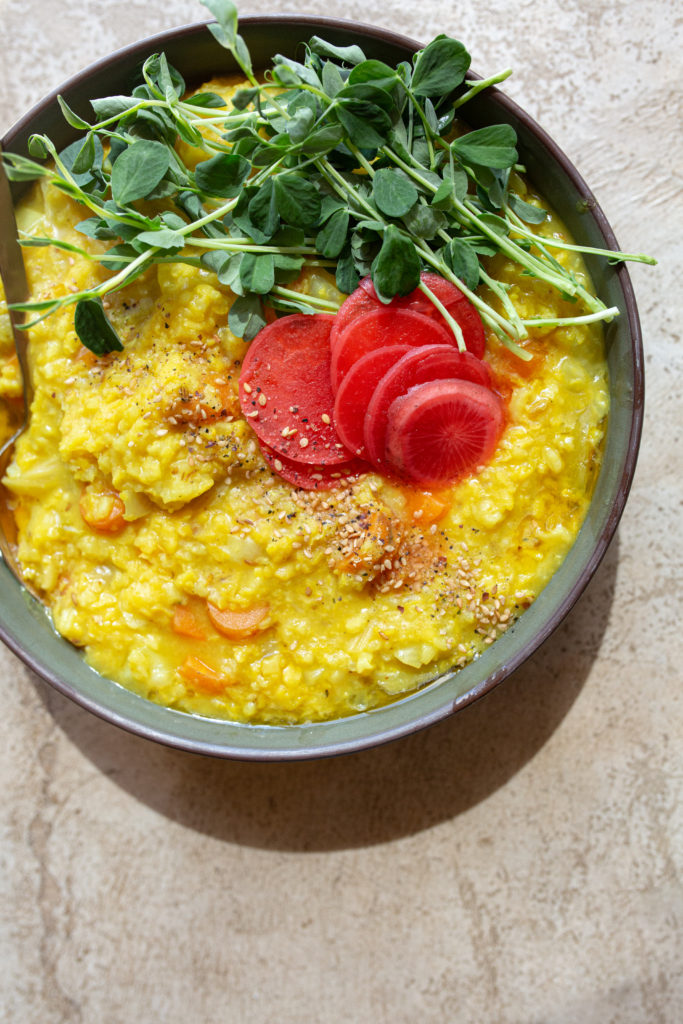 KITCHARI WITH UME PICKLED RADISHES
Fennel Carrot Kitchari
1/3 cup white basmati rice
1/3 cup hulled split yellow mung dal (or red lentils)
1 tbsp ghee (or untoasted sesame oil)
1/2 tsp ground turmeric
1-inch fresh ginger root, peeled and finely chopped or grated
1 tsp cumin seeds
1 tsp ground coriander
1/2 tsp ground fenugreek
Pinch of asafetida (hing)
4-5 cups water
½ teaspoon Himalayan or sea salt
2 carrots, peeled and sliced into 1/4-inch rounds
1 small fennel bulb, trimmed, quartered & cut 1/4-inch slivers
To garnish:
Himalayan salt, Freshly ground black pepper
A small handful of fresh herbs – cilantro, parsley, dill, or basil
Extra ghee or olive oil
Fresh lime juice
Rinse the rice and mung in a mesh strainer. Set aside to drain.
Peel and cut the carrots. Cut the stalks off of the fennel, then quarter the fennel bulb length-wise and cut into thin slivers.
Heat the ghee in a heavy-bottomed pot over medium low heat. When hot, add the turmeric and stir and fry for 10 seconds. Add the fresh ginger, cumin seeds, coriander powder. Stir and sizzle for about a minute. Add the strained rice and mung and stir for a couple of minutes, until dry. Add the water, ground coriander, fenugreek, hing and salt. Bring to a low simmer for 5 minutes, then stir in the chopped veggies. Bring to a full boil for another 5 minutes, then cover and turn the heat on low. Cook gently for about 30 minutes, stirring every now and then. Add more water if it seems dry or is scorching at the bottom – the kitcharee should be creamy and porridgy. Taste adjust seasonings as desired. To serve, top with a dollop of ghee, freshly ground pepper, and a squeeze of lime. Garnish with a couple of pickled radishes, chopped cilantro and fresh micro greens or sprouts.
Yield: 2 servings
Ume Pickled Radishes
1 bunch red radishes (about 5-6 radishes)
1/3 cup umeboshi plum vinegar
1 cup filtered water
Mason jar or a glass container with an air-tight seal
Trim stems and roots from radishes. Slice into 1/4 inch rounds using a sharp knife or mandolin slicer. Place in small saucepan along with vinegar and water. Bring mixture to boil. Reduce heat and simmer over medium heat until radishes are somewhat tender, about 8 to 10 minutes.
Transfer radishes to a small bowl with a slotted spoon. Reserve cooking liquid. Let cool separately to preserve crispness of radishes. When both have cooled, combine in an airtight container and refrigerate overnight. Can be stored for 5-7 days in the fridge.
Makes roughly 1 cup
3 Comments
3 responses to "Recipes: My Favorite Kitchari Recipe + Ume Pickled Radishes"