Remedies: My Digestive Staples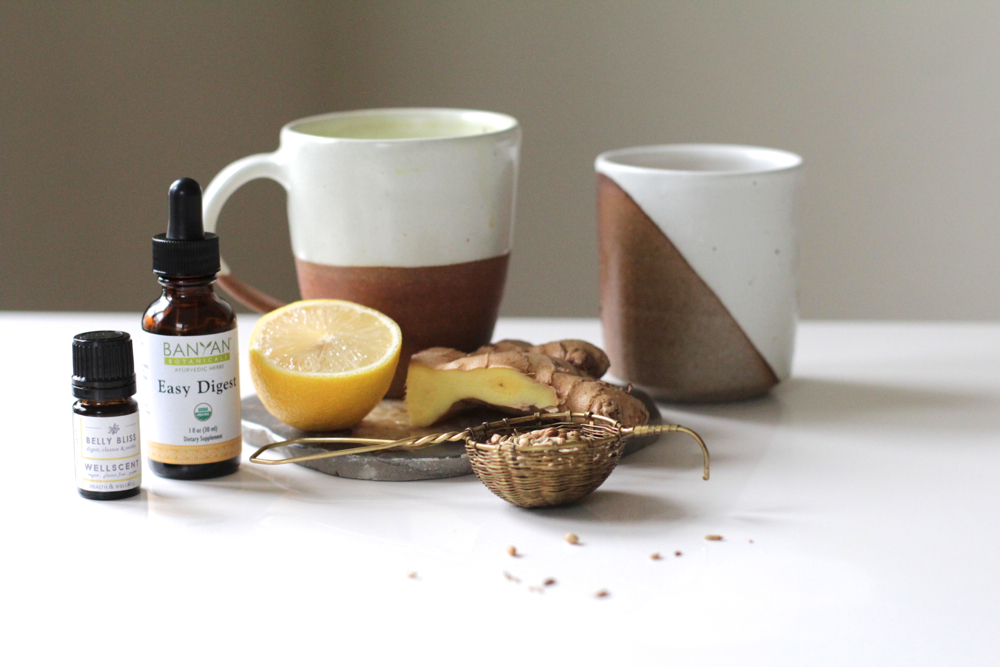 The holiday season is upon us, meaning we're about to a commence 6 weeks of serious social eating! Holiday parties of endless grazing on hors d'oeuvres, family feasts of 6+ courses and more, and oh the leftovers. Our stomachs, more often than not, send us signals of distress in these times of disrupted eating habits. To remedy this, here are a few tried-and-true tips for stoking your digestive fire as you head into the holiday season…
1 // Lemon & Lime Water
Everyone knows this trick, and for good reason – it works! First thing when you wake up, heat some water and add a squeeze fresh citrus. It's alkalizing and helps cleanse the liver + it revs up the digestion in the morning. Lime has a gentler, sweet after effect on the digestion. Lemon also works wonderfully but has more sour after effect. Whichever you choose, start every morning with this. I sometimes add a splash of aloe to the mix, too!
2 // Agni Kindler 
This quick and simple remedy helps stoke the digestive fires before a meal. If you wake feeling full, have scanty appetite or indigestion, this is a simple trick to help promote the digestion process.
1/4 tsp grated ginger
pinch himalayan pink salt
squeeze lime juice 
Wash and finely grate fresh ginger root. Place on a spoon and sprinkle with a pinch of mineral-rich salt and lime juice. Chew gently for a minute and swallow when done. The masticating action and warming spices help to jump start your agni. This is also a great digestive aid during pregnancy and postpartum! I learned this from my teacher, Terra Rafael, in her Ayurveda for the Childbearing Years book.
3 // CCF Tea
Cumin Coriander Fennel (CCF) is a tri-doshic digestive tea blend. Cumin and coriander are also warming and drying, making CCF tea a valuable tonic for clearing out digestive congestion and excess mucous. Sip warm throughout the day around meals.
4 cups water
1 tbsp cumin seeds
1 tbsp coriander seeds
1 tbsp fennel seeds
In a small pot, bring water to a boil and add the spices. Allow to steep for 10-15 minutes before straining. Serve warm as it is or with a touch of raw honey.
4 // Easy Digest Tincture
I carry this digestive supplement with me when eating out or traveling. Banyan's Easy Digest Extract is a powerful blend of digestive herbs and spices, including coriander, cardamom, fennel, licorice, peppermint, gentian and ginger. It can be used before meals to stoke the appetite and digestive fire, and it can also be taken after eating to promote a comfortable post-meal experience. As a liquid extract it's easy to pack and go, just add a few drops to water or tea before or after a meal as needed.
5 // Belly Bliss Oil
Well Scent's organic wildcrafted Belly Bliss essential oil blend gently stimulates the liver's metabolic functions, eases inflammation, soothes and cleanses the intestinal tract using oils that work naturally to decrease pathogenic bacteria without destroying healthy intestinal flora. I'm a big fan of this blend, and apply a drop or two externally around my navel. Well Scent's oils are food-grade, so they can be added to water as a digestive tonic, too. But I've found even just a drop or two on the skin helps increase digestion.
4 Comments
4 responses to "Remedies: My Digestive Staples"