I've been in a continuous state of transience for the past two years, living part time in Kauai and Oklahoma and traveling in between. The last six months I've found myself in New Mexico, California, New York, England, Germany, Portugal, Singapore, Vietnam, Arizona, Oahu, Kauai and Oklahoma. I'm tired just typing that. And while I value my travel experiences and opportunities so much, I finally hit that point of craving deeper roots, stability and a nourishing community to call home. I signed a lease this month for a sweet little house to call my own at the end of the road in Haena, a community of homes (you can't really call it a town) on the North Shore of Kauai. It was simultaneously the scariest and most obvious decision to make. Scary in the sense that it meant a real move and the financial commitment that comes with that, but obvious in that my heart has never felt more content in a place than when I'm in the islands.
The process of moving always stirs up a lot and lately it's had me reflecting on the nature of transitions in life. Beyond the physical move, there are transitions happening all the time – the transition in and out of relationships, the transition between jobs and projects, the transition between actual seasons of nature and the seasons of our own lives. Sometimes they're graceful, but more often than not they are awkward and uncomfortable.
I often find myself trying to push through these transitional times with great effort, thinking there's some sort of deeper clarity, stability and ease ahead when I land in that new desired place. Sometimes that looks like disconnecting from the present of what's happening around me by filling the space with distractions…more work tasks or little self-created dramas. Yet, when I finally arrive at wherever I'm trying to get to – be it a physical location or internal state – I find it usually feels no different than where I was before. Sometimes, it will feel more expansive, but mostly I find it's still the same old me facing that internal discomfort in a new place. But when I really examine a shift in feeling, the expansiveness that comes has more to do with my ability to tap into a different place within myself, shifting my thoughts and outlook. I'm realizing life is nothing but a series of transitions. Why wait until we arrive at the next destination to enjoy the journey?
So as I load up my car tomorrow to drive west, feeling full of mixed emotions – from excitement to fear and the discomfort around the unknown of what lies ahead – my personal practice is to explore what it looks and feels like to be more present with the space of transition, to deepen my moment-to-moment awareness of being with what is. True intimacy with the present as a way to move out of those anxious and uncomfortable states that arise when we try to grasp and control the things that are beyond us! These are the kinds of practices and conversations that have been nourishing me most. In the coming months, you'll be hearing me share more about the ways I nourish myself – from the kitchen and into my daily life explorations.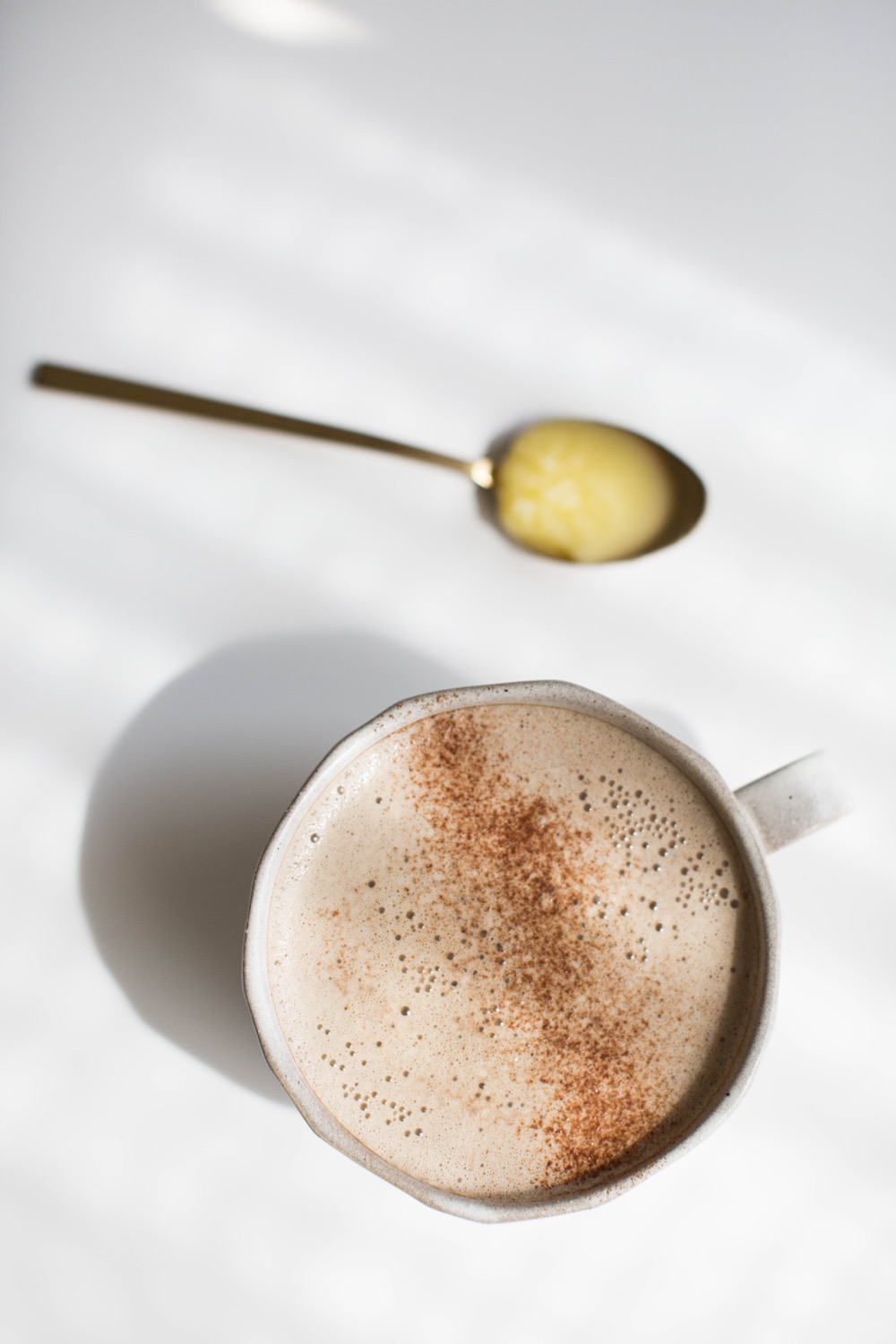 Now – a recipe! Dandelion tea has been a staple of mine while on the road. I love these little travel-size packets for when I'm at a roadside gas station or airport and want a coffee-like drink I can make in my travel mug. When I'm home, I make a strong concentrate of the Dandy Blend tea and whirl it in my Vitamix with fresh almond milk, a pinch of cinnamon and cardamom, and a little spoonful of ghee. It makes a quick and creamy tea latte that satisfies my morning craving for a warm and grounding beverage to start my day. It has a similar richness and bitterness than coffee does, without the energy dips and tweaky nervous system jitters that caffeine so famously brings. And the ghee/almond milk/warmth offsets for astringent and drying qualities of the dandelion for those who need a little more grounding (vata support!). I'm sharing this recipe this month because my Spring Renewal Guided Cleanse is about to kick off April 15th and tackling coffee addiction is a big focus in the program. I find many simply desire the morning ritual of a hot drink. So for my avid coffee drinking friends, I'd love to know what you think about this herbal latte as a supplement to your daily coffee routine. Share more with me in the comments your caffeine stories and what you think of this new drink!
DANDELION LATTE
2 tbsp Dandy Blend
1 cup hot water
1/2 cup almond milk
1 tsp ghee
1/4 tsp ground cinnamon
pinch ground cardamom
Combine the Dandy Blend and piping hot water into your blender pitcher. Add the remaining ingredients. Blend for 30 seconds on high until well combined and frothy. Pour into a mug and enjoy hot!
Makes one serving
No Comments