Recipes: Tahini Hot Chocolate
It's 18 degrees here in Oklahoma City and I'm sitting with a cat on my lap and a cup of this tahini hot chocolate at my desk. I'm back in my home where many of the recipes on this blog were created, photographed and shared through the years. It feels good to be back in a familiar place, with a kitchen just as I had left it, and two happy animals to welcome me home. But just a few days ago, I was barefoot covered in mud and somewhat frantically deep cleaning red clay out of the wheel arches of my car, hoping it would pass a last minute agricultural inspection to ship back to the mainland on the next barge. It was raining but hot and muggy, and I was saying goodbye to a beautiful and potent chapter of life on Kaua'i. 
I haven't really been writing much on the blog this summer, so there's a lot to catch up on here. (News like: I turned in manuscript and my book is almost done! Oh yeah…and I'm publishing a book!). Truth is, I haven't been writing much on the blog at all since I moved to Kaua'i. From floods and hurricanes, to several house moves and work travels, it's been one weird and wild whirlwind. I feel like I've been barely gotten my feet on the ground since I moved out to the islands 3 years ago.
Also, how do you write about seasonal eating in the tropics? Though I was tempted to share all my tropical fruit and vegetable creations, deep down, I knew that few people would be able to make green papaya soup or fresh kalo burgers. This dilemma was another reason you've heard less from me on the blog front lately. Yet my unintentional pause from blogging and social media has given me a moment to reflect on the ways I really want to be using these platforms and how I want to create, share and grow community. 
In the months ahead, I'll be sharing more simple, everyday recipes you can enjoy at home. While you might find some special spices or herbs here and there, or an occasional fun dessert recipe for a celebration, most others recipes I want to share reflect how I actually at eat home. You'll also be seeing more writing on Ayurveda and how to apply it practically to your life season-by-season, and what this means not just through food but also through psychology and understanding our minds relationship to what shapes our wellbeing. 
I'm curious – what do you want to see more of on the blog this winter? Send me an email or leave me a comment below!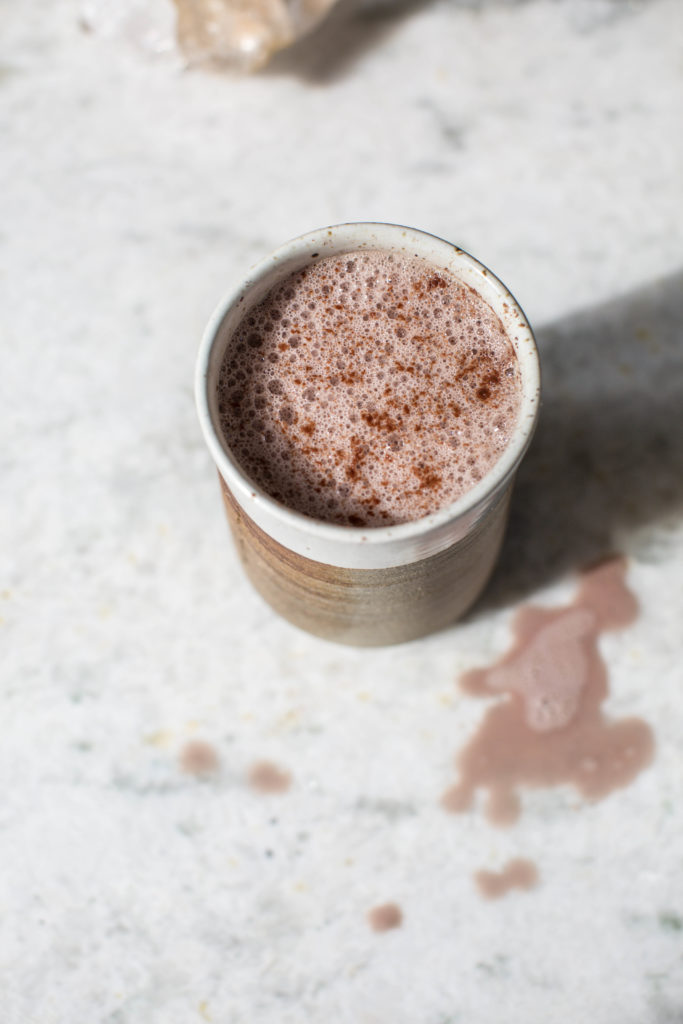 TAHINI HOT CHOCOLATE
2 cups organic oat milk
2 tbsp tahini
1 tbsp raw cacao powder or carob powder
1-2 tbsp maple syrup
1/4 tsp ground cinnamon
1/4 tsp ground cardamom
In a small saucepan, heat the oat milk until hot but just below a boil. Transfer to a high-speed blender, add the remaining ingredients and blend until frothy. Pour into a cup and enjoy hot.
Makes 1-2 servings
Note: Cacao a little too stimulating for you? Me too at times! I like to modify this drink with carob powder instead. It has the same richness as cacao but without the aggravation to the nervous system if you're feeling sensitive. 
6 Comments
6 responses to "Recipes: Tahini Hot Chocolate"