Travels: Southern Portugal Guide
Have you heard the news? I'm hosting a retreat in Southern Portugal with three other amazing teachers this October and our team has put together a curated travel guide of the region to share our favorite places to eat, stay and play. Download the full guide here!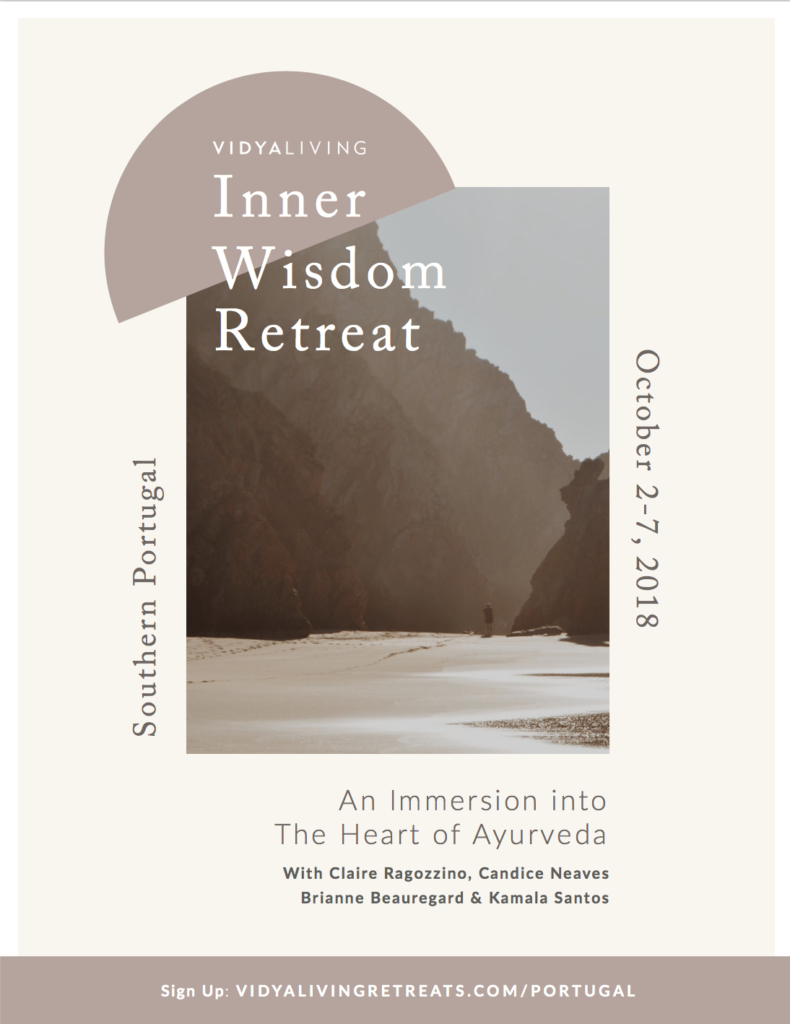 The retreat is a 6 day/5 night immersion into the heart of Ayurveda. Each day is centered around an experience of the five elements, weaving together daily yoga and meditation classes, vocal toning and mantra workshops, handcrafted meals using local foods/flavors and cooking classes to explore the six tastes, nourishing Ayurvedic body treatments and adventures into the local landscape.  Candice Neaves will be guiding us through daily hatha yoga practice. Brianne Beauregard will be teaching us the science of sound and how to work with mantra. She'll also be accompanying our evening yin and meditation classes with her singing bowls, tuning forks and mantra. And Kamala Santos will be sharing the essence of Ayurvedic self-care and offering nourishing classical Ayurvedic body treatments in the spa.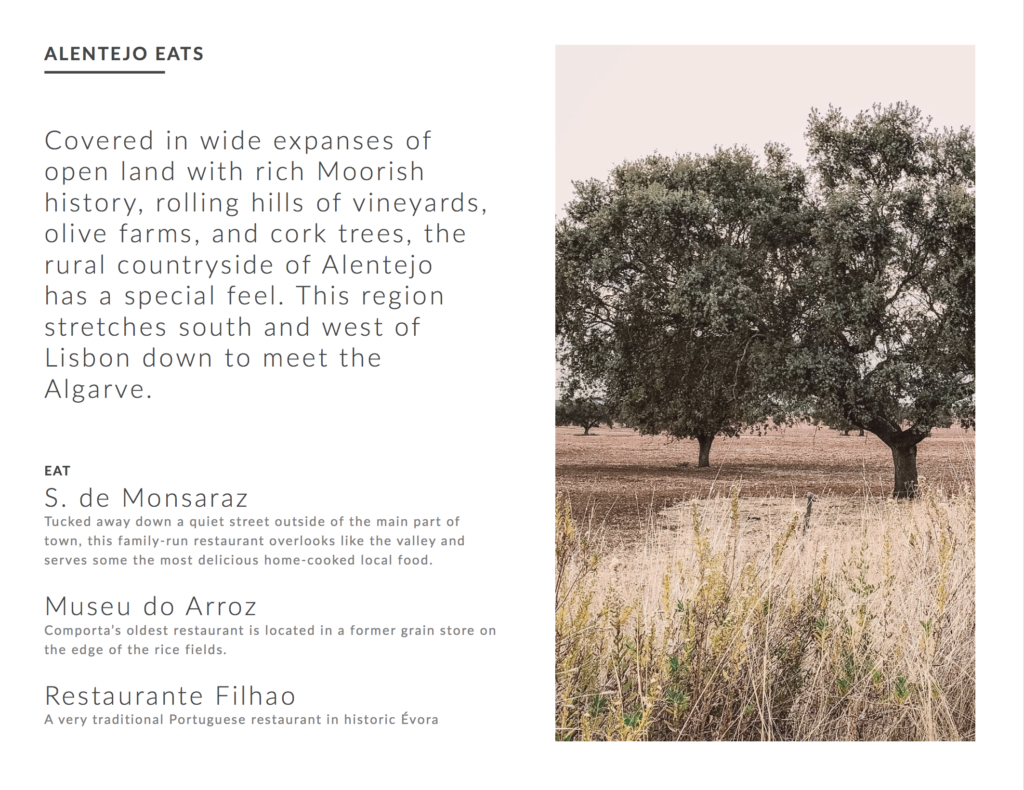 I traveled to Portugal last October to explore different retreat centers, get to know the area and tap into my family roots. What I found was far more than beautiful coastlines and castles, but a rich culture centered around community and a collective slowing down. There's a palpable pace in Portugal that I appreciate so dearly, where value is placed on connection and time shared around the table, lingering over conversation and long meals rather than rushing to do the next thing. My favorite moments during my time there weren't as much about the specific sights or the things we did, but the sweetness of quiet mornings in the countryside and mapless meanderings as we drove from town-to-town tracing the river down to the coast from Alentejo to the Algarve.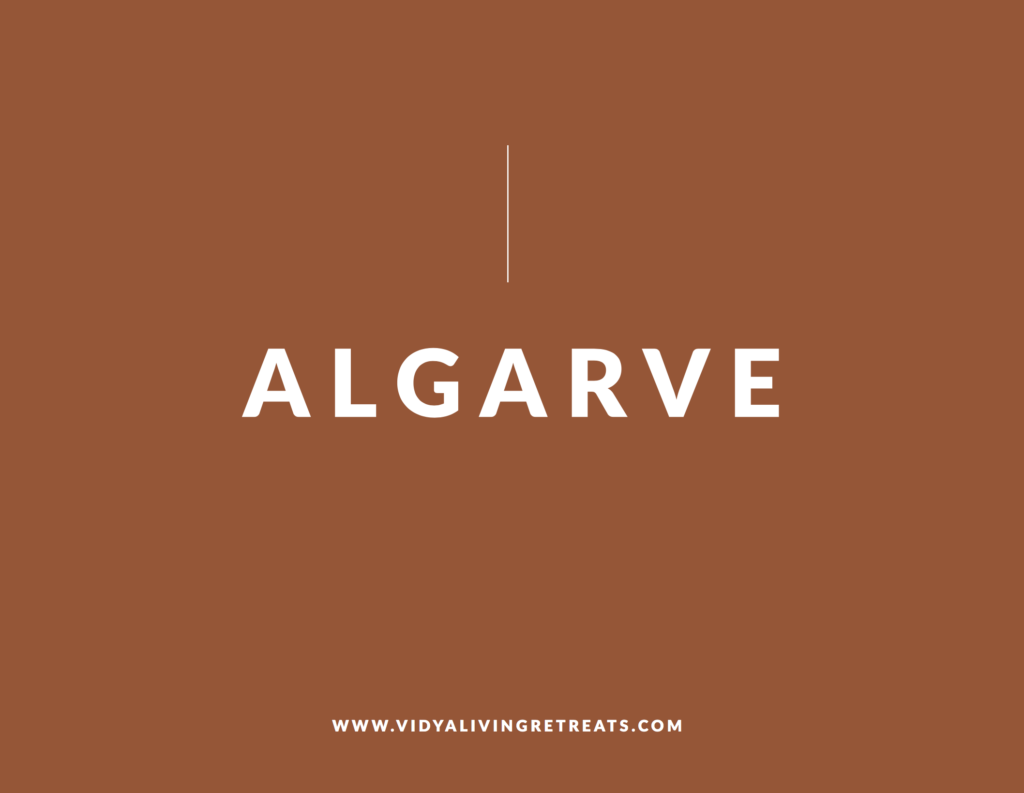 As you dig into this travel guide, I invite you to use it as a general map to anchor in some destinations to explore and let the rest in between silently pull you to where you need to go. When I plan a trip, I like to know where I'm sleeping and what mode of transportation will get me there. But beyond the beds and cars/trains/buses/bikes/feet…I love to open up to the mystery and see where shakti guides me. My anchor points that nourish vata are my daily self-care practices. With these, I can keep my body and mind in balance without having a travel meltdown…it's amazing what a little oil on your feet and head will do after a long flight! I share some of my favorites in my travel toolkit inside the guide.
I'll be sharing more travel tips and tricks for staying healthy on the road in the coming weeks as we prepare for our retreat. Be sure to connect with our retreat team over on Instagram @vidyalivingretreats where we're posting daily wisdom and wellness insights. We have four spots left in our Inner Wisdom Retreat in the Algarve this October 2-7, 2018. Contact us to learn more about the trip and how to sign up! We also have a few spots open for locals who'd like to join us.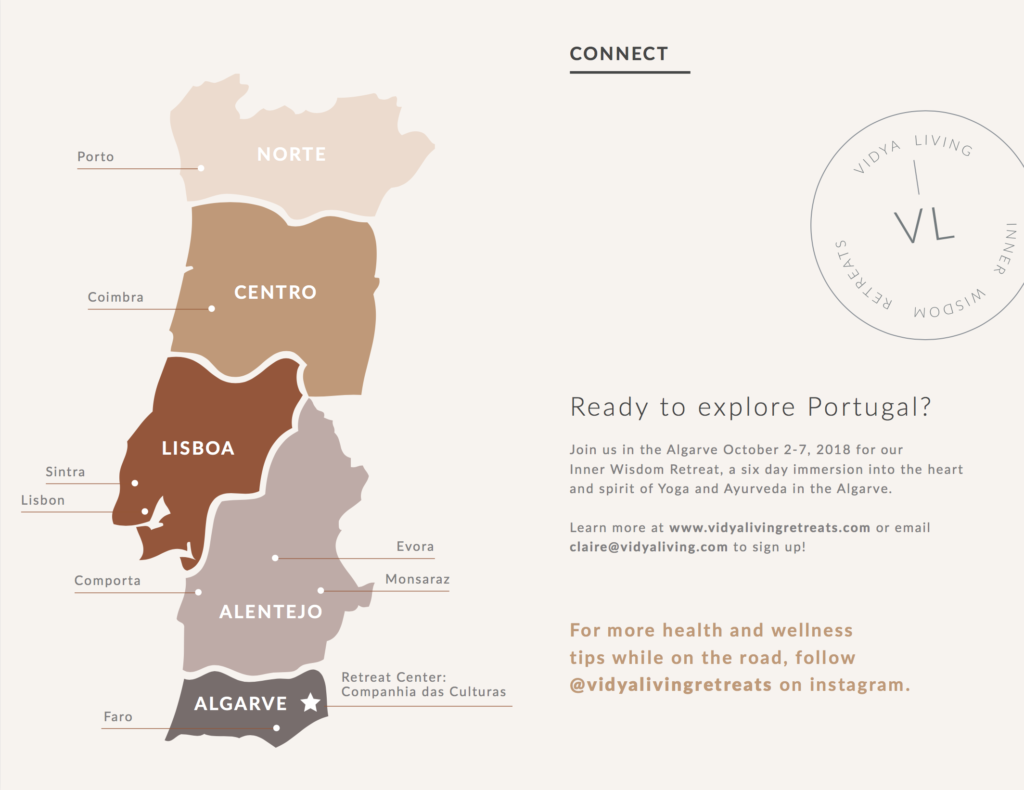 *Travel Guide designed by Cassie Ballard of The Veda House
No Comments
You might also like