Recipes: White Chocolate Chyawanprash Cups + A Lotus Blooming Herbs Giveaway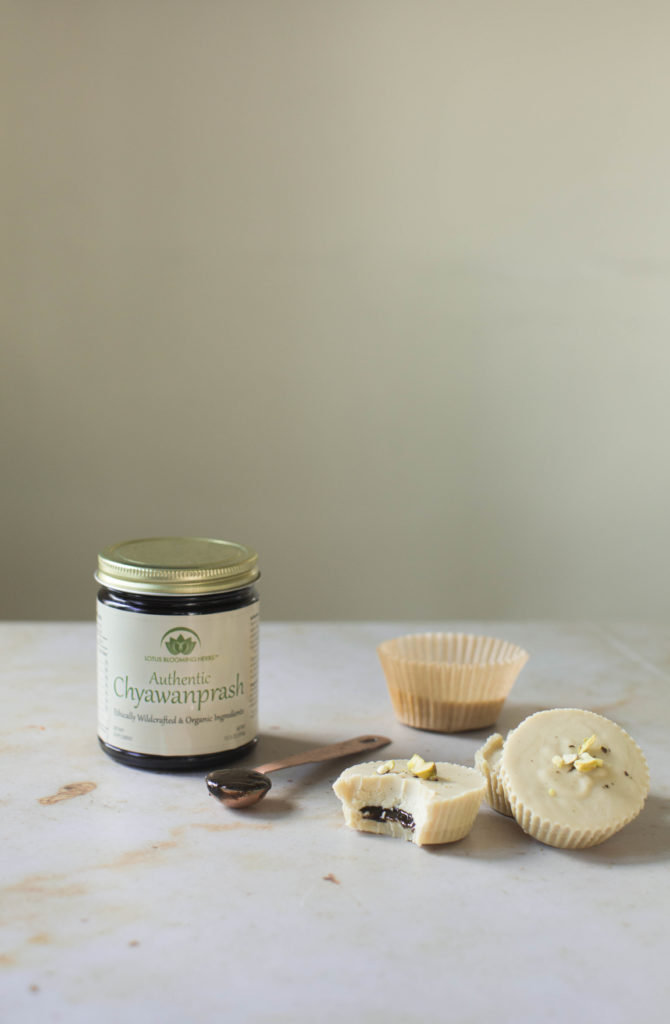 It's Mother's Day this weekend, and I wanted to make something special for my mom while we share this holiday together for the first time in a while. We're both Ayurvedic practitioners and foodies, so we're often sharing kitchen stories, new product finds or Ayurveda articles with one another. A few years ago, I discovered Lotus Blooming Herbs and fell in love with their Chyawanprash. Their formula is so incredibly fresh, one Fall post-cleanse I found myself eating it by the spoonful it was so delicious! I sent my mom a jar right away and we've been sharing fun ways to work this into our diet over the years.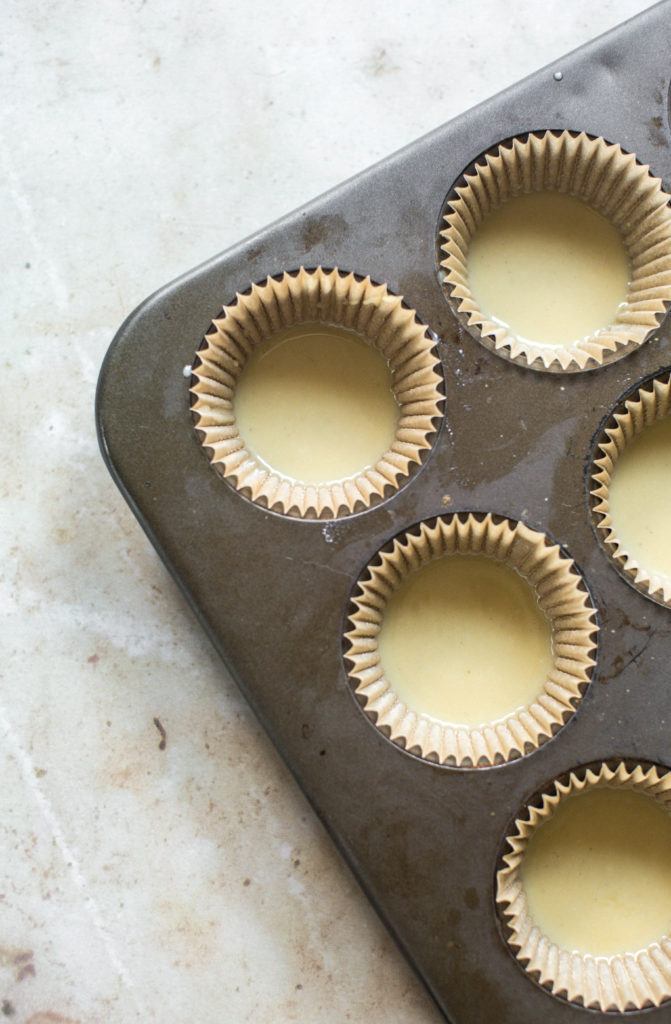 This potent herbal jam is known as a rasayana in Ayurveda, a rejuvenative substance that nourishes the seven tissue layers of the body (the dhatus), boosts vital energy (ojas) and promotes longevity. This ancient recipe was first found in the Charaka Samhita, and boasts a combination of nourishing herbs and spices in ghee, honey and jaggery. This use of fat and sugar serve as a Yogavahi, helping to amplify the herbs potency in formulations and deliver the nutrients deeper to the tissues. Amla Berry, also known as Amalaki, is the main herbal ingredient. It has a tart, sour taste and is a rich source of vitamin C. This combination makes it supportive for the digestion, immune system, heart and respiratory systems. You can read more about the health benefits of Chyawanprash here.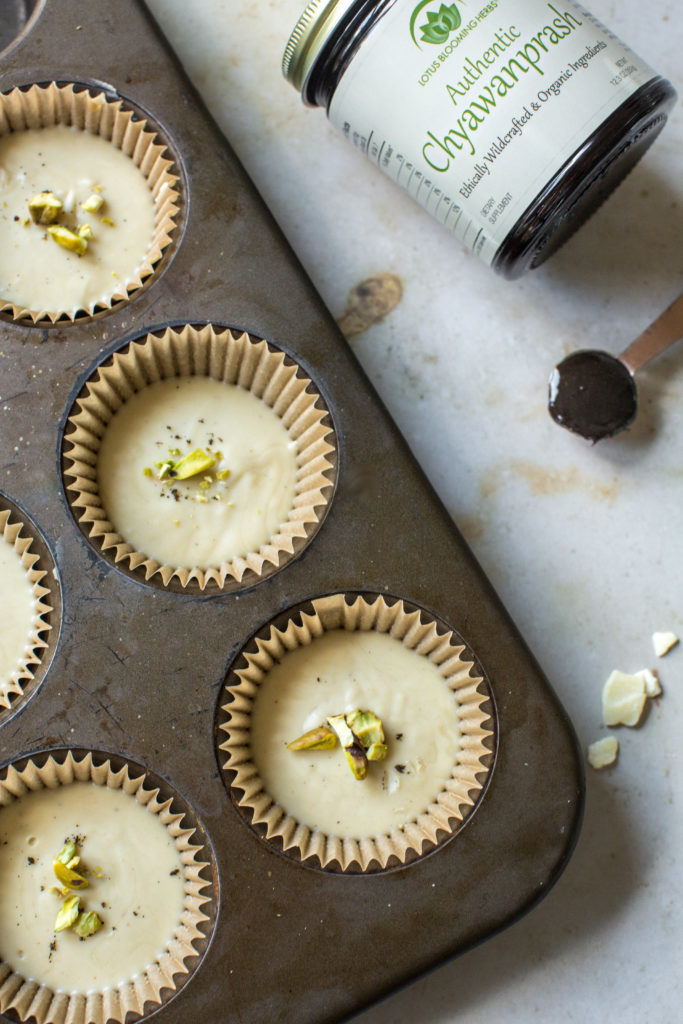 "Chyawan" is the name of the ancient Sage that is said to have restored his youth thousands of years ago by taking this powerful jam every morning followed by 40 minutes of meditation for 40 days. "Prash" means "to consume artfully." It takes a full 21-day cycle to produce one batch of Lotus Blooming's Chyawanprash, so the specialness of this product is felt in the first bite.
Beyond straight out of the jar, I enjoy adding a spoonful to nut and date balls for ojas-boosting snacks. I will also blend chyawanprash into warm milk for a creamy, nourishing herbal latte or nighttime tonic. I will sometimes do this with their Shilajit as well.
If you're new to Shilajit, this is another Ayurvedic powerhouse supplement. It's actually a mineral-rich resin not an herb, formed over time through pressure and heat in the Himalayas. Because Shilajit is formed from ancient plants that grew in mineral rich soil millions of years ago, its mineral content is extremely high. It can contain as much as 85 minerals and trace elements, including fulvic acid. The fulvic acid content in Shilajit also functions as a Yogavahi, helping to increase absorption and magnify the actions of any herb, food or supplement. Read more about the health benefits of Shilajit and why its name translates to "Conquerer of Mountains and Destroyer of Weakness".
I'm very excited to be partnering with Lotus Blooming Herbs this month to offer a special giveaway of both their Chyawanprash and Shilajit! Check out the details at the bottom of the post for how to enter this giveaway. We'll announce a winner May 20th.
WHITE CHOCOLATE CHYAWANPRASH CUPS
Chyawanprash Filling
½ cup unsalted, raw pistachios  
1 date, pitted
1 heaping tbsp Lotus Blooming Chyawanprash
In a food processor, add the pistachios and pulse until well broken down. Add the pitted date and chyawanprash. Pulse again until a thick paste forms and it clumps together into a ball. Set aside until ready to use. 
White Chocolate
2/3 cup melted raw cacao butter
1/2 cup cashew butter 
3 tbsp raw honey or maple syrup 
1 tsp vanilla extract
1 vanilla bean, scraped
large pinch pink salt 
In a double boiler, or small pot with a bowl, bring water to a boil and melt the cacao butter. With a dry metal spoon, stir the cacao paste until fully melted. Turn off heat but keep on the pot until ready to use. 
In a food processor, combine the cashew butter and honey. Blend until creamy. Add the vanilla and salt, pulse to combine. Last, add the melted cacao butter and blend until creamy and liquefied. While still hot, pour into peanut butter cup molds, or a muffin pan lined with paper muffin cups. Pour about 1 tbsp into the bottom of each cup, then place in the freezer to set for 5 minutes. Remove from freezer, place 1/2 – 1 tsp of chyawanprash filling into the center of each cup, depending on the size of the cup you use. Press down lightly with a finger to flatten the spoonful of filling. Pour another spoonful or two of the white chocolate until it's fully covered. Shake the pan to level and even the texture of the chocolate out. Place in the freezer for 10 minutes to set before serving. Enjoy slowly with a cup of hot herbal tea. Note: These are best stored in an airtight container in the fridge.
Makes 6 large cups or 10 small cups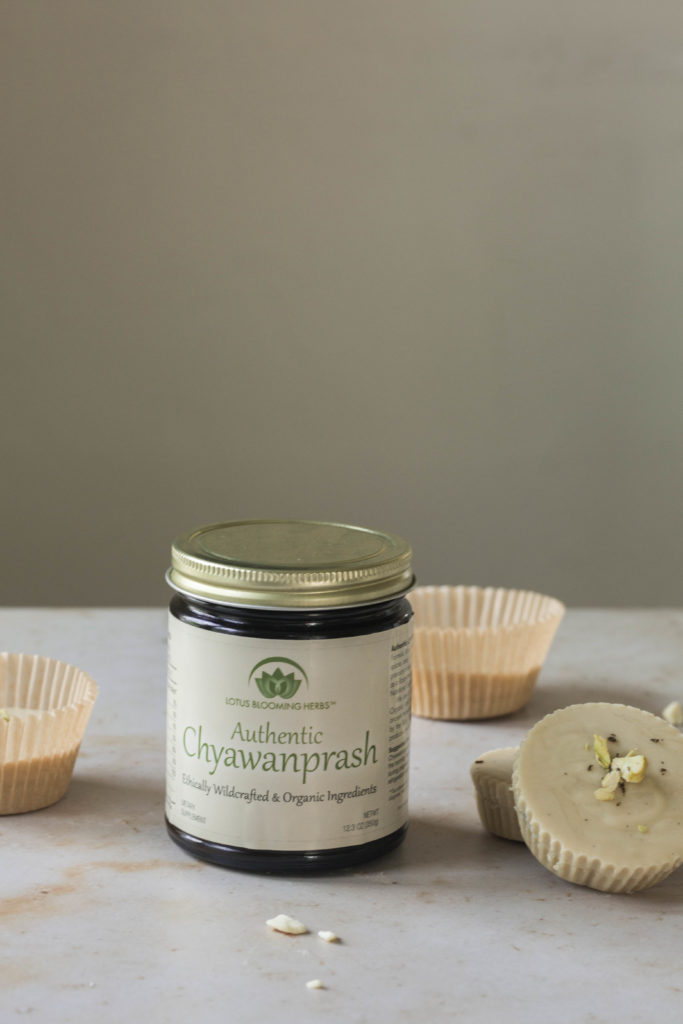 GIVEAWAY
I've partnered with Lotus Blooming Herbs in this special Ayurveda giveaway.  Read more about Lotus Blooming, the founders mission and their devotion to creating quality supplements. This giveaway will include a jar of their Authentic Chyawanprash and a Authentic Shilajit.
Tell me how you nourish your vitality in the comments below.  
Follow @lotusbloomingherbs on instagram and Facebook.
Comment on this instagram post and tag your friend!
Share the giveaway on social media for an extra submission!
**Winner will be selected and announced on Monday, May 20th, 2019**
3 Comments
3 responses to "Recipes: White Chocolate Chyawanprash Cups + A Lotus Blooming Herbs Giveaway"