Recipes: Align with Spring + A Giveaway with Anaya Home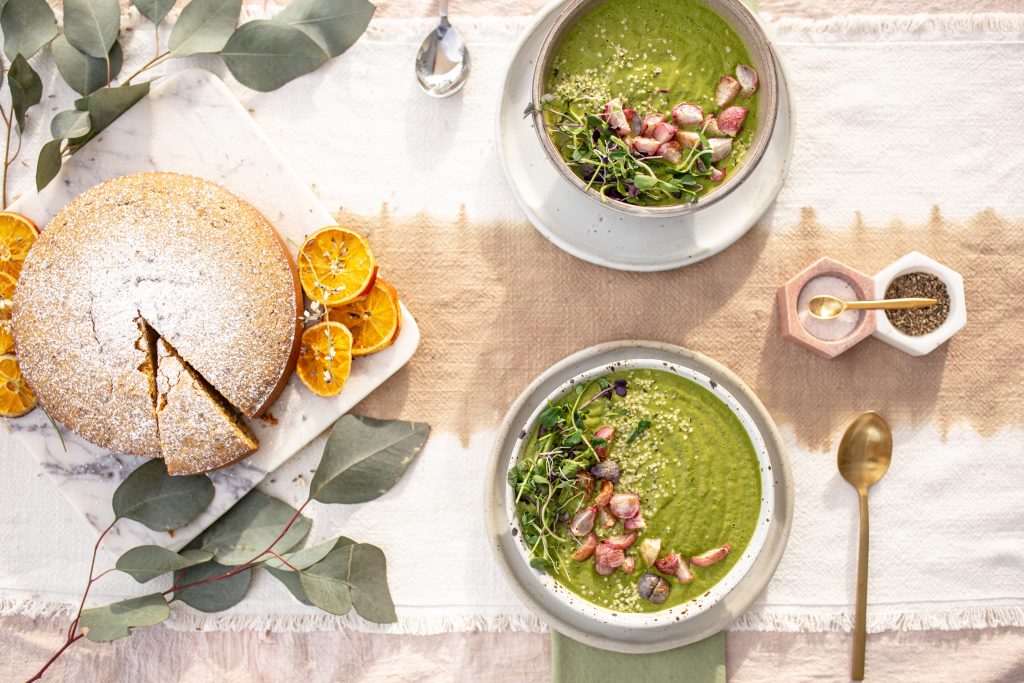 There's a tangible sense of freshness in the air and life's pace seems to be quickening as we move from the hibernation of winter and into spring. With longer days and a welcomed warmth ahead, slow afternoon lunches and sunset dinners outside beckon us to reconnect around the table and with the natural world. I've found myself setting the table and savoring this time outdoors again. I've teamed up with Anaya Home to offer a special Spring Table giveaway. Details below! 
As we move through the seasons, we select foods and flavors that will reduce the increased elements of that season to keep our bodies and minds in harmony with our changing environment. With spring's arrival, this means incorporating foods that have a pungent (katu), bitter (tikta) and astringent (kshaya) taste to help reduce the strong water element. Because water's qualities are cold, liquid and heavy, we eat fewer foods that naturally have those qualities themselves—limiting the root vegetables, heavy stews, cold drinks and smoothies—because they will increase those qualities already present in nature. Rather, a spring diet is one that incorporates more lightly cooked meals of whole grains and legumes with vibrant greens, sprouts and spices that help to lightly dry, heat and energize the body and mind.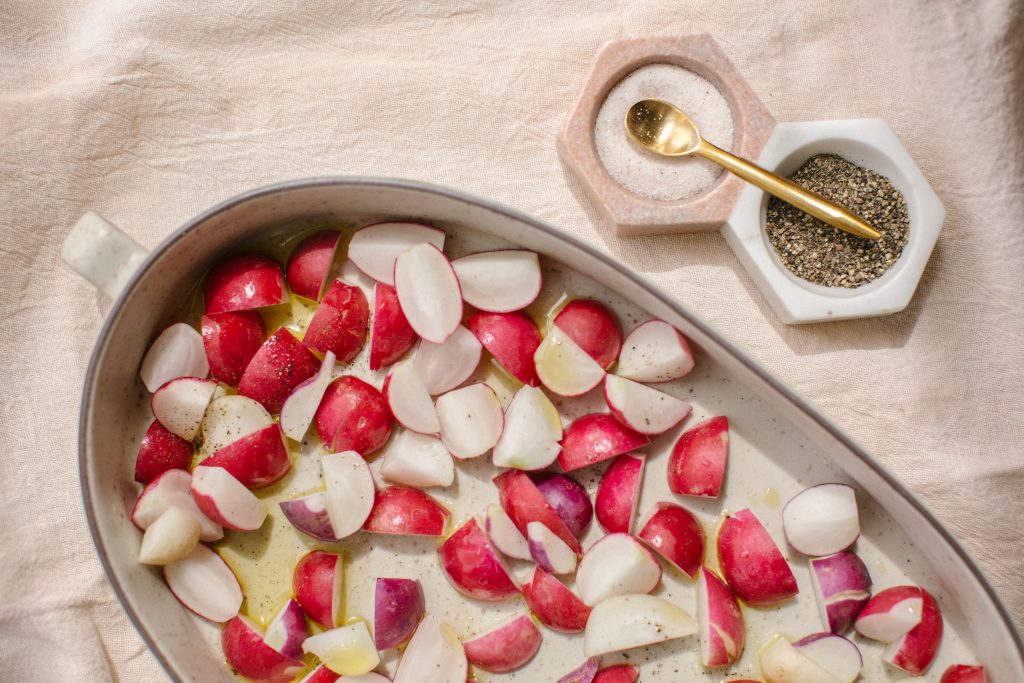 To invigorate your spring menu, I'm sharing two of my favorite springtime recipes from Living Ayurveda. This vibrant Asparagus Soup with Roasted Radishes makes a light soup for lunch or dinner. Serve it with a handful of pretty little microgreens and a garnish of fresh cracked pepper and a pinch of salt on top. And for an afternoon treat with a warm mug of tea, a Polenta Tea Cake with digestion-supporting fennel seed and floral orange blossom water.  A fresh tulsi tea or piping hot chai pairs nicely with this light sweet treat to curb those post-winter sugar cravings.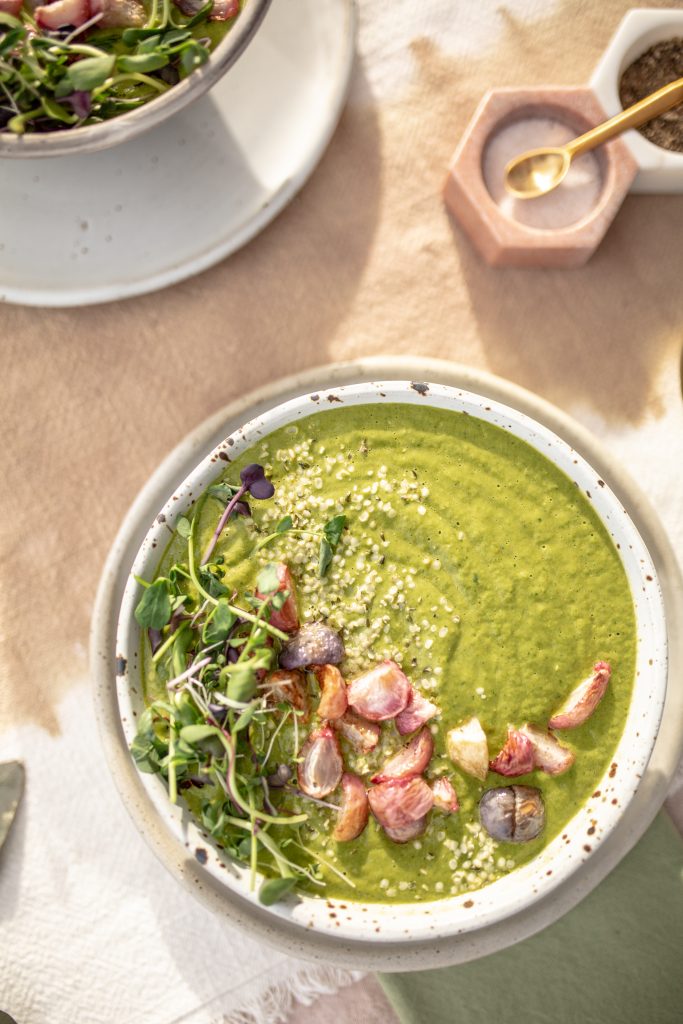 ASPARAGUS SOUP WITH ROASTED RADISHES
 Asparagus Soup
2 tablespoons ghee or olive oil
1 bunch asparagus, trimmed and chopped
½ teaspoon ground coriander
⅙ teaspoon asafetida
2 cups loosely packed greens (watercress, spinach, green chard)
2–3 cups hot water
1 avocado, pitted
½ cup loosely packed flat-leaf parsley
¾ teaspoon salt
Microgreens or pea shoots, for garnish 
In a medium pot, heat the ghee on medium heat. Add the asparagus, coriander, and asafetida, and cook for 5 minutes, until tender. Reduce to low heat, add the greens, and cook another 2–3 minutes. Transfer to a high-speed blender, add the remaining ingredients, and puree until creamy, adding more water if the consistency is too thick. Taste and adjust seasonings as needed. To serve, divide between bowls and garnish with roasted radishes and a handful of microgreens or pea shoots. For a heartier meal, pour soup over a scoop of cooked quinoa or millet.  
Roasted Radishes
6–8 radishes (red or French breakfast), trimmed and quartered
2 tablespoons olive oil
Salt 
Preheat the oven to 400°F. Place radishes in a baking pan. Toss in olive oil and sprinkle with salt. Roast for 20–25 minutes, or until tender and the edges lightly browned and crispy. Remove from the oven and serve hot on top of the soup. 
Prep: 10 minutes
Cook: 30 minutes
Yield: 4 servings 
Dosha Notes
Vata: Pair with a cooked whole grain.
Pitta: Omit asafetida.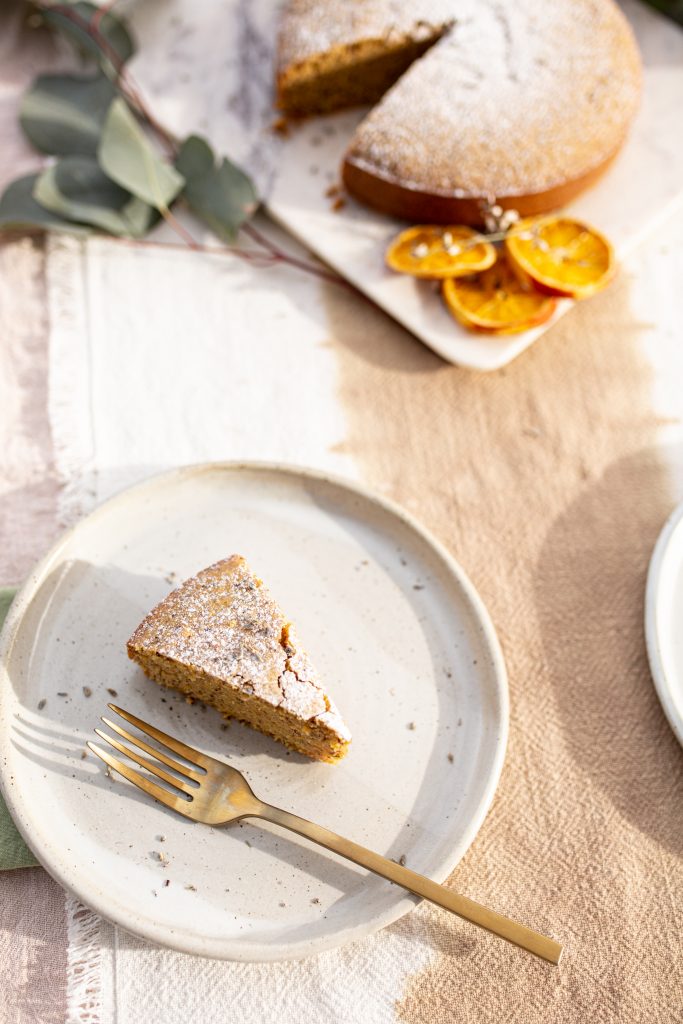 POLENTA TEA CAKE
Dry Ingredients
1 cup finely ground cornmeal or polenta
1 cup spelt flour
1 cup coconut or powdered date sugar
2 teaspoons baking powder
1 tablespoon, plus 1 teaspoon fennel seeds
½ teaspoon salt  
Wet Ingredients
1 cup almond milk
¾ cup olive oil
3 tablespoons ground flax whisked into ½ cup water
1 tablespoon plus 1 teaspoon orange blossom water
Preheat the oven to 375°F. In a large bowl, combine the dry ingredients. In a separate bowl, combine the wet ingredients. Fold the wet ingredients into the dry, mixing together until fully combined. 
Line a 9 x 5-inch loaf pan with parchment paper or grease with oil. Pour the batter evenly across the pan. Bake for 45–50 minutes, until golden outside and the batter is fully cooked inside. Use a toothpick to test if the center of the loaf is done. Remove from the oven and allow to cool before serving. Enjoy with your favorite cup of tea for an afternoon treat. 
Prep: 10 minutes
Cook: 50 minutes
Yield: 8 servings
Dosha Notes
Vata: Enjoy as is.
Pitta: Enjoy as is.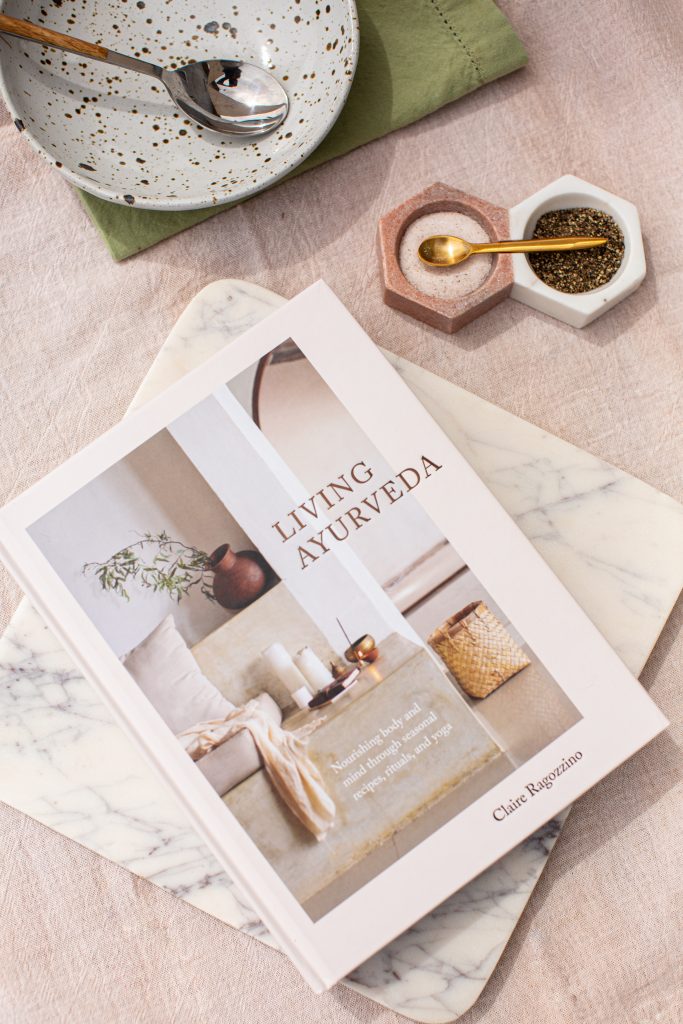 _____________________________________________________________________
GIVEAWAY ANNOUNCEMENT
I've teamed up with Anaya Home to share a special Spring Table giveaway! As the days get longer and warmer, set the table for an outdoor affair to share nourishment with your loved ones. One lucky winner will receive Anaya's tabletop kit including a marble salt and pepper holder, marble serving slab and woven table runner + a copy of Living Ayurveda to inspire creative cooking in the kitchen. Tabletop items displayed in the images above!
Enter to Win: 
Head to Instagram to follow both @anayahomeshop + @claireragz

Like this post, then comment below and tag two or more friends in separate comments. Each friend tagged is an entry!⁠

For an extra entry, repost this image to your feed or stories on Instagram! Don't forget to tag @anayahomeshop + @claireragz in your post so we can see your entry!
Enter by Sunday, April 18th, 2021 @ 11:59 pm PST. Winner will be drawn and announced Monday, April 19th, 2021 at 12pmPST using a random generator. This giveaway is not affiliated with instagram.
3 Comments
3 responses to "Recipes: Align with Spring + A Giveaway with Anaya Home"