Recipes: Garden Green Soup + A Simple Soup Formula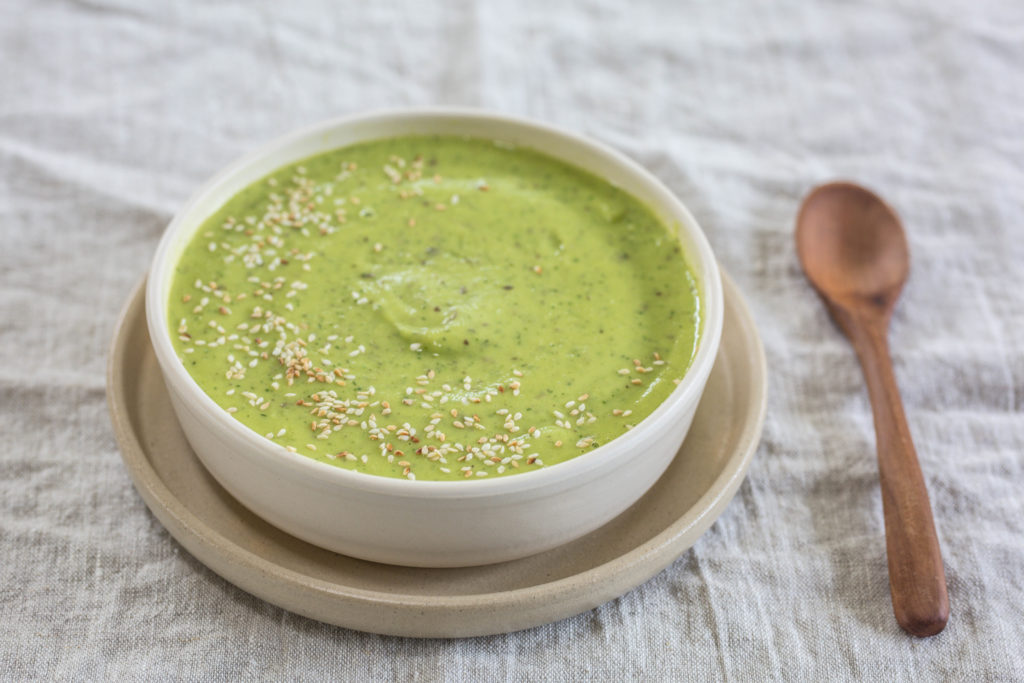 It's officially spring, which on Kauai actually feels more like summer. It's more like 2-ish seasons here on the island – hot and rainy, or cool and rainy! In between big downpours of jungle rain, the sun comes out in full blast and it feels like a Louisiana swamp when the trade winds are gone. This didn't leave much time for my body to transition out of winter practices, and by mid-March I was feeling all the effects of excess Kapha accumulate in my body and mind. What were the signs of that for me? Sleeping in and skipping morning Sadhana to scroll through Instagram on my phone (guilty!), feeling foggy and fatigued, eating big meals and feeling more stagnant than the comforting grounding effect it had on my body and mind in winter, stuffy sinuses and sluggish digestion. I also felt heavy in my mind, foggy and stuck in some sticky patterns of thought that weren't feeling great. It was clear I needed to make a shift in my self-care and food routine to come back into balance.
This is the beauty of Ayurveda, it gifts us a framework to navigate life. It isn't meant to be a list of rigid rules to live by, but rather, it's a language that allows us to understand the world around us and how our inner world dances with it. This wisdom beckons us to pay attention, to listen and see, to taste and touch, to create a moment-to-moment awareness that guides how we choose to take care of ourselves and show up in the world. I may have a Vata-Pitta prakriti, but living in the wet rainy and hot jungle, I'm getting know Kapha (and pitta) a whole lot more and what happens to my body and mind when faced with more water in my daily environment. I'm learning in practice how self-care through the seasons doesn't have to be radical or require your whole day. It's the little shifts that we make by paying attention each day that go a long way.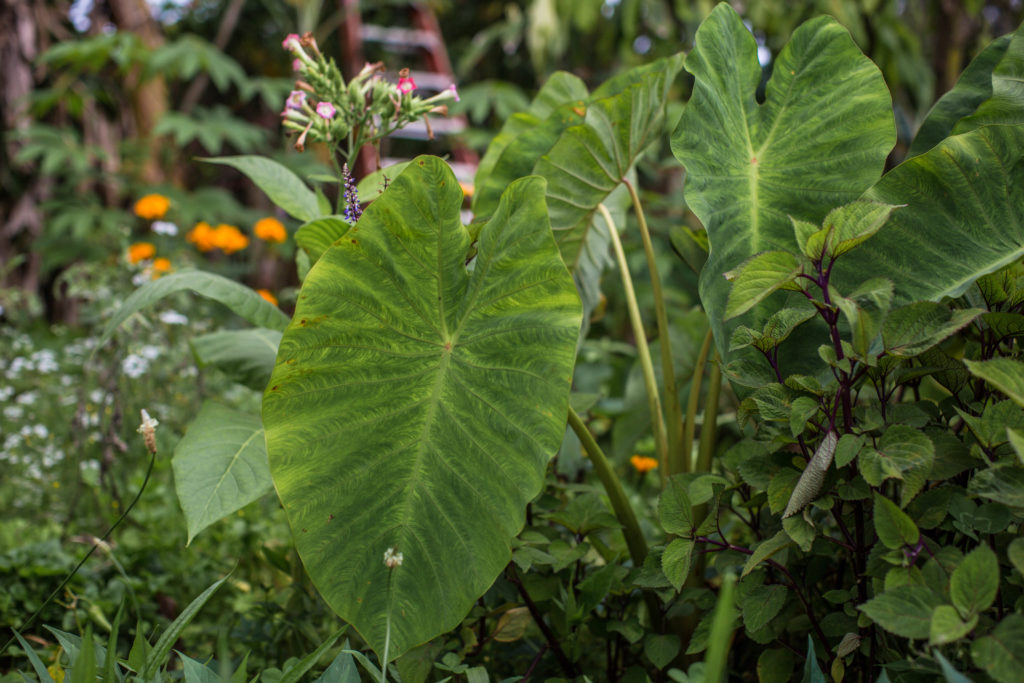 With spring officially here, my little shifts have included getting up earlier and taking a walk to the ocean, doing more vigorous asana and active pranayama, anything that will help get the energy moving in Kapha hour (6am-10am). I'm cooking with more astringent, bitter and pungent tastes to bring a little more heat and dryness to balance the cold, damp qualities that spring rains bring in. Burdock tea with lemon, turmeric and ginger has been a morning staple, along with nettle infusions. I've also incorporated more fresh juices into my spring diet, I'd forgotten how vibrant and alive a fresh juice makes me feel! All that prana. A note – it's important not to drink them ice cold or dip too into the smoothie world in springtime as it can dampen digestive fire with too much cold food. Instead, I've been adding in all kinds of fresh greens by way of warm soups.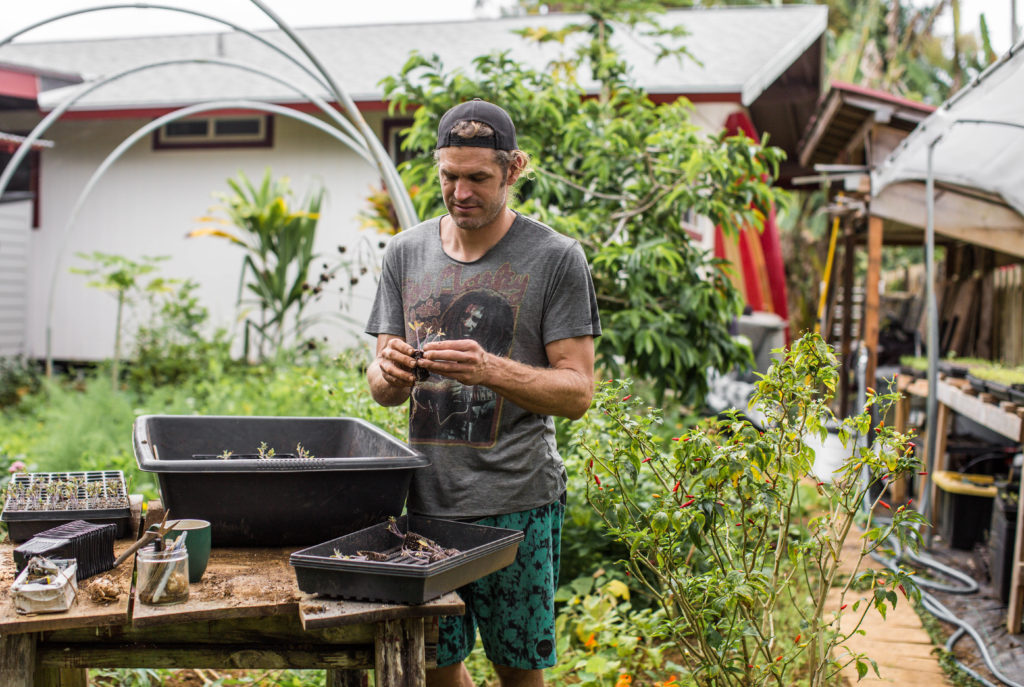 I'll hit the farmer's market and grab a few green soup staples to keep on hand at home – like avocado, fresh herbs (parsley, cilantro, dill, basil), zucchini, cucumber, and leafy greens. Even better, when my friends invite me over to their beautiful gardens to load up on whatever they're growing. What a gift it is to be living in a place where growing organic food is a pillar of the local culture. Many of my friends have committed their lives and work to tending the land and growing food for our community. It's a gift I never take for granted!


For years, I've made tons of raw green soups because of how simple and nourishing they are, but too much raw can be aggravating to both Vata and Kapha, especially in springtime when the weather is still crisp in most places. So cooking your denser vegetables can go a long way in delivering fresh, prana-filled greens to your diet without becoming too lightening to the body and mind. Warm, light soups are great allies in your springtime kitchen. The best part, you don't really need a recipe to whip is something wonderful. So what's the formula?
THE QUICK GREEN SOUP FORMULA
A denser green vegetable or two (zucchini, broccoli, cucumber, peas)
A leafy green (spinach, kale, arugula, etc)
Fresh herbs (parsley, cilantro, dill, basil)
Spices (coriander, cumin)
Salt (mineral-rich salt, sea vegetables, miso paste)
Fat (avocado, coconut cream, olive oil, ghee)
Acid (lemon, lime, ume plum vinegar)
Liquid (water or vegetable stock)
I simply steam my denser veggies in a small pot for 7-10 minutes until tender but not overcooked, then transfer the liquid, veggies, herbs and the rest of the ingredients in a blender, blend until creamy and taste to adjust the seasonings. Somedays, I'll add some dulse into the mix, a sprinkle of hemp or sesame seeds, and garnish of fresh cilantro or nasturtiums when I'm lucky. It takes all but 15 minutes to make from start to finish, and the combinations can be endless, but usually dependent on whatever I have in my fridge. I'm including a more specific recipe below. Give it a try, but don't be afraid to riff off this basic recipe in the kitchen to create your own variations. It makes such a nourishing and quick meal for any season.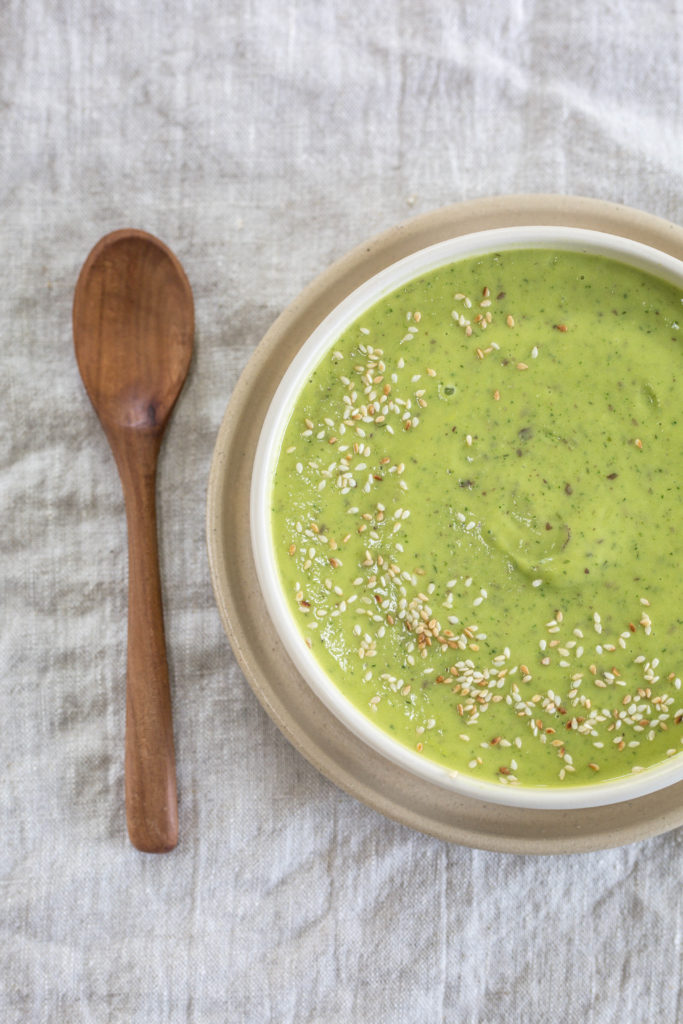 GARDEN GREEN SOUP
2 cups broccoli florets, cut into small florets
1 cup zucchini, roughly chopped
3 cups filtered water
1 avocado, pitted
1/2 cup parsley, stems & leaves
1/2 cup cilantro, stems & leaves
1 tsp ground coriander
1/2 tsp ground cumin
1-2 tbsp fresh lemon or lime juice
2 tbsp dulse flakes
1 tbsp miso
1/2 tsp pink salt
In a medium pot, bring the water to a boil. Add the broccoli and zucchini. Cover with a lid and cook on medium heat for 5 minutes, until tender but the color is still vibrant. Avoid overcooking, you just want to steam these and make them more digestible, not overcook until brown. When done, remove from heat and transfer the whole pot into a high-speed blender. Add the remaining ingredients, the avocado, herbs and spices. Blend until creamy. Taste and adjust seasonings as desired.
Makes 2-4 servings
2 Comments
2 responses to "Recipes: Garden Green Soup + A Simple Soup Formula"