Recipes: Five Minute Miso Bowl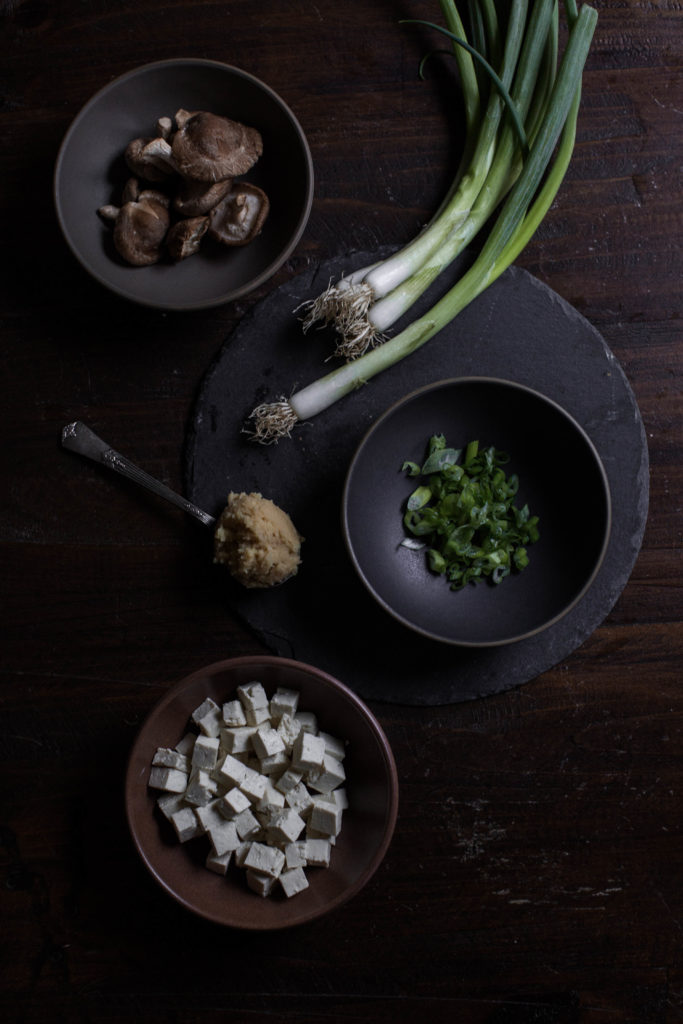 These days, I've been finding myself spending more time focusing my creative energy behind the computer than in the kitchen. Creating a book has me thinking, talking, writing, studying, testing and photographing food in its many forms and purposes daily. Yet, I must confess, when it comes to actually feeding myself I've become admittedly lazy. A quick daal. A pot of kitchari. A steamed sweet potato and broccoli. My personal food repertoire has been more utilitarian than inventive lately. Feeding others is easy, that's where my art thrives. But when it's just me, I've been sticking to some pretty basic meals. Anyone else with me here?
I had a friend once who was a powerhouse business owner. She intentionally ate the same breakfast every morning so she could reserve her creative power for her projects and clients. In similar fashion, I've found myself falling back on a few of my quick recipe staples. This five minute miso broth is in my go-to "easy" repertoire when I'm reserving my creative energy for writing and don't want to wind up with my hand in a bag of chips at 8pm. I know we've all been there. But prioritizing work doesn't have to mean eating poorly as a result. With this in mind, I usually have sprouted tofu, a bunch of cilantro and a tub of miso on my regular shopping lists. And my pantry is always stocked with whole grain and bean staples like brown rice, buckwheat, quinoa and a few types of daal. A rice cooker and the Instapot have also become recent allies in the kitchen. What are you easy go-to recipes and kitchen tools? Leave me a comment below!
FIVE MINUTE MISO BROTH
2 tbsp miso paste
1 tbsp tamari
2 tbsp toasted sesame oil
2 tbsp shredded dulse
1 inch fresh ginger root, minced
2 cups boiling water
Optional Add-Ins
Cubed tofu
Soba noodles
A scoop of cooked brown rice
Fresh spinach
Sliced scallions
Toasted sesame seeds
In a high-speed blender, combine the miso, tamari, toasted sesame oil, ginger, dulse and boiling water. Blend for 30 seconds until well combined. Pour into bowls and sip as a simple broth, or add your desired add-ins for a heartier complete meal.
Makes 2 bowls
No Comments