Recipes: Cardamom Carrot Cake with Orange Blossom Frosting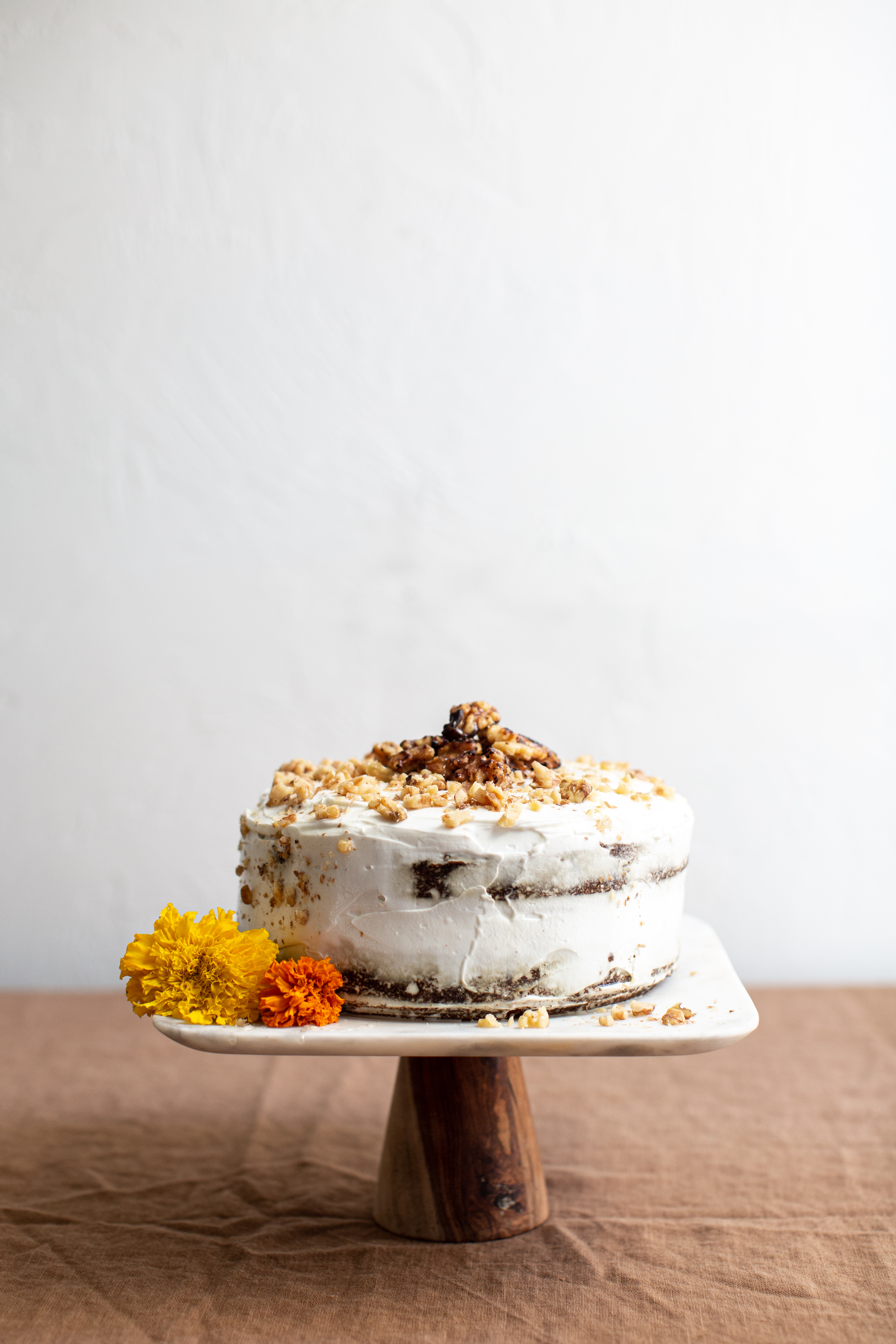 Today is my birthday and I'm officially into my 30's. 31, to be exact. For years now, I've had this funny tradition of baking my own birthday cake, which some people laugh at but most end up loving when they get to eat the leftovers of my recipe testing efforts. This year, I made a carrot cake.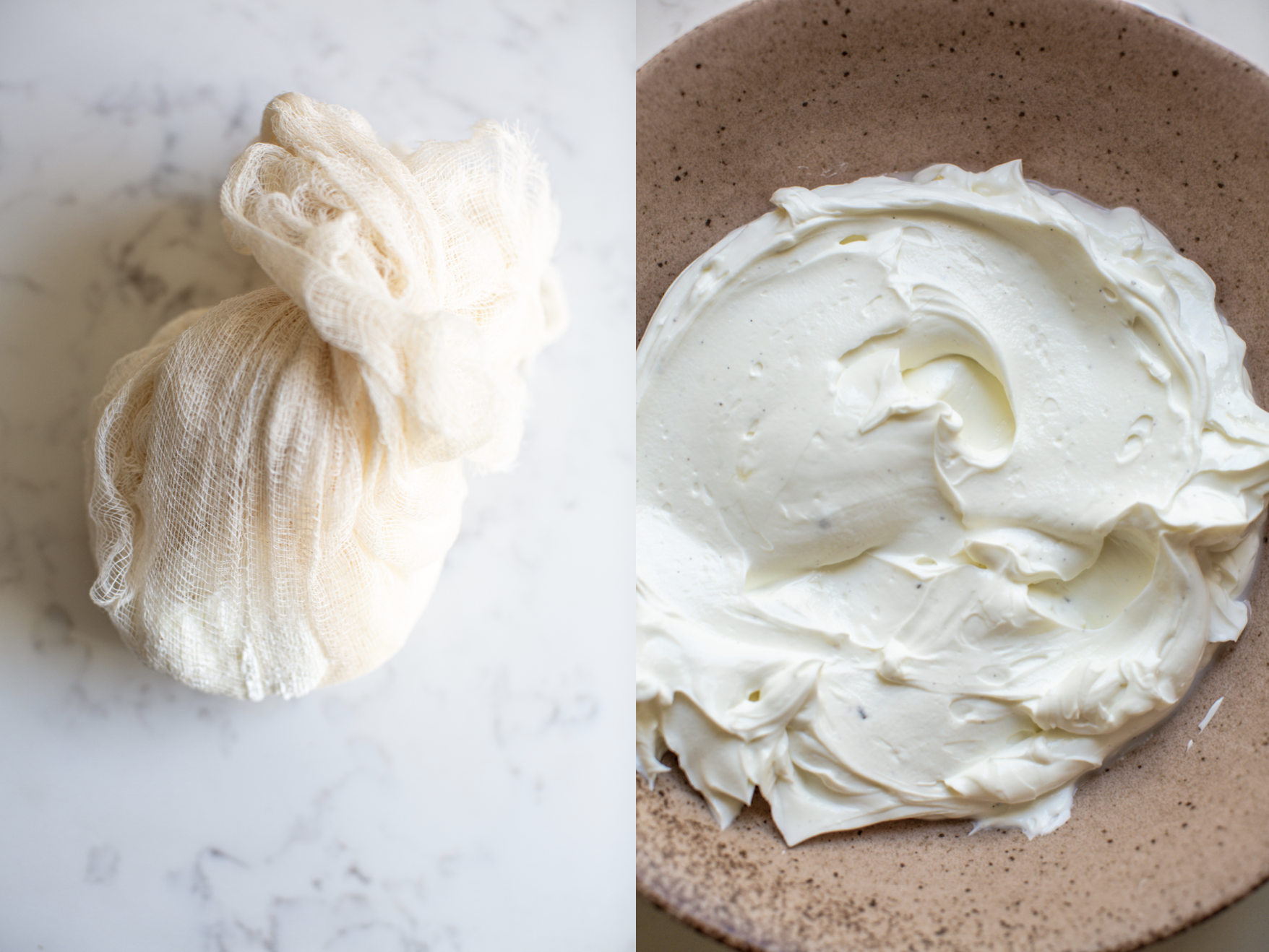 This super-moist double-layer carrot cake is spiced with cardamom and covered in a homemade labneh frosting with orange blossom water. Labneh is a thick cultured cheese made from straining yogurt overnight. Often found in Lebanese cuisine, it has a nice tangy taste and thicker texture that makes a great alternative to the standard cream cheese you usually find with a traditional carrot cake. I used a blend of naturally gluten-free flours and sweetened it with applesauce and coconut sugar. So we can call it healthy(-ish). 
Besides delicious, what this cake really was for me was pure distraction. Procrastibaking. Yes, you know, that fine art of occupying yourself in the kitchen instead of finishing your time-sensitive computer work. I've seemed to find myself in the kitchen a lot these days since cold weather has set in, seeking solace in baking experiments and a season or two of the Great British Baking Show along with it.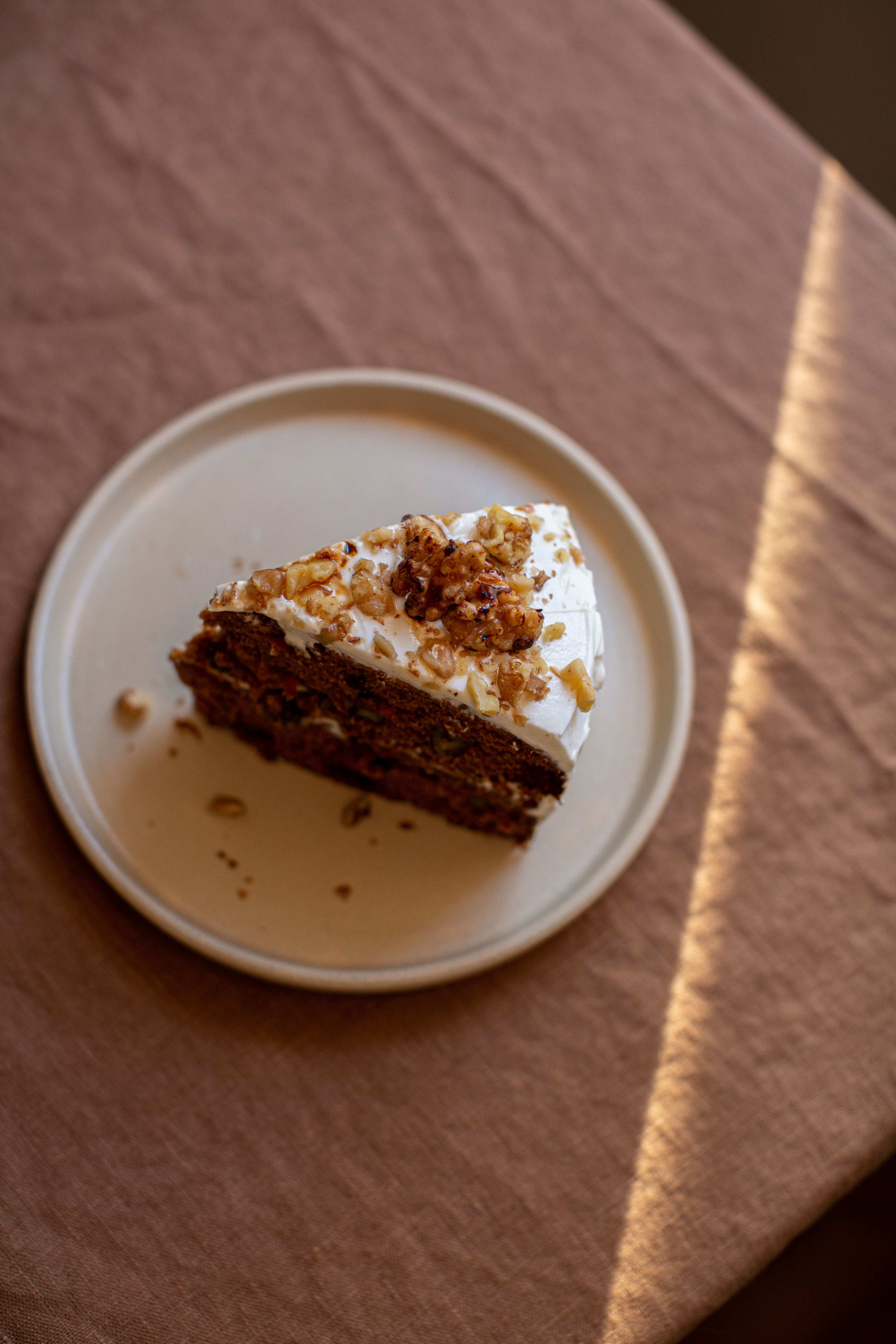 The good news is, I've got a great cake recipe to share with you…and a beautiful book just about finished! I'm thrilled to be sharing more details of the book soon and many more projects in the wings for 2020. I'm excited to see what else 31 has in store ahead! Happy Birthday to all my fellow December babies out there…xo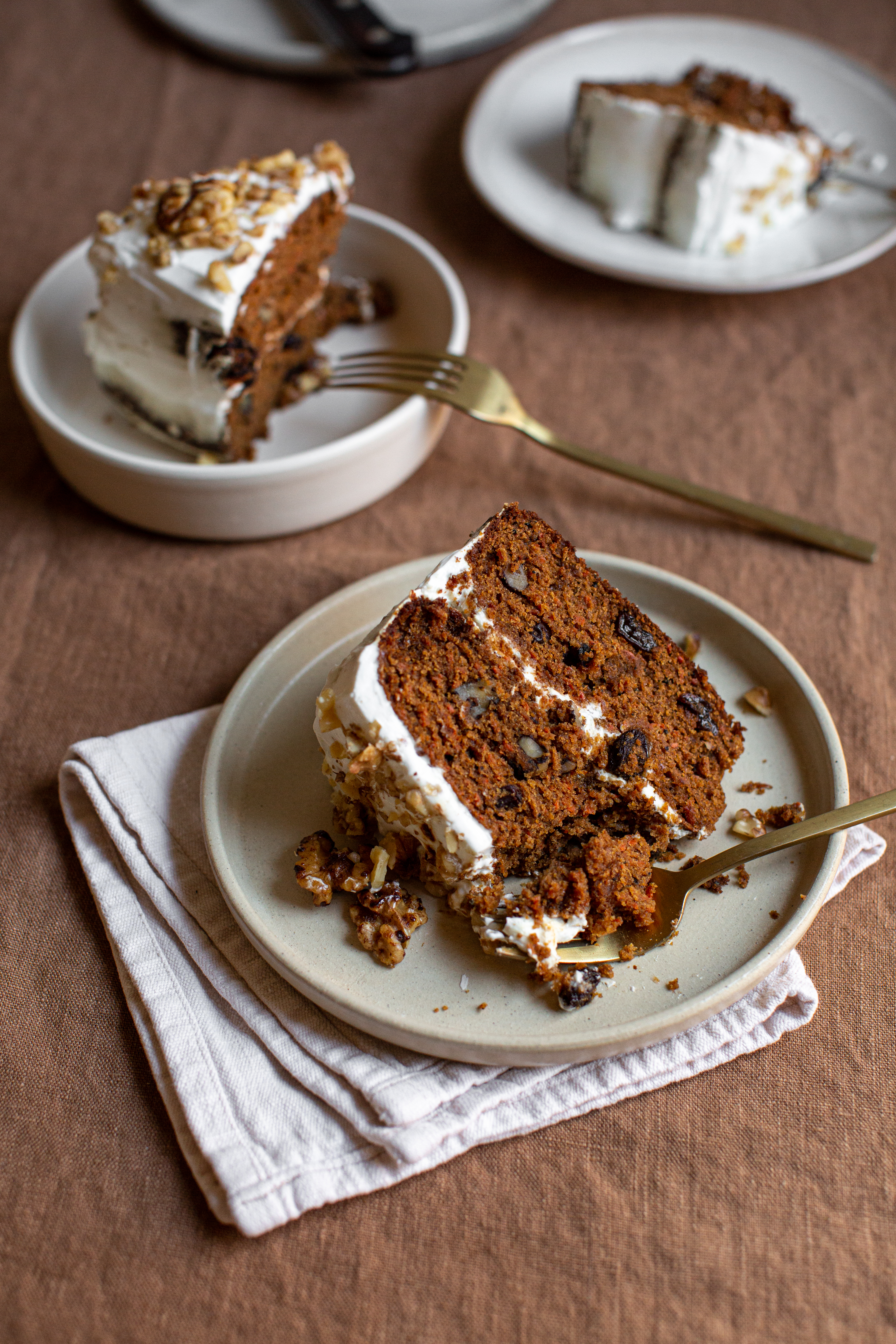 CARDAMOM CARROT CAKE WITH ORANGE BLOSSOM FROSTING
Carrot Cake
Dry
2 cups oat flour
½ cup coconut flour
½ cup almond meal
2 cups coconut sugar
2 tsp baking soda
3 tsp ground cardamom
1 tsp ground cinnamon
½ tsp ground ginger
½ tsp fine sea salt
Wet
4 organic local eggs, whisked (or 4 flax eggs)
1 cup olive oil (or melted ghee)
1 cup organic applesauce
2 tbsp orange zest
1 tbsp lemon zest
1 tbsp vanilla extract
3 cups grated carrots
1 cup chopped walnuts
1 cup raisins 
Preheat the oven to 350F. In a large bowl, whisk together the dry ingredients. In a separate large mixing bowl, whisk the eggs first, then mix in the remaining ingredients. Pour the dry mixture into the wet and fold until well combined – careful not to overmix. Set aside. 
Line two 8-inch springform cake pans with parchment paper and grease the sides with olive oil. Divide the batter evenly between the prepared pans. Bake for 40-50 minutes. Stick a toothpick into the center to test it's done. When it comes out clean, remove it from the oven and transfer to a cooling rack to cool in the pan for 20 minutes before removing. 
To assemble, carefully remove the cakes from the springform pans. Place on a cake stand or serving plate. Use a spatula to spread the frosting evenly across the first layer of the cake. Gently place the second layer on top and finish frosting. Drizzle honey, orange zest and chopped walnuts on top of the cake to serve.
Orange Blossom Labneh Frosting
4 cups organic plain full fat yogurt (or 2 cups labneh) 
2 tbsp local raw honey
1 tbsp orange zest
2 tsp orange blossom water
¼ tsp vanilla powder (1 vanilla bean scraped)

To make the labneh frosting, you must strain the yogurt first. This takes about 24-48 hours, so plan ahead if you're making your labneh not buying it! To begin, line a mesh strainer with cheesecloth and place over a bowl that is deep enough so that the bottom of the strainer sits a few inches from the bottom of the bowl. Pour the mixture into the lined strainer and fold the cheesecloth over the top, twisting the ends of the cheesecloth to seal. Place in the refrigerator and let strain for at least 24-48 hours. 
An hour before you're ready to frost the cake, remove from the refrigerator and unwrap. Transfer to a bowl and allow it come to room temperature. Once at room temp, pour off any excess liquid and stir in the orange blossom water, orange zest, vanilla and honey. Set aside until ready to frost. 
Note: For a dairy-free alternative, try this recipe for a coconut yogurt labneh.
Makes one 8-inch double layered cake
2 Comments
2 responses to "Recipes: Cardamom Carrot Cake with Orange Blossom Frosting"