Recipes: Nourishing Immunity Soup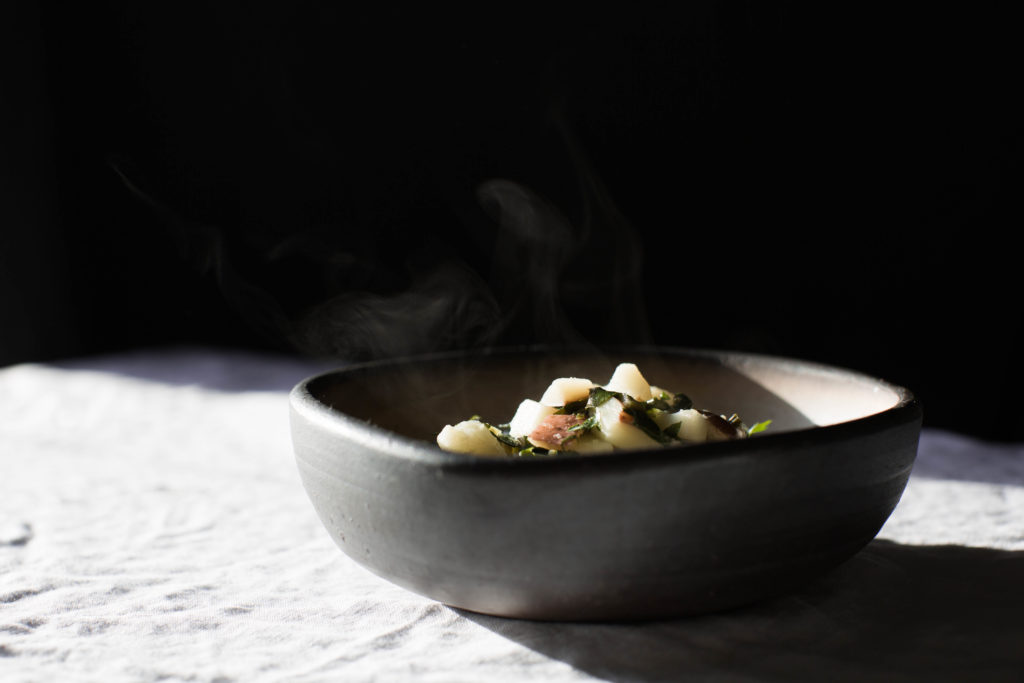 A teacher of mine once said it's a good thing when you're being chiseled and polished by the challenges of life. If so, then the past month has carved new edges and facets into my being. Like a crystal with its many faces, when held to the light you can see the complexities that lie within, shaped by time and pressure. And when angled into the sun, sometimes all those complex layers cast a brilliant rainbow from it, reflecting back the beauty in those challenges. This seems like both a metaphor for my life these days and also an ode to the spirit of Kauai. Each time I come here, I feel like all the dusty layers of illusion are being chiseled away and I'm slowly polished by the lessons offered by the land.
I wrote last month about my decision to make Kauai my full-time home, with an intention of creating stability and building a lifestyle that supports living more slowly. I wrote of my anticipated move and the inherent discomfort that lies within change and the nature of transition. My stated practice was to be present with these spaces between the "ending points". I smile at all of this because, man…has life given me opportunity to put my intentions into practice. But that's the thing about intention and prayers, you put them out there and they always come back to you, just rarely in the form you expect!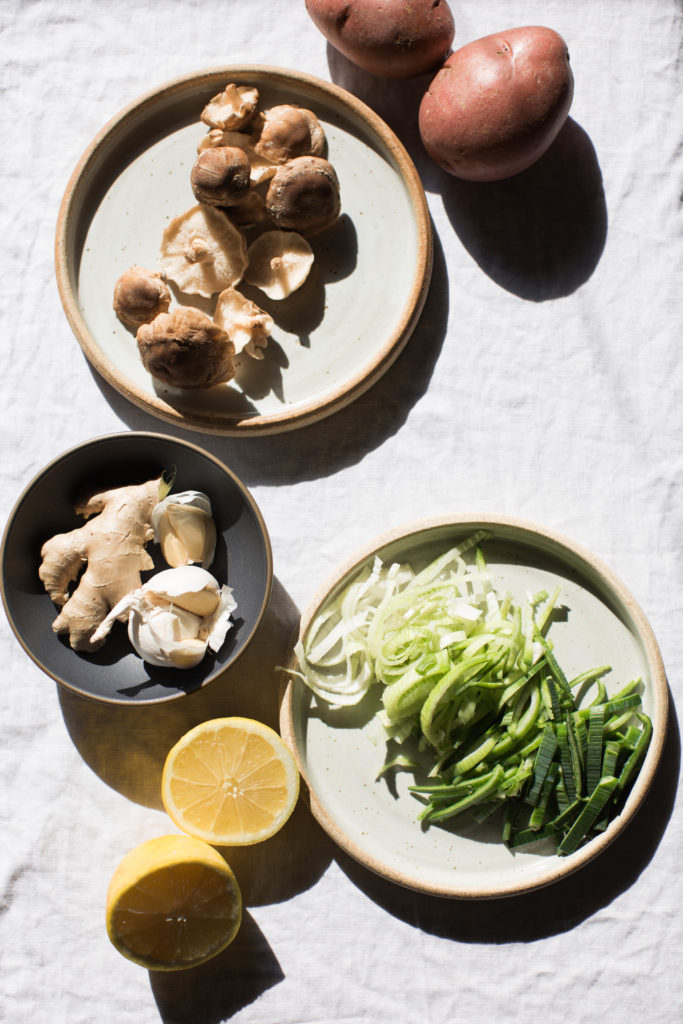 Eight days after moving into our new home, one of those rare and epic storms hit the island and we received 50 inches of rain in 24 hours. Our street turned into a roaring river overnight, and our house flooded inside with two feet of water and cess pool sewage downstairs. The main road and lifeline to town was taken out by landslides and many homes washed away by their foundations. I grew up on one of the rainiest islands in Southeast Alaska, but I'd never experienced rain like this before. After several days in our flooded home we ended up air evacuating out, rather dramatically, in vintage CH-47 Chinook helicopter with the Army National Guard. We took refuge with dear friends on their farm, trying to get our feet back on the ground while we waited for more information on what the months ahead would bring with the road reconstruction and our little home. A few days turned into a few weeks, and I got crafty at running my business from a hotspot inside my little tent. Along the way, I couldn't help but wonder if I'd made the wrong decisions? I'd traded my comfortable house, familiar kitchen and home yoga studio for this wildness and uncertainty of a life in the jungle.
In my attempt to create stability, I found myself teetering between feeling more ungrounded than ever, but also more alive than ever. Some days, I faced tough emotions and big questions around identity, purpose and path…and just plain exhaustion. There were days where the last thing I felt like doing was putting oil on my body and meditating. My eyes would roll back whenever I heard anyone mention the words self-care. Then there were moments of blissful expanding awareness that brought more joy, insight and growth than any yoga class could have brought me. Now, still in the midst of it all, I'm getting to witness community come together to support each other, create new systems and grow through the difficulties. I'm having profound conversations around social change, collective realities and ways to change the narrative around us.  What lies ahead is still a mystery to me. I don't know what tomorrow will bring (do we ever?), but I know it feels good to be here and to be so fully alive. And even though my daily practice doesn't look like a perfected checklist of self-care rituals right now, I'm learning that self-care runs so much deeper than superficial layers of our skin, muscles and bones. I'm learning lessons of grace, patience and surrender in this process. I'm learning how to walk into the unknown and still breath deeply as I put one foot in front of the other. It's raw, and it's real.
So what does all this have to do with an immunity soup? To tie this together, how we choose to show up for ourselves is the practice. Whether it's choosing foods that are nourishing, grounding and supportive in times when your body and mind are stressed (like my favorite feel better green soup recipe below), or whether it's choosing to look at your deeper emotional needs and how you'll meet them in intention and aligned action…it's really no different. One impacts the other, and they support each other hand-in-hand. How you choose to show up for your body and mind shapes how you relate to the world around you and your role in it. Be gentle with yourself and choose wisely.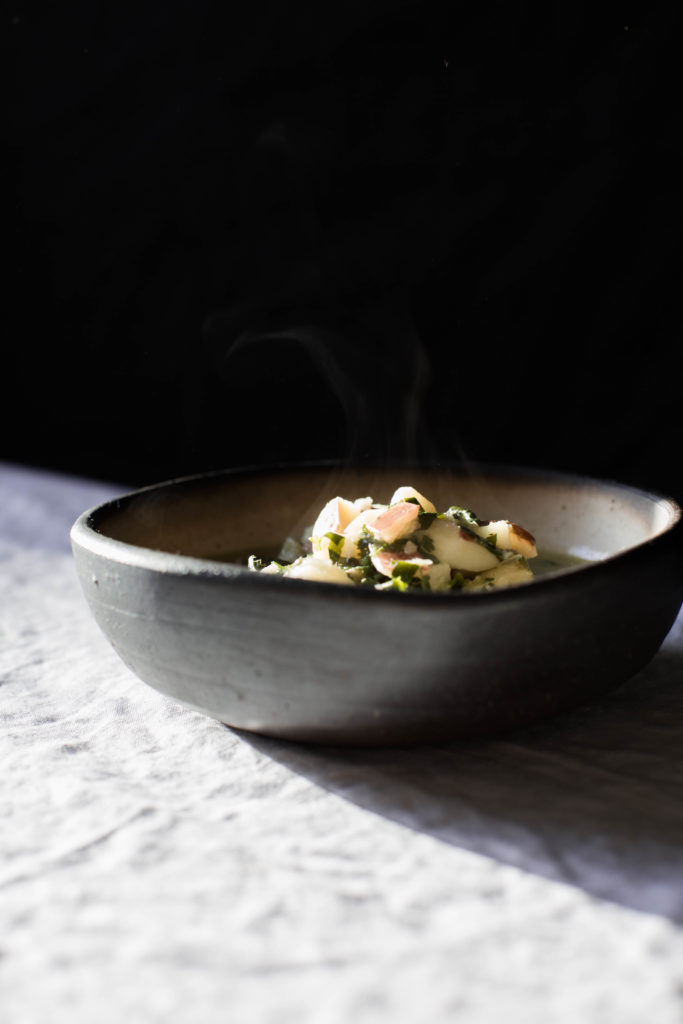 NOURISHING IMMUNITY SOUP
2 hearty tablespoons of ghee
1 leek, ends trimmed, quartered & finely chopped
1-inch fresh ginger, minced
4 cloves garlic, minced
12 fresh shiitake mushrooms, stems removed & roughly chopped
4 medium red potatoes, cubed
1 cup green lentils
6-7 cups water
¼ tsp cracked black pepper (or to taste)
½ – 1 tsp Himalayan pink salt (or to taste)
1 bunch dandelion greens, ends trimmed & roughly chopped
1 bunch parsley, ends trimmed & roughly chopped
1 bunch cilantro, ends trimmed & roughly chopped
2 cups fresh greens (spinach, chard or kale), roughly chopped
1 tbsp white miso paste
1/2 lemon, juiced
In a large soup pot, heat the ghee on medium heat until melted. First, add the leeks and allow to cook for 1-2 minutes until tender. Add the ginger and garlic and cook until golden. Stir in the shiitakes and cook for another minute. Then, add the chopped potatoes and stir to combine the mixture. Cover the pot with a lid and allow the steam to cook to potatoes, stirring frequently to avoid burning. After 5 minutes, add the lentils, water and salt, then turn the heat up and bring to low simmer. Cook for 25-30 minutes until the lentils are tender, add more liquid if needed. Towards the end of cooking, stir in all the greens and herbs. Cover with a lid and continue to cook for another 5 minutes. Remove from heat to stir in the miso paste and lemon juice at the end. Cover with lid and allow to sit for another 10 minutes before serving. Before serving, taste and adjust seasoning as desired. 
Makes 4-6 servings
5 Comments
5 responses to "Recipes: Nourishing Immunity Soup"