Recipes: Spring Greens & Mung Bean Tacos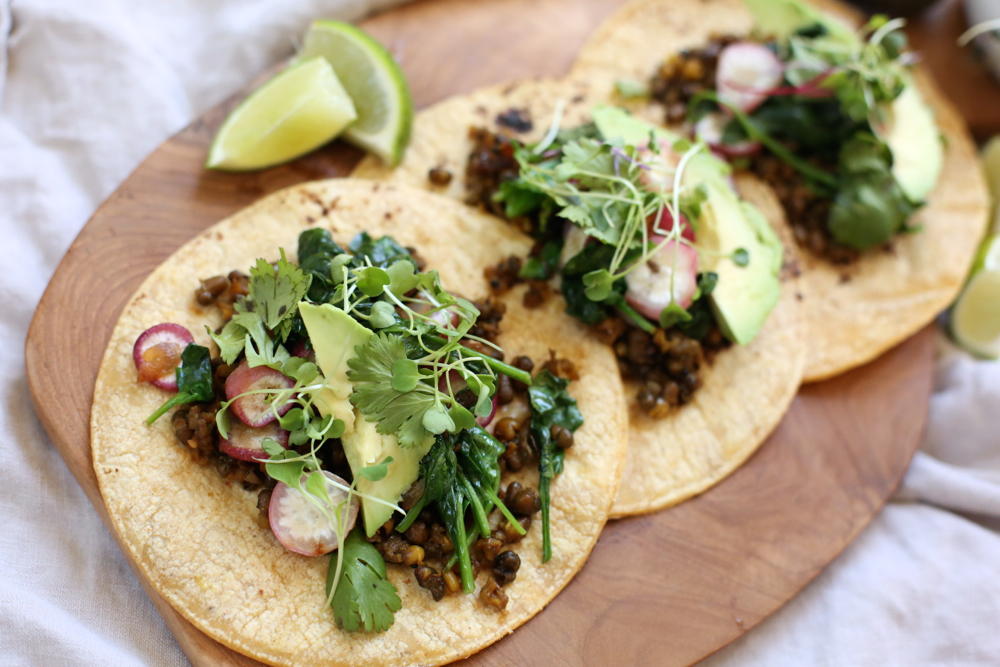 If you've been reading my blog for a while, you know Cinco de Mayo for me marks the beginning of what I've declared "Taco Season" – because usually by the 5th of May it's consistently in the 70's and that feels like a suitable enough time for me to start diving into bowls of guacamole! Anyone else with me here?
The first year I shared this tradition, I blogged about my plant-based taco feast staples. Last year, a chili-lime roasted sweet potato and sweet plantain taco with cacao molé. And this year, a kind of Ayurvedic-inspired savory mung bean mixture with pungent spices paired with astringent spring greens. The mung beans offer a hearty meat substitute and warming spices great for slower springtime digestion, while the bitter radish and fresh greens bring a freshness that welcomes in spring. It makes for a great taco feast with friends, a quick lunch time meal when the mung beans are prepped ahead in the morning.
Whenever they're made, dancing in the kitchen is a must for your taco making experience. Here's my favorite booty shaking playlist Kitchen Mixtape: Salsa y Samba on Spotify!
SPRING GREENS & MUNG BEAN TACOS 
Savory Mung Beans
2 tbsp ghee or olive oil
2 tbsp cumin seeds
2 tbsp coriander seeds
1 tbsp fenugreek seeds
1 tbsp fresh grated ginger
4 cloves garlic, minced
2 tbsp molasses
1 1/2 cups sprouted mung beans
3 cups water
salt & pepper, to taste
If you're using whole unsprouted mung beans, soak in a bowl overnight to soften. The next day, drain and rinse well, then spread in a single layer over a baking sheet. Cover with a towel and allow to sit at room temp out of the sun for 1-2 days, until little tails start to sprout! If you're feeling impatient or lazy like I do sometimes, then skip this step and buy TruRoots Sprouted Mung Beans to get the pre-soaked/sprouted version.
In a large saucepan, heat the oil and add the spices, ginger, and garlic to the pot. Stir frequently on medium-high heat until aromatic. Next, add the molasses and mix into the spices. Add the mung beans and stir until well coated. Pour water in, cover and reduce to a gentle simmer and cook until tender, about 35 minutes. You may need to add more water and cook longer. When the mung beans are slightly tender but not mushy, remove from heat and season with salt and pepper. Store or set aside until ready to use.
Spring Veggies
1 tbsp olive oil
2 small shallots, finely chopped
6 radishes, sliced in 1/4 inch rounds (I used French breakfast, but any red/mixed color radishes work!)
2 cups fresh spinach
1/2 bunch cilantro, chopped
1/2 lime
In a medium saucepan, heat the oil and caramelize the shallots. Next, add the radishes and cook until tender. Last, add the spinach and cilantro, sauté until the greens are lightly steamed but not overcooked. Squeeze the lime juice and season with salt and pepper.
Tacos
Corn tortillas
Avocado
Microgreens or sprouts
To assemble the tacos, heat the tortillas and layer with mung beans, spring greens and top with sliced avocado or guacamole, micro greens and an extra squeeze of lime if desired.
Makes 6-8 tacos 
4 Comments
4 responses to "Recipes: Spring Greens & Mung Bean Tacos"