Recipes: Stuffed Sweet Potatoes from Dahl House Nutrition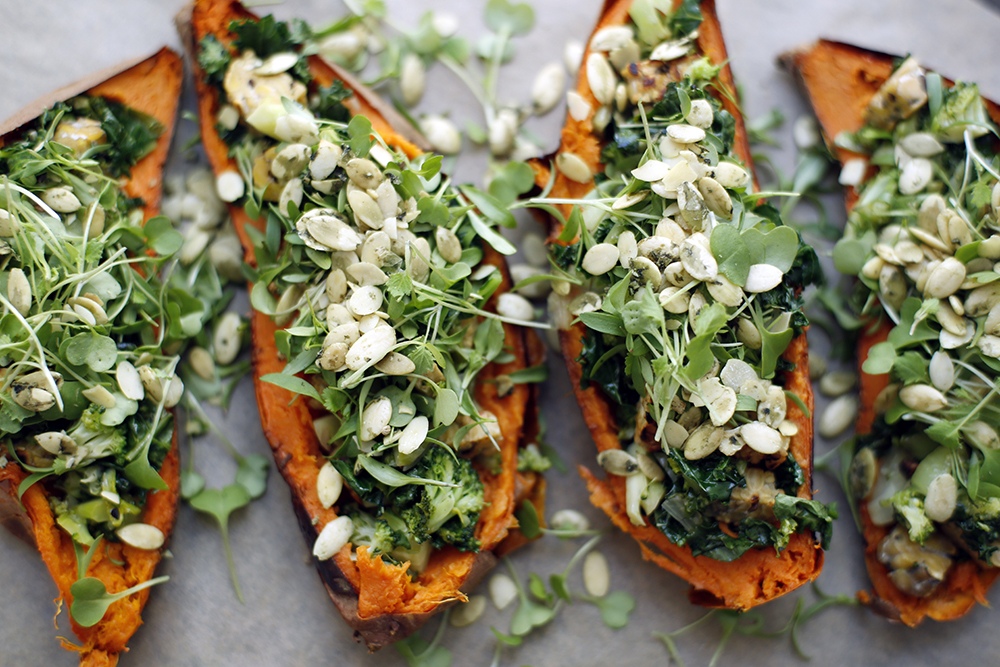 One of the greatest parts of food blogging is being able to connect with incredible artisans, makers and culinary creators from around the world.  And if there's one thing I've seen in this community – there are some seriously talented women out there shaping the way we eat, think, and feel about food!  This year, I decided to launch a new series on the Vidya blog to highlight some of the kitchen goddesses out there who inspire me each day with their ingenuity of ingredients and artful presentation of nourishing cuisine.  This monthly "Seasonal Recipe Share" series will give us a peek inside each bloggers home recipe box and the many ways they each connect with their health through seasonal eating and living.
This month I'm excited to welcome Kristin Dahl of Dahl House Nutrition with this gorgeous recipe and stunning photography by Alexa Gray of Super Food Super Life – how fab is this collab? Kristin is an LA-based holistic nutritionist, chef and co-author of The Art of Wellness. I vibe with her approach to food and wellbeing, emphasizing that we all show up with unique bio-individual needs and should approach our personal wellness practice from this flexible perspective. You can read more of her story and food philosophy in our recent Women in Wellness Interview here! But today, she's opened up her recipe box to share with us these hearty late winter stuffed sweet potatoes…
---
Eating seasonally connects us with Mother Nature aligning us with the natural rhythms of the earth. It also plays an important role in boosting our immunity and vitality because the nutrition in these foods is at its peak. When we flow with the seasons, we adjust to the Earth the same way the animals do, in harmony with all the surrounding elements. The cycle of the seasons is designed to fully support and nourish our health in the most miraculous ways. In the summer time, nature provides us with cooling and hydrating foods. In the fall and winter, there's an abundance of heavier starches to help us stay warm. In the spring, we are provided with endless greens to help us alkalize in preparation for summer.

I find that the farmers market is the best place to shop for seasonal and local foods. With its magnificent and abundant variety of fresh produce, I leave feeling deeply nourished not only from the sensorial beauty, but also from engaging in a community-oriented experience. I love to speak with vendors and local farmers about the journey those foods took to get to where they are today, bringing a reminder of the love, energy, and plant intelligence that went into the creation of our food.

Two years ago, I went from a lifetime of being vegetarian, to including a broader spectrum of foods into my diet. I began incorporating some animal products and protein sources into my routine and found this incredibly grounding & stabilizing for my body and my blood. Most of what I eat now is still vegan or vegetarian, but I typically have animal protein several times a week.
Vegan and Plant-Based meals continue to be my main source of balanced nourishment. This way of eating leaves my body feeling light, my digestion optimal, and my mind clear. Wellness to me is all about creating harmony with not only my food, but with everything in my life. Flowing with the changing seasons and changing tides of experience has brought me a deep sense of connection, gratitude, and fulfillment.

This recipe is a staple in my home but shifts concurrently with the seasons. I love stuffing squashes of all sorts: potatoes, pumpkins, apples and even pears. There's something about baking these nutrient dense beauties that brings out their richness and layered essence. Combining elements of flavor, texture and density creates a harmonious and deeply nourishing meal. 
The recipe itself is quite simple, but can be layered with healthy toppings and mix-ins to your hearts desire. For me, sauce is what ties the whole dish together. It's fun to make variations of sauces and play with combinations. Let Nature be your guide in creating this beautiful and satisfying dish!
LATE WINTER STUFFED SWEET POTATOES
4 organic sweet potatoes
2 baby bok choy
1 bunch of kale
1 bunch of broccoli
2 tbsp virgin coconut oil
Tempeh
Himalayan sea salt
Coconut aminos
For Topping
Micro greens (I love cilantro, kale & basil)
Pumpkin seeds (toasted if you'd like)
Chopped cilantro
Optional add-ins:
Garlic, onions, green onions – pretty much anything from the allium family!
Any other veggies that you'd like
Hemp seeds
Brown rice or quinoa
Kelp or dulse flakes
Preheat the oven to 425°F.Wash the sweet potatoes and then poke them in a few places with a fork. Place on a baking sheet with parchment paper and bake, until soft, 45 minutes-1 hour. While the sweet potatoes are baking, heat the coconut oil in a medium pan and add the broccoli, then bok choy, Cook until soft but not overdone roughly 3-5 minutes. Then add the kale & at the last moment – add a few dashes of coconut aminos and a pinch of Himalayan sea salt. Cover & Remove from heat. Cut tempeh in to small squares and in a separate pan, toast tempeh until lightly browned on all sides. Remove from heat and combine with greens mixture. Remove the sweet potatoes from the oven. Slice each sweet potato down the middle to create even halves. Scoop out a small amount of the cooked sweet potato, fill with the greens & tempeh mixture, and pop back in the oven for 10-15 minutes. Add toppings, plus sauce of choice & enjoy!
Almond Ginger Sauce
1-2 cups raw almond butter
1/2 cup lemon juice
1-2 small cloves of garlic
1/4 cup ginger juice
1 cup water
2 tbsp tamari or coconut aminos
1-2 tsp sea salt
1 Tbsp raw honey, maple syrup or sunroot sweetener
1/2 bunch organic cilantro
1/2 bunch organic basil
Optional – 1 jalapeno (remove seeds)
Place all ingredients in food processor & blend until smooth.
Sesame Almond Sauce
4 tbsp almond butter
2 tbsp soy sauce
Small knob of ginger
2 tbsp maple syrup
Pinch or 2 of sea salt
Juice from ½ a lemon
1 tbsp apple cider vinegar
1 tbsp sesame oil
Place all ingredients in food processor & blend until smooth.
Makes 4 servings
3 Comments
3 responses to "Recipes: Stuffed Sweet Potatoes from Dahl House Nutrition"