Yoga & Cacao Weekend with KakawSana
July 8, 2017 @ 9:00 am

-

July 9, 2017 @ 6:00 pm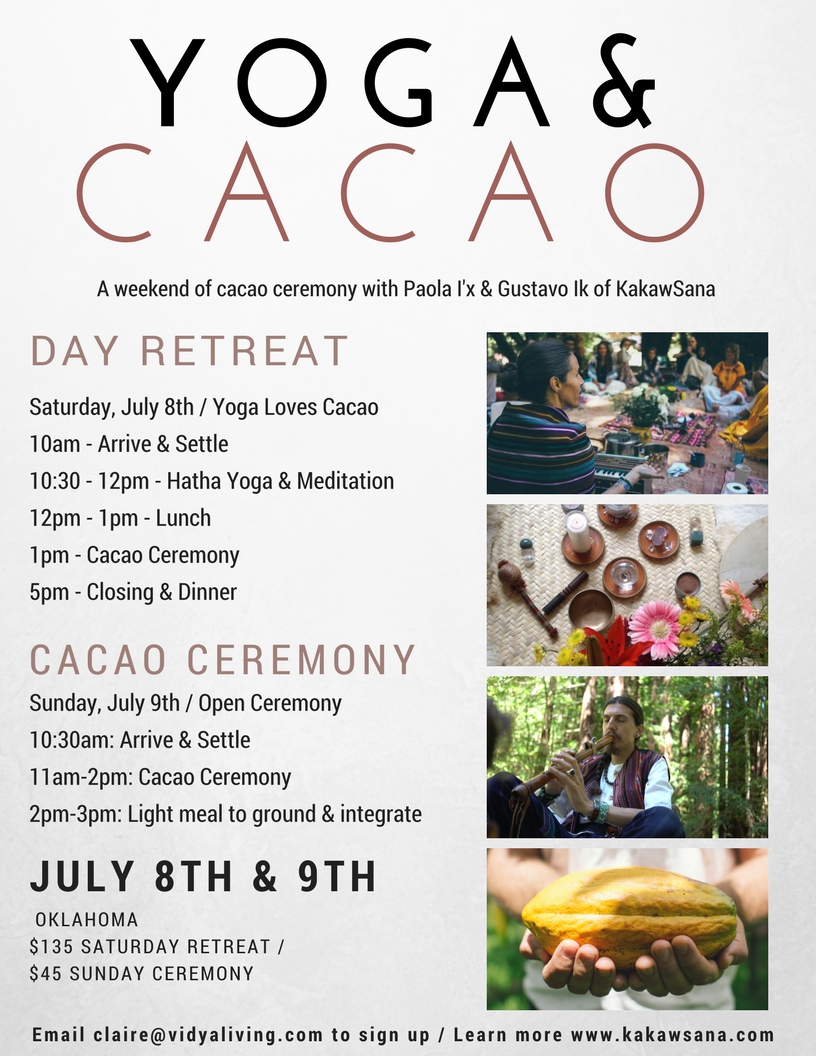 Join us for a weekend of Ceremonial Cacao…
Cacao is a gift to be shared, an opportunity to connect with oneself and with others, a chance to open the heart an embrace with tenderness our Suffering & our Joy. Cacao supports us as a great partner in the process of inner transformation and healing.  What ever your path is, Cacao will invite you to mindfully breath, listen and connect with the wisdom already available in you. The ceremonial intake of Cacao is a powerful Meditation of Love, which strengthens and awakens us to a deeper relationship with our inner self, with others, with the planet and with All That Is.
"We have experienced how Cacao Ceremonies support individuals, relations and communities to open up and relate from love in a subtle and profound way. For us, is a blessing to walk with cacao and have it as part of our lives". – Kakawsana
DAY RETREAT
Saturday, July 8th / Yoga Loves Cacao 
10am – Arrive & Settle
10:30 – 12pm – Hatha Yoga & Meditation
12 – 1pm – Lunch
1pm – Cacao Ceremony
5pm – Closing & Dinner
CACAO CEREMONY
Sunday, July 9th / Open Ceremony
10:30am: Arrive & Settle
11am-2pm: Cacao Ceremony
2pm-3pm: Light meal to ground & integrate
What to bring:
A cup for the cacao
Shawl for warmth
A pillow to sit on
Light food for potluck
Women wear dress or skirt, and men pants
Feel free to bring / wear items that are sacred to you
A few notes:
The cacao that we share is organic and ceremonial grade. We honor you and empower you to be who you are.The ceremony is a gift for you, a celebration of your life!
Cost / Donation:
The cost is $135 for Saturday's Day Retreat / $45 for Sunday's Ceremony
*If you really want to participate in this gather of hearts and you can't afford the fee, let us know and we'll work it out.
Location:
Newcastle, Oklahoma

ABOUT KAKAWSANA
Paola I´x, – was born in Bogotá, Colombia, where she created The "Eterno Sol Yoga & Mindfulness" program. She shares the tools and practices of Yoga Asanas & Mindfulness Meditation that she has been practicing and teaching for the last 16 years . She has developed programs for business, schools and communities, families and individuals, and she has trained hundreds of people around Latin America. Her intention is to lovingly and compassionately support and inspire others: parents, teachers, community leaders, children, teens; to shine their own light so they can inspire those around them to do the same. Since 2011 she walks her path with her beloved Gustavo Ik, and together they share the Ceremonial Cacao and by shining their lights they continue inspiring others to shine theirs.

Gustavo Ik– was born in Tepic, Nayarit, México. An active and committed practitioner and teacher of The Law of Time Teachings and the Synchronic order. During the last 11 years he has been studying with native elders from North, Central and South America and practicing Yoga and Meditation. Gustavo communicates the Galactic and the Ancestral/Native to those willing to listen. Through his flute and his voice he shares about his path and healing. His eloquent, natural and unique way of being inspires and nurtures every heart. Since2011 he walks his path with his beloved Paola healing the masculine and feminine within and sharing the Sacred Cacao.

REGISTER
We have kept this an intimate group size and have limited space. We'll be preparing meals and cacao per person, and request that you sign up in advance. Please RSVP claire.ragozzino@gmail.com to sign up. Payments can be made cash, check or PayPal to purchase your ticket.