Fall Renewal Guided Cleanse
October 1, 2017 @ 8:00 am

-

October 14, 2017 @ 5:00 pm

$195.00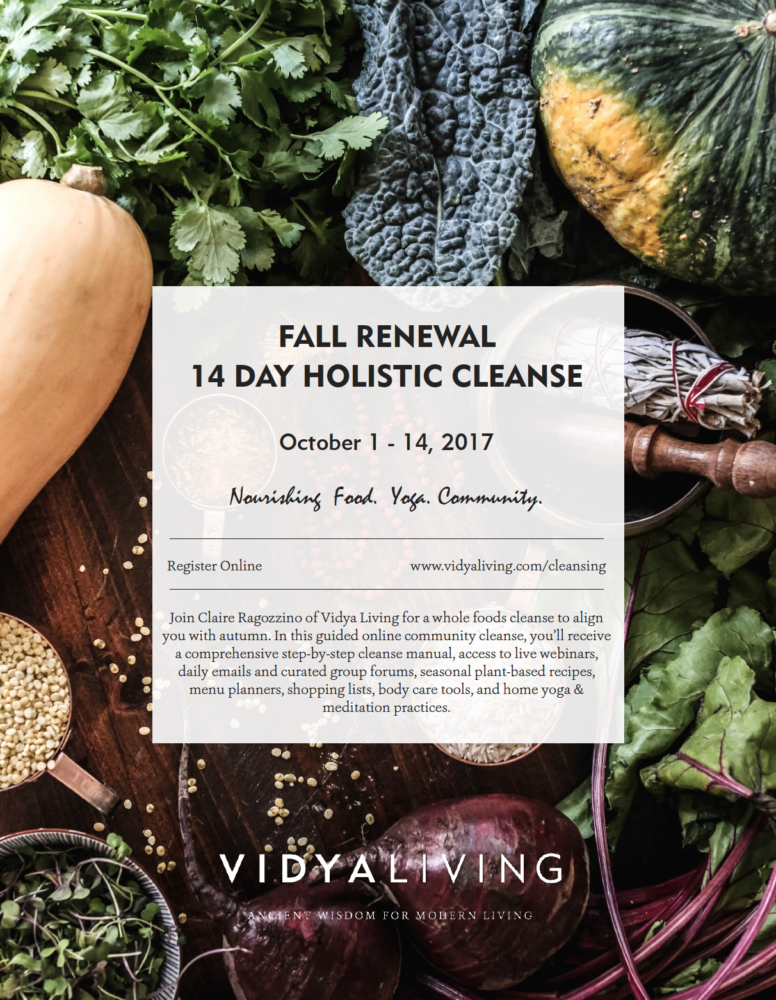 Join holistic wellness + cleanse coach, Claire Ragozzino, with special guest teachers, Adena Harford and Brianne Beauregard, on this 14 day guided journey towards deep inner clarity and balanced health. In this online community cleanse, receive all the tools you need to prepare and conduct a seasonally aligned whole food cleanse at home with the connection + support of our online global cleanse community. Through a series of webinars, daily emails and curated group forums, you'll receive a step-by-step cleanse plan with seasonally-focused plant-based recipes, menu planners, shopping lists, body care tools, and home yoga and meditation practices and learn how to build a holistic Ayurvedic lifestyle that leaves you feeling nourished, purified and strong into Autumn.
WHAT YOU'LL RECEIVE…
3 live/recorded webinars with your cleanse host and special guest teachers
Your fall cleanse handbook with step-by-step seasonal cleanse plans, menu planners, easy-to- follow recipes and holistic self-care tools
50-page ebook of plant-based Ayurvedic-inspired Fall recipes
Printable blank shopping lists, intention setting worksheets, journaling and meditation guides, nutritional wellness resources
Daily emails with cleanse tips and Ayurvedic learning stories
Digestion-boosting, vata-balancing home yoga practice sheets
Personalized email check-ins for support + accountability
Access to private online cleanse community group
Optional Add-On: Organic Kitchari Cleanse Kit from Banyan Botanicals mailed straight to your front door
Optional Add-On: Custom cleanse plan + private coaching sessions with Claire
HOW IT WORKS…
Stage 1 | PREPARE | October 1st-6th
In the first week, begin to naturally detoxify and nourish your body and mind through holistic rituals of self-care and dietary upgrades that gently prepare for your deeper cleanse work in stage 2.  Special guest teacher, Krissy Ruddy, joins in for a live call to talk success in making dietary change.
Stage 2 | PURIFY | October 7th-11th
Embark on three-five days of Ayurvedic kitchari cleansing, learning the ins-and-outs of this nourishing mono-diet to purify your body, mind and spirit. Special guest teacher, Adena Harford, joins in for a live call to share cleansing wisdom.
Stage 3 | REJUVENATE | October 12th-14th
After your kitchari fast, focus on rebuilding a healthy diet and lifestyle to nourish you post-cleanse, integrating all the tools you've learned to transition into the new season with a deeper sense clarity and balance in your seasonal wellbeing. Special guest teacher, Brianne Beauregard, join in for a live call to discuss what true rejuvenation means post-cleanse and beyond.
Claire Ragozzino is a certified yoga instructor, plant-based chef and holistic wellness coach. Her wellness programs and seasonal cleanses are infused with Ayurvedic principles, plant-based nutrition, and yogic philosophy to cultivate deep inner wisdom for intuitive healing.
GUEST SPEAKERS…
Krissy Ruddy is a certified Holistic Health Coach and yoga teacher who combines Ayurveda, integrative nutrition and modern psychology to help women create massive transformation in their bodies and lives. Learn more about her work at www.krissyruddy.com
Adena Rose Bright is a NAMA Certified Ayurvedic Practitioner and AyurYoga Specialist offering Ayurvedic LifestyleConsultations, meal planning and cooking lessons, guided cleansing, Ayurvedic bodywork, and yoga instruction in Vermont. Learn more about her work at www.adenaroseayurveda.com.
Brianne Beauregard is an Ayurvedic Diet and Lifestyle Counselor, Licensed Master Esthetician, and Certified Lifestyle Educator. She has studied and practiced in northeastern Connecticut, Providence RI, Boston MA, Telluride CO, Santa Cruz CA, Albuquerque NM, beautiful Pune India, and the Hawaiian Island of Kaua'i. One of her most influential learning experiences was her advanced clinical internship in India with renowned author, physician, and professor of Ayurveda Dr. Vasant Lad.  Learn more about her work at www.briannebeauregard.com.

FAQs…
What is an Ayurvedic-inspired cleanse?
A simple Ayurvedic cleanse aims to balance agni. Agni, means fire, and in this case directly refers to our metabolic fire, the strength of our ability to digest what we take in. This includes our diet, of course, but also our experiences in life. A simple way to improve agni is to fast or eat lightly for short periods of time. This cleanse uses principles of Ayurveda to help you get back in touch with your body, teaching you the fundamental tools for boosting digestion, creating a healing plant-based diet, and holistic body care techniques to keep the body, mind and spirit balanced through the winter. In this two-week cleanse, you'll learn the in-depth knowledge on holistic nutrition and seasonal wellness through a series live webinars and daily emails that guide you through a whole food plant-based cleanse at home. You'll also learn simple yoga practices to balance the body and boost digestion, meditation tools to take with you even beyond your cleanse.  By the end of this 3-part cleanse, you'll leave feeling clean, clear and strong as you kick off the new season.
What is a kitchari and how does it work?
Kitchari is an ancient healing combination of mung beans, rice and spices. Eaten at times when the immune system is compromised or for special seasonal cleansing purposes, you can think of kitchari as the Ayurvedic (and vegetarian!) equivalent to chicken noodle soup. Nourishing for mind, body and soul, kitchari kicks up the metabolism and immune system. This simple one pot meal is easy to make and to digest, allowing the body to use less energy on digestive functions, and more on clearing and metabolizing ama (toxins) from the body. The combination of rice and mung beans makes a complete protein, meaning you will get enough nutrients to sustain a restful daily routine from this dish alone. The spices like ginger, turmeric, coriander, cumin and fennel, are anti-inflammatory and cleanse the blood, burn up toxins and improve agni. It is also alkaline for the body, assisting in lowering acidity of the blood and creating overall balance in our bodies.
Do I need a juicer or any special kitchen tools?
This is a whole food-based program, so no juicer or fancy kitchen equipment is required for this cleanse.  The only tools you'll need are your favorite knife, a few cooking pots, an oven/stovetop, and an open mind! While I do provide some recipes that use a blender, these are optional and not required to complete your cleanse experience.
How does this work with my busy lifestyle? How much time do I need to devote to this?
I get it, we all have a lot on our plates. Why would you want to add yet another thing to think about and do in your day?  This cleanse is designed to declutter the busy from your life and give you more space to say yes to that much needed you time. During the program, you'll learn tools that will help implement a solid daily routine, streamline your flow in the kitchen, and explore lifestyle practices that actually give you more energy to get it all done. Like anything, you get out of it what you put in. If you can devote 1-2 hours for yourself each day to do the self-care practices, cook a mindful meal at home, and try a guided meditation or two, you'll be on the fast track to a more rejuvenated you. If the scheduled dates of the program don't work for you, not a problem. Once you sign up, you receive access to all the materials and recorded webinars so you can move at your own pace and explore the cleanse at home. You will have email support from your cleanse guide, no matter what time you start your program.
Can I join if I live outside the US?
Absolutely! This Vidya Seasonal Cleanse community welcomes friends from around the globe. Our cleanse tribe hails from all over US, Mexico, Portugal, Peru, Australia and France to name just locations of past participants. With our online program, we're happy to have you walk the cleanse journey with us and share your unique experience from anywhere in the world.