Interview: Women in Wellness Q&A with Margaret Burns Vap
WOMEN IN WELLNESS: MARGARET BURNS VAP OF BIG SKY YOGA RETREATS
In this turbulent world today, there's nothing more important than intimate and authentic connections with a nurturing community. This monthly Q&A series is all about sharing inspiring women in wellness and how they shape and uplift others to live a soulful and centered life. I'm thrilled to welcome Margaret, founder of Big Sky Yoga Retreats and Cowgirl Yoga to this interview series to share more about her yoga journey, personal practice and incredible work. 
Every great journey has a story, tell us about you and your journey, and what led you to founding Big Sky Yoga Retreats? 
Long long ago in a galaxy far far away (well, New York City), I had a corporate job and needed to slow my life down. Yoga was a much needed wake-up call. It helped me put things in perspective…and eventually became my life's work. After 9-11, we moved from NYC to Washington DC, where I opened a yoga studio. I adored our yoga community and the shift in lifestyle I had made. 
My husband, who is from Montana, told me for years that I should do yoga retreats there. In 2007 my family decided to move to the Treasure State, and I jumped right into my second venture as a yoga entrepreneur and started Big Sky Yoga Retreats. 
The retreat experience and my vision for the trips is constantly evolving and changing. I'm always working to find as many ways as possible to incorporate the connection to yoga and horses, and yoga and nature. Our signature retreat experiences include Cowgirl Yoga (yoga and horse retreats for women) and yoga and hiking. In addition to welcoming women to enjoy yoga with an unforgettable Montana backdrop, we travel to Patagonia, the French Alps, Costa Rica, and Italy for retreats. 
I loved teaching individual yoga classes…but had no idea how much more I would love teaching retreats. There's more opportunity to make an impact on someone's wellness in a weekend/week-long retreat, and not just with yoga – but with amazing add-ons including meditation, getting outside, and horses.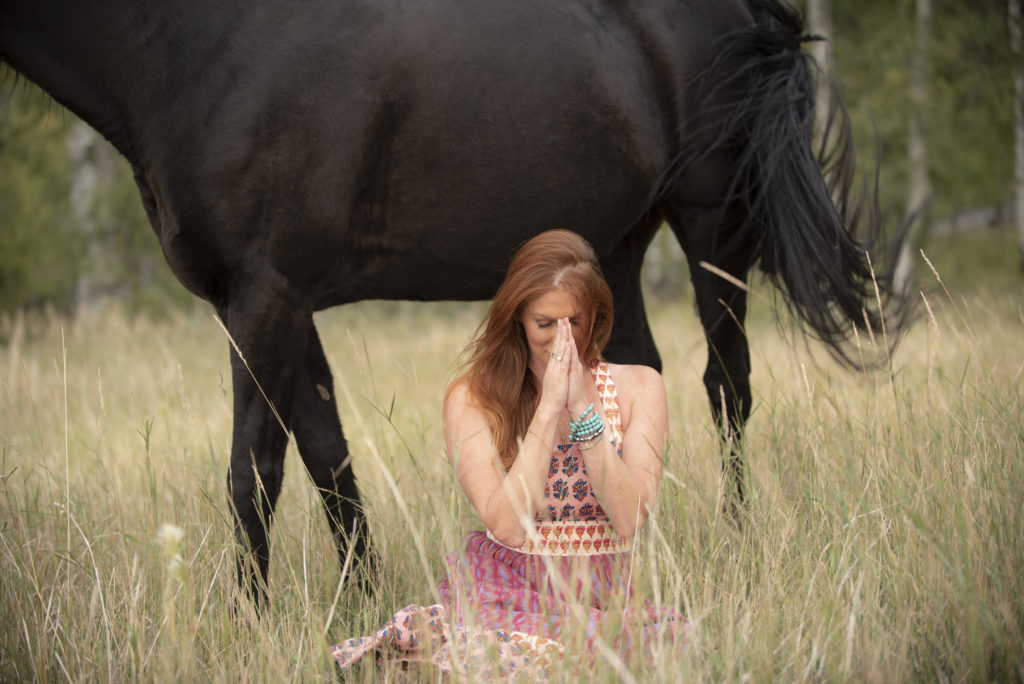 How would you describe your approach to wellness? What modalities do you work with?
I'd like to call my approach to wellness well-rounded, as I truly believe that wellness comprises many facets. How we move, what we eat, how we engage with the world around us. To me, the underlying foundation of wellness is connection: to self, to others, to nature…and ultimately to the universe. We don't feel well when we're disconnected. 
The things that have made me feel most connected to my world have been yoga, meditation, being outdoors, and animals. Specifically, horses. When I can combine these – for example, meditating outdoors near my horses – my energy shifts significantly. This is what I wanted to share with people. These are the key elements of my yoga retreats – spending time in nature and with horses, practicing yoga and meditation. Yes, I can teach you yoga indoors on your mat – but what elevates the practice to a higher vibration is taking what we do with yoga and connecting it to how we interact with horses as sentient beings. 
One of my favorite modalities is equine coaching. This is where you connect with a horse on the ground vs. on his back. This is where you create a mind-body-horse connection, with some suggestions from me. I like to think of it as offering the horse the benefits of your yoga practice. This is the place where that kind of alchemy is possible, because it's about offering your authentic energy to the horse, and allowing him to respond to it. People always ask me if Cowgirl Yoga is doing yoga on a horse – absolutely not! It goes way deeper than that, and the most powerful "success stories" we have from our CY retreats don't happen while riding. 
"The goal of life is to make your heartbeat match the beat of the universe, to match your nature with nature." – Joseph Campbell
Tell us more about your experience working with horses? What wisdom have they brought to your life? 
Like many women, I fell in love with horses as a child, and tucked that away for years as I lived my equine-free (albeit wonderful) life. When we moved to Montana, I spent a lot of time with horses, fulfilling my childhood dream and learning to ride and partner with these exquisite animals. 
During that first year in Montana, it struck me how similar the learning process with horses was to being new to yoga. Creating that connection between horse and human goes hand in hand with cultivating connection to self, and ultimately others, on your yoga mat. There are so many parallels to what we practice with the horses and our yoga practice. It opened up a new way to live my yoga practice that became so much richer as a result. (Which is how Cowgirl Yoga was born, because I couldn't keep this to myself.)
One of my favorite mantras is that you're never done learning, particularly with yoga and horses. There is always something to learn every time you step on your yoga mat and every time you are with a horse. That is priceless to me. It inspires me, motivates me and brings light in darker moments. 
Horses give humans wisdom beyond words. They reconnect us with a deep inner knowing that we've lost touch with over millennia of becoming more "civilized". They are authentic and live in the moment. Yoga teaches us to be in the present, not obsessed with the past or worried about the future. Horses do that too. Horses don't accept emotional incongruity – think pretending you're not afraid of them, when you might be just a little afraid. As prey animals, hiding what you're feeling is perceived as a threat to them – it doesn't smell right and they will tell you so. They create an invaluable opportunity for us to be authentic and emotionally honest. 
I can't imagine my life without horses, and the wisdom they offer me and others. I've seen my horses give women so many gifts: confidence, self-awareness, connection, peace. I ground myself at home with my horses, and I travel the world seeking more horse wisdom, because there is never enough. It's a true gift to have something in my life that creates so much meaning. How could I not be called to share that with others? 
How do you see retreats supporting our wellbeing? What transformations do you notice at your retreats? 
Retreats give women time and space to dedicate to self-care, without the usual distractions they have at home. It sounds so simple – yet can be so, so difficult. Somehow our culture has shaped us to believe that the last person we should take care of is ourselves. As women, we have a lot of guilt about self-care – it's too expensive, I can't take that time off work, I can't leave my family/pets. I can't tell you how many conversations I've had over the years with potential retreaters, who are worried about justifying a healthy getaway. 
I say, self-care is non-negotiable. And it's amazing how much impact one weekend can have. My goal is to give women self-care strategies that they can take home. Our "success stories" are retreaters who go home and up their yoga practice or find a place where they can be with horses. Our retreats emphasize that it's important for women to make time for themselves, because that makes them better mothers, partners, friends, people. Come on retreat to honor yourself and your potential for good health – and then take those values home with you and apply them to your life. What better gift to give yourself…?
For me, the biggest compliment is the women who come back to nurture themselves with us again and again. And I get to see the cumulative effects of coming on retreat and taking home what they learn – every time someone comes back, we witness the shifts in well-being that she's made. 
What retreats or offerings do you have on the horizon? 
As with so many other small businesses…the pandemic has drastically altered our plans. But I'm going to go out on a limb and say that it's forced growth and change in a positive way, and made us even more committed to what we do, since people need it so much. In fact, the New York Times just ran a piece called Travel as Healing: Wellness vacations now go far beyond massages and diet advice, instead offering a respite from physical and mental stress.
In 2021, we focused on our Montana retreats and had a fun, safe season in the Last Best Place. This year, we're looking forward to traveling again, and taking Cowgirl Yoga on the road to Patagonia and Costa Rica. We'll also return to the French Alps for our Yoga, Hiking and Spa retreat. In the fall we'll head to Sicily for our Yoga & Vineyard retreat. The theme for 2022 is definitely international. 
Last year, we offered a new retreat called Restore & Reboot Yoga, which focused on slowing down – no power flows, only yin and restorative yoga! – and rebooting wellness and creativity after such a collectively stressful time. We also had an Ayurveda workshop with Claire via Zoom. It was a big hit, so we're doing it again this year – and are thrilled that Claire will be joining us in person. Join us in Montana September 1-4, 2022! 
Yeehaw & Namaste. 
_______________________________________________________________________________________________________
Margaret Burns Vap is the founder of Big Sky Yoga Retreats and Cowgirl Yoga™, and lives in Bozeman, Montana with her husband, daughter, 4 horses, 1 dog and 3 cats. She is a former city girl fashionista transformed by yoga and motherhood into an outdoorsy Montana cowgirl who still loves a latte.
*Photography by Larry Stanley Photography
2 Comments
2 responses to "Interview: Women in Wellness Q&A with Margaret Burns Vap"