The Living Ayurveda Immersion *Online*
January 16, 2022
$495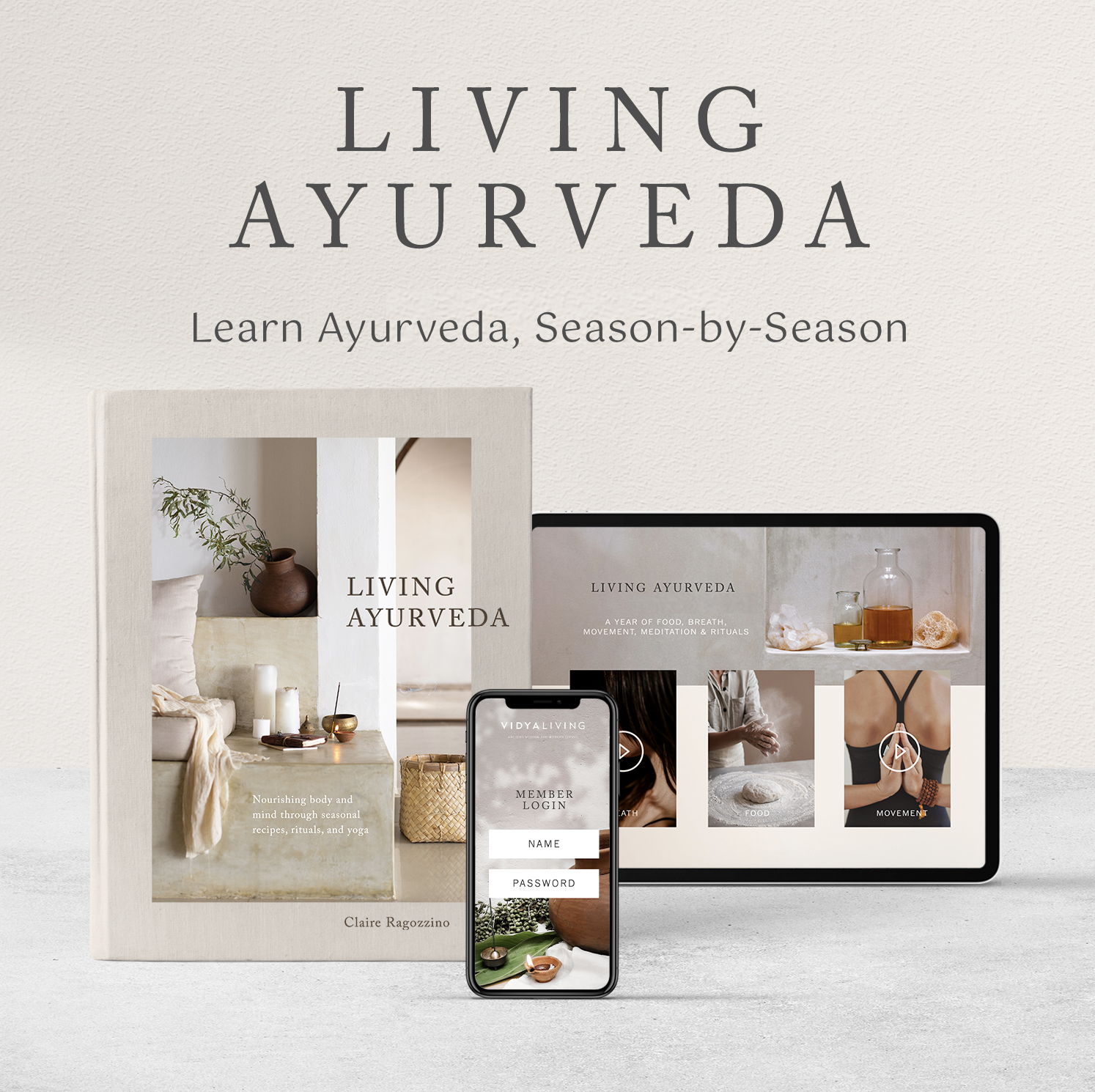 LIVING AYURVEDA IMMERSION
Learn Ayurveda, Season-by-Season
Ayurveda is a language that helps you describe the natural world and your relationship to it. The food you eat, how you breathe and move your body, and the way you live each day, are all ways in which to come home to yourself. Ayurveda teaches you how to care for your body and mind through the many seasons and cycles of life.
In this year-long immersion, you will learn the foundational principles of Ayurveda and how to practically integrate them into your life each day. You can expect live group calls, self-paced learning sessions, live yoga classes, recipes for every season, and a supportive community alongside you each step of the way. 
Using the book Living Ayurveda, author Claire Ragozzino will guide you through each section and season bringing the material to life, in a very real and approachable way. The goal, to inspire you with self-inquiry practices, recipes, remedies and rituals to implement at home—so you feel confident taking Ayurvedic concepts and embodying them in the kitchen, on your yoga mat, and beyond. Ayurvedic living is not only deeply nourishing, it aligns your body and mind with nature. When you learn the language of your body, your experience of life is limitless.
Your Living Ayurveda Membership Includes: 
Learning with the Author:

Learn the foundations of Ayurveda and seasonal living with 8 self-paced learning modules and videos. All sessions are recorded and can be viewed at your own pace. 

Live Group Meetings

: Each solstice and equinox, we meet to introduce new seasonal content and explore how to implement it in your daily life. These live group meetings will be a time to experience new practices together, ask questions and connect with the group through the seasons. There will be 5 live group meetings. 

Live Yoga Classes:

Join Claire on the mat for live seasonal yoga classes. Classes are 90 minutes and will be livestreamed and recorded through Zoom for program members only.

Living Ayurveda Resource Library:

Support your home practice with our extensive Living Ayurveda Resource Library of yoga videos, guided meditations, cooking demos, meal planners, shopping lists, workbooks and more! 

Supportive Sangha:

Join an amazing group of like-minded practitioners to share practice tips, stories and inspiration along your path. Meet new friends and create meaningful community with us.

All-Access Pass:

When you sign up for the Book Club, you receive an all-access pass to the entire library of Living Ayurveda learning content for the full year! So you can learn anytime, anywhere, at your own pace.

Bonus Book Copy:

Sign up by 12/31 for a bonus hardcover copy of the Living Ayurveda book mailed right to your door to accompany your year of Ayurveda. Receive special discounts thereafter to order your own copy online!

Extra Perks:

As a member of the program, receive discounts on the

Ayurvedic Kitchen Cooking Course

and

Seasonal Renewal Cleanses.

 
Learn more about the course, the FAQs and how to sign up. Registration closes January 15th. 
*Payment plans and scholarships are available.