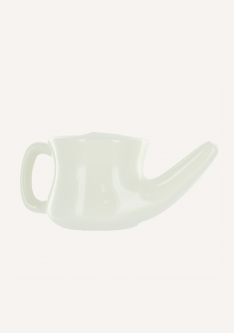 $19.95
Ceramic Neti Pot
Cleanse your sinuses and improve your respiratory health the daily practice of neti kriya. This ceramic Nasal Rinse Cup (Neti Pot) is designed for ease of use and has a heavy-duty construction that is dishwasher safe. Crafted from sturdy, lead-free ceramic and coated with food-grade sealant glaze. The kit comes with a Neti pot, pH sinus salts and instructions of use.
Natural support for clear breathing and sinus health
Provides soothing relief for nasal dryness
Gently removes excess mucus
Rinses away dust, pollen and other irritants
Use in conjunction with Nasya Oil to lubricate the sinus passages after neti kriya.