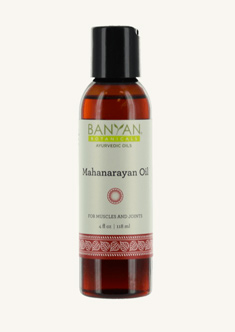 $23.95
Banyan Botanicals Mahanarayan Oil
Mahanarayan Oil is an ancient Ayurvedic recipe that delivers powerful muscle and joint targeting herbs in a base of certified organic sesame oil. A nourishing and strengthening oil with rejuvenating and analgesic qualities, it is used to soothe sore muscles and tendons, supporting an active lifestyle and preventing over-use damage. In Ayurvedic terms, Mahanarayan Oil is particularly good for rehabilitating those suffering from disorders due to high vata, supporting rejuvenation of joints affected by wear and tear, joint space narrowing, and synovial fluid dehydration.
For Muscles and Joints
Supports comfortable joint movement
Promotes healthy muscles and tendons
Soothes pain, stiffness and inflammation
Pacifies excess vata
The oil can be applied locally to areas where there is physical discomfort. It may also be diluted with a base oil and used in deep-tissue or self-massage.
Bottles available in 4oz, 12oz, 34oz and 128oz.