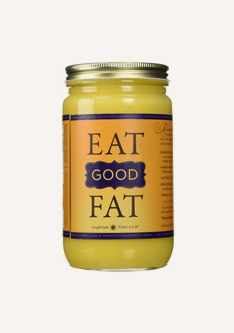 $21.99
Ancient Organics Ghee
Ayurveda recognizes ghee as an essential part of a balanced diet. Ghee is comprised of full spectrum short, medium and long chain fatty acids, both unsaturated and saturated. Ghee contains Omega 3 and Omega 9 essential fatty acids along with vitamins A, D, E and K. Ghee made from organic butter of pastured cows is one of the highest natural sources of CLA (Conjugated Linoleic Acid). 9 phenolic anti-oxidants, as well as numerous other minerals are present in ghee. Ghee is known as a substance that gives longevity, its elemental qualities balance the aging characteristics by enriching the living body. Ghee has been used for centuries as a digestive and elimination aid, for energy, sexual vitality, skin and eye health, as a lubricant for the joints and for alkalizing the blood.
Ghee is the very essence of butter; the end result of a long, slow, careful clarification process that removes all the moisture, milk solids and impurities. The absence of milk solids and water in ghee make it completely shelf stable. Ghee has one of the highest flash points (485ºF) which make this oil the best choice for high temperature cooking.
Ancient Organics works with certified organic dairies of Northern California, including Strauss Family Farms, to make their rich, creamy ghee. For more details on their quality and process, click here.
Available in 16oz – 32oz jars.