Recipes: Chai Chocolate Pear Cake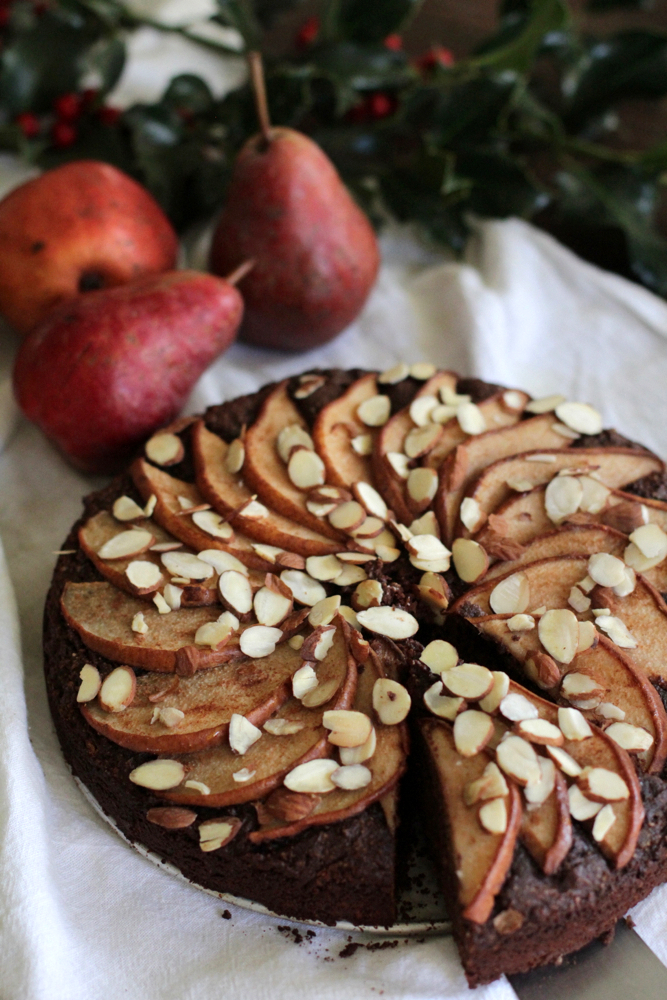 Do you ever pause and wonder, what would your life look like if each decision you made came from a place of conscious intention? Would you spend less time lingering online and more time outdoors? Would you slow down to connect with those around you rather than getting lost in your to-do lists? The choices we make in each moment shape the course of our lives, and as the saying goes, "How you do anything is how you do everything." To live mindfully means to become a conscious creator of your life, to elevate the everyday ordinary into something extraordinary. When we align our daily intentions and actions with our three layers of being – Body, Mind & Spirit – we activate a more meaningful life and live rooted in our passion and purpose.
It's my 27th birthday today and I always find this day – also being aligned with the ending of the calendar year – signals an opportunity to take stock of where I've come and set the foundations of where I want to go in the new natal year. Tonight, I plan to take a hot bath, grab a big mug of tea and spend time writing, reflecting and refreshing my intentions of not only what I want to accomplish, but who I want to surround myself with, where I want to go and what I want to feel in the process of doing all this.
Birthday or not, I hope this inspires you to do the same. As my favorite quote by Matthew Engelhart says, "Living in the sacred is a choice, the chance to create every moment is an opportunity for awakening." So the question becomes…what are you calling in for yourself?
Birthday or not, you also needn't an excuse for some warming winter baking. As you know, I have a tradition with making a new cake for a birthday post each year (ie. remember the white chocolate persimmon cake or this rosemary chocolate olive oil cake?). This year, I'm fully ready for the holidays (thoughtful gifts already wrapped – check!) and have been in the mood for this very Christmasy gluten-free spiced pear cake.
Fit for birthdays and holiday parties alike, I hope you enjoy this sweet recipe if not for the sheer indulgence of it, but for the meditative act of preparing it in the kitchen. Baking is rather cathartic for me. I consider it an opportunity to channel my desires, intentions and love into what I'll then share and enjoy bite-by-bite.
Wishing you love and bliss from my kitchen to yours. And Happy Birthday to all my fellow Sagittarius friends…xo
CHAI CHOCOLATE PEAR CAKE
Wet
4 large free-range organic eggs
1 cup coconut sugar
1 tsp vanilla extract
2 tbsp maple syrup
1/3 cup olive oil
Dry
2 ¾ cup almond flour
1/3 cup brown rice flour
1 cup cacao powder
1 tsp baking powder
1 tbsp ground cinnamon
½ tsp ground ginger
½ tsp cardamom
¼ tsp allspice
pinch ground clove
pinch sea salt
1 pear, cored & chopped
Topping
1-2 pears, sliced thinly
2 tbsp maple syrup
½ tsp cinnamon
¼ cup sliced almonds
Preheat oven to 350F. Beat the eggs, coconut sugar and vanilla in a mixer or with a handheld mixer for 3-5 minutes, until thick and pale. Add the olive oil and continue to beat until lightly incorporated. Fold into the dry mixture.
In large mixing bowl, combine the dry ingredients. Fold the wet mixture and chopped pear lightly until combined. Pour batter into a 9-inch spring form cake pan lined with parchment paper and greased with olive oil. Spread evenly.
In a separate small bowl, combine the sliced pears, maple syrup and cinnamon. Toss lightly until covered in the syrup and spices. Arrange pears in a wheel on top of the cake batter.
Bake for 30 minutes. Remove from oven, sprinkle with sliced almonds and place back in oven to bake for another 10-15 minutes, or until a light crust is formed on the outside and the inside remains light and moist. Avoid over baking as it quickly can become a dry, dense cake! Serve with almond milk, a mug of chai or a drizzle of chocolate sauce.
Makes one 9-inch cake
*This recipe was adapted from My Darling Lemon Thyme's Almond Pear Cake.
4 Comments
4 responses to "Recipes: Chai Chocolate Pear Cake"