Returning to Center: A Summer Solstice Retreat to Cultivate Our Inner Fire *Online*
June 21, 2020 @ 8:00 am

-

12:00 pm

Sliding scale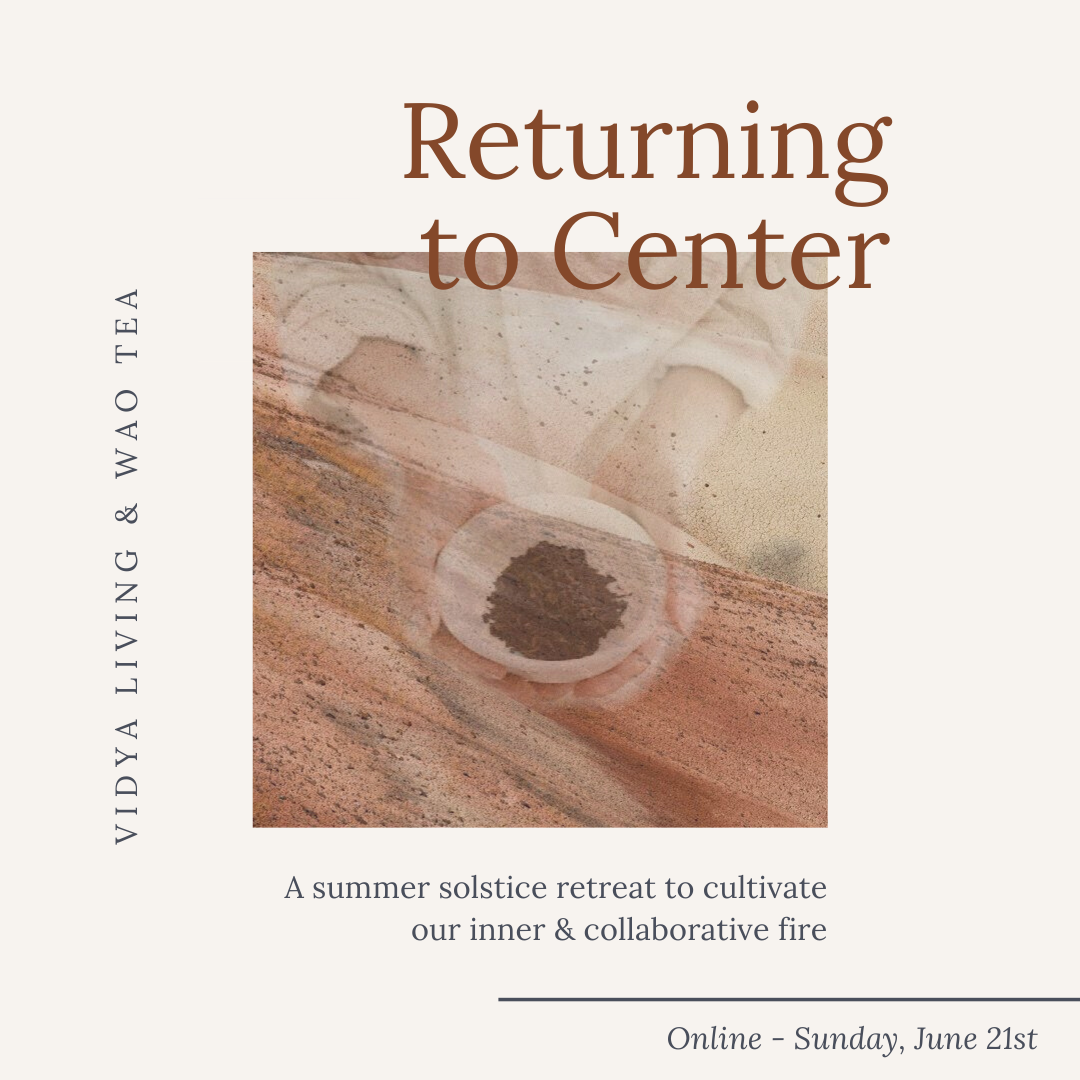 RETURNING TO CENTER
A Summer Solstice Retreat
to Cultivate Our Inner and Collaborative Fire
Join us on this special Summer Solstice day as we welcome in a new season and new chapter with the new moon and a solar eclipse. With so much fire present, how can we work with this powerful energy in a productive way while staying rooted in our center? 
Together, we'll explore the Fire element through two lenses – Traditional Chinese Medicine and Ayurveda – and the wisdom these traditions have to share finding harmony and inner alignment through the many seasons of life. In these volatile and transformational times, it's more important than ever to cultivate a strong connection to your center and clear seeing through the fires of discernment. We are being called to remember what is enlivening our inner fire, how to nourish and sustain it, how to use it as an act of service, and transform our vision into action. And we are invited to breathe and be together in harmonious presence to reconnect with our personal and collective creative force. As we move together from the inward time of Spring's quarantine, this retreat space serves as a container to explore what is needed to digest the past season's experiences and cultivate inner clarity as we move forward into a new season together.
Our morning will start with a guided tea ceremony and meditation, then move into yoga and pranayama to move stagnation and stoke our inner fire. We'll discuss food, breath, movement and meditation as intentional tools to nurture your fire, then explore in a creative exercise together how to translate your gifts into essential offerings in these times. Each guest will receive an interactive workbook with journaling prompts, reflective exercises and resources to guide you through the season of fire.
Retreat Schedule
8am – Ignite 
Fire Element Tea Meditation
9am – Stoke
Yoga & Pranayama for Stoking Inner Fire
10am – Transform
Working with the Wisdom of Fire: Discussion on TCM & Ayurveda
11am – Express
Creative Exercise:
Moving ideas into action, harnessing fire for collaboration & co-creation, getting unstuck in creative blocks, expressing your vision
This half day online retreat hosted by Claire Ragozzino of Vidya Living and Christina Jade of Wao Tea will be offered at a sliding scale price. We hope to provide an accessible space for community and connection in these transformational times. If you can't attend live, we will share the recording and retreat workbook for those who've signed up. Please RSVP & sign up online in advance. 
Details
Sunday, June 21st, 2020
8amPT-12pmPT (11amET-3pmET)
Online – Zoom
Contribution: $5-$45 – sliding scale, you can select a price option that's most accessible to you when you register. See link below to sign up and select your contribution. *A portion of this events' proceeds will go to the Official Navajo Nation CO-VID Relief Fund to support relief efforts*